As I was waiting to meet Michael to visit Cafe de L"Ambre, I spotted Café Rim. I felt that certain attraction to enter that I have experienced in repeated occasions when I find myself in an unknown cities looking for a coffee spot. I must sense that it is worth it going in and drinking the coffee they offer. And so I entered.
This cafe has in many ways an appeal that does not speak for an exclusive, high-end, third-wave coffee spot. On the other hand, it has a very inviting atmosphere and one of the things one notices immediately is their  built-in shelf with 6 young coffee plants. If that is not a sign of dedication!
Still, since I have been in several coffee temples of this world and considering the fact that my aim here in Tokyo was to visit the Japanese Coffee Pope, my demands are quite high. Also, once one has seen a few demanding coffee houses, one imagines that there is not much more new to find. Nevertheless, here I have been confronted with yet another sign of demanding coffee preparation. Each coffee, once it has been poured in the chosen cup, gets cleaned. This means that each bubble found on the surface is carefully fished out with a spoon.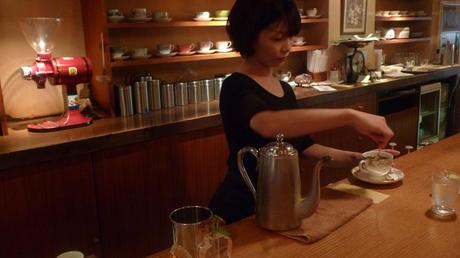 Barista Hanae Nakagawa / Cafe Rim, Ginza, Tokyo, Japan / Leica D-Lux 4