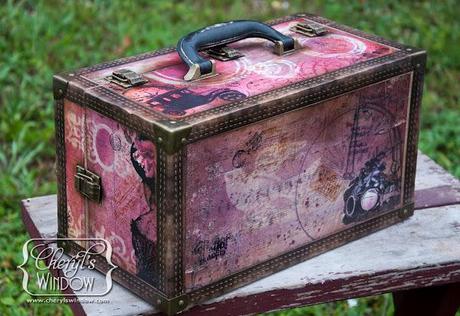 I am so excited to kick off our week at Helmar featuring Helmar Decoupage and Craft Paste.   This is just another Helmar product I am a huge fan of.  The heat and humidity in Florida is horrible on most adhesives, and I can quickly attest that most decoupage adhesives on the market don't work well here.  Most either take forever to dry or remain somewhat tacky no matter how long they dry.  Helmar Decoupage and Craft Paste dries in a very timely manner and I love that it doesn't bubble my papers.   I've wanted to personalize my Tim Holtz Cargo Case for a while, and I'm thrilled with the final project.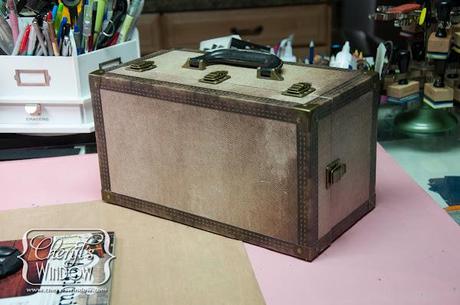 It all started with a blank Cargo Case, some Donna Salazar patterned paper, Helmar Decoupage and Craft Paste and a variety of Tattered Angels mists, Distress Inks, and stencils.
After choosing my papers, I measured and cut out the places for the clasps and handles.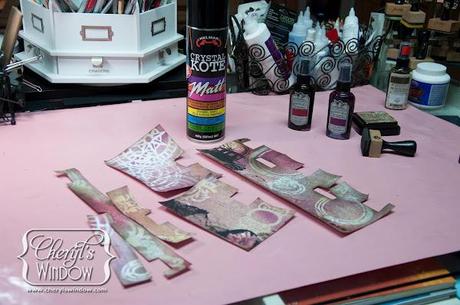 I wanted to add some more color and layered images to the already gorgeous paper, so I misted my papers using a variety of stencils and then inked the edges with Distress Inks.   After these were dry, I took them outside and used Helmar Crystal Kote (coming soon) to seal the Tattered Angels Mists and Distress Inks.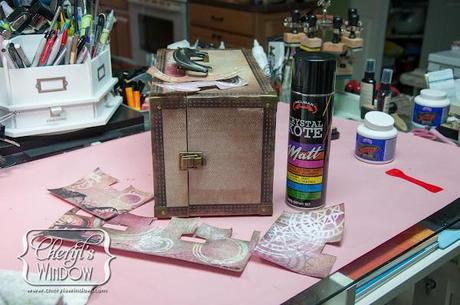 Since I inked the Cargo Case in places as well, I did spray a coat of Helmar Krystal Kote on the case before adhering all the papers in place using Helmar Decoupage and Craft Paste.   I worked one section at a time and painted the Helmar Decoupage and Craft Paste on the cargo case itself and then adhered the misted and inked patterned papers, which were then burnished using my Helmar applicator.  After all the papers were glued to the Cargo Case, I painted another light layer of Helmar Decoupage and Craft Paste on the case.  Since the case is already covered in paper, I didn't worry about getting it on the edges, but I did wipe off any from the metal corners and buckle clasps.   After the entire project was dry, I added one more coat of the Helmar Crystal Kote for a little extra protection.  I travel a bit with my Cargo Case since it holds all my Distress Inks and Distress Stains, so I want it to last a long time.
Here are a few more pictures of the finished project.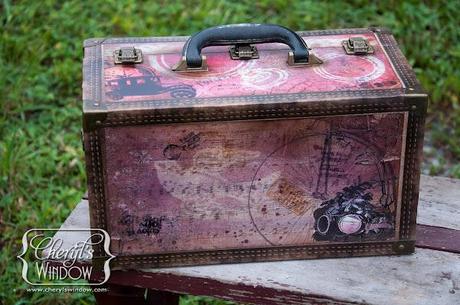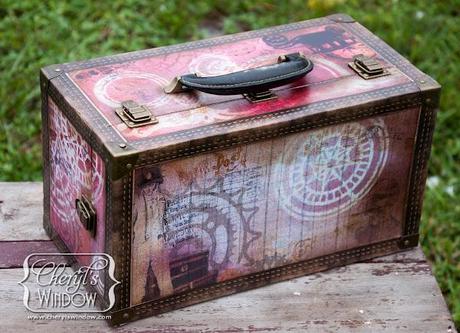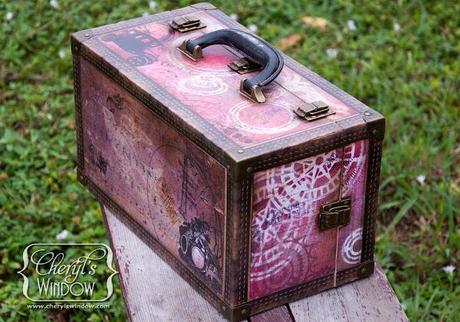 Now I'm going to go ink something else.
Thanks for stopping by,