Oy. I haven't gotten much done since that bedroom overhaul. I've got tons of projects to be that I've been procrastinating over but somehow that's not the same thing as actually getting things done... :)
And then a few days ago I decided to move all my accessories around in the living room and the dining room. Which mostly amounted to moving the living room stuff into the dining room and vice versa. Maybe it's true what they say - buy only what you love and it'll all go together. I wasn't sure I liked the results at first but it's beginning to grow on me. I get tired of my "style" or more like "lack of style" sometimes and think I should cut down on the color/craziness. But then again, what do I have to lose by experimenting on our house? If I don't like something I eventually replace it with something else. Ha, that goes even if I do like it, come to think of it :) An ever-changing canvas to play with. Round and round we go.
It took me a few days to reorganize everything and I haven't actually gotten to the cleaning part of the whole deal but I thought I'd show you a few of the little vignettes or moments that were created in the process.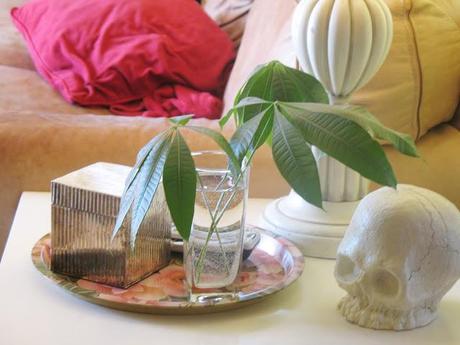 Little thrifted remote control tray with silver thrifted box and a few green leaves off my newly trimmed back money plant. And Mr. Skull from Halloween found a new home, too. See, he can look artsy and almost feminine when he wants to.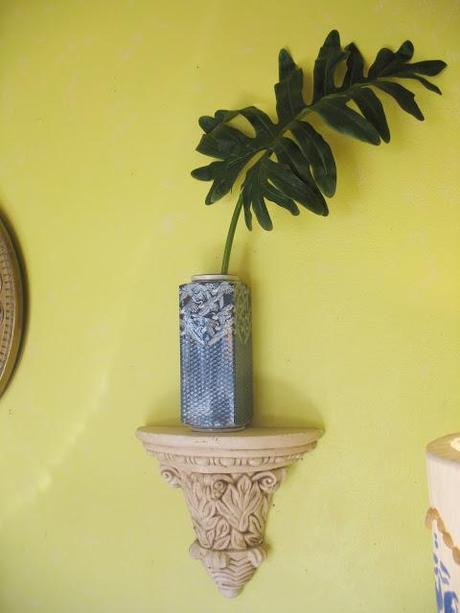 This little shelf bracket thingy used to live in the brown dining room but got moved into the living room. New to me thrifted vase with a fake leaf for that tropical flair. I'm slowly collecting white and blue decorative items as I find them because I like their classic looks.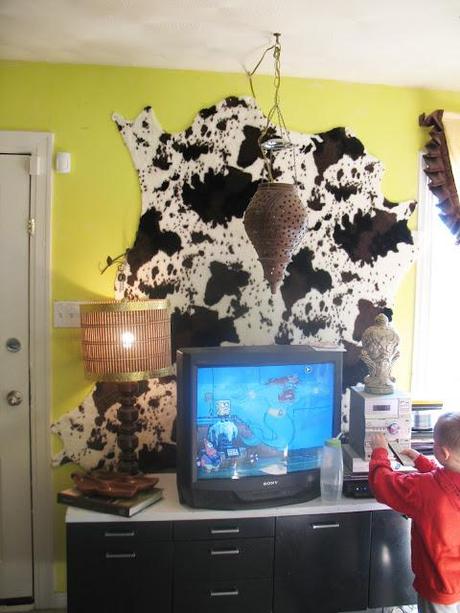 That faux fur on the floor wouldn't stay put with the kids playing on it constantly so it went up onto the wall instead. I kind of like it even though it's a little bit funky. Never mind the little guy enjoying SpongeBob.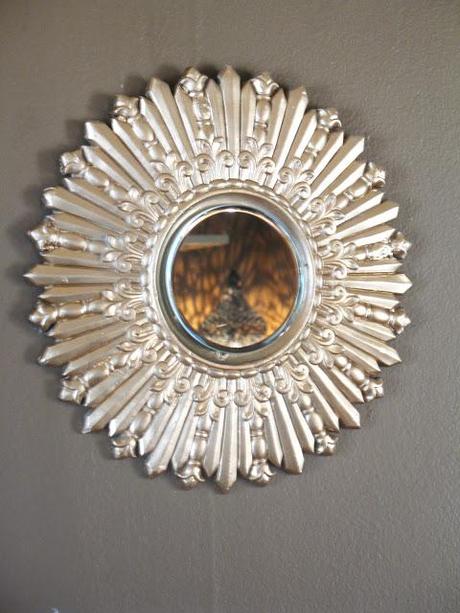 This little wall plaque came from the thrift store in a beat up wood color (you can see a little bit of the wording poking out from under the mirror at 6 o'clock). I mended the broken parts, sprayed it gold and hot glued a beveled mirror to the center. The mirror should have been just a tad larger and it would have been perfect, but it's good enough and this is what I had on hand. From bad 70's wood color to fab sunburst!
Here's the before. I'd almost forgotten I took one.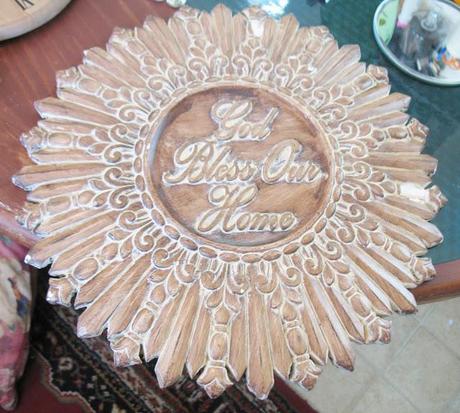 This is our new loo sign. A thrifted frame and a wire hanger covered in embroidery floss. Is it hard to read? I may have to lean that first O away from the L a little bit to make it easier to read.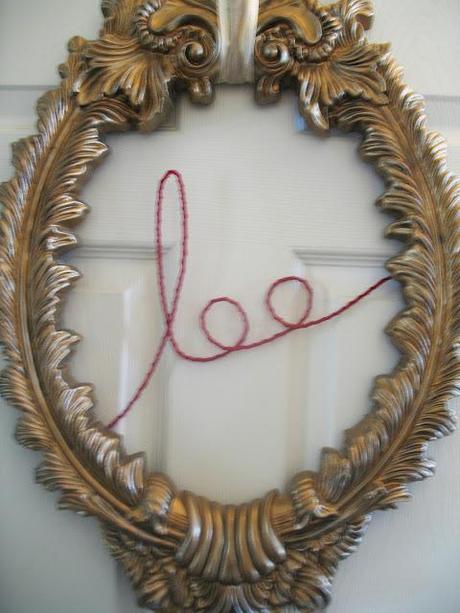 I don't know why I feel the need to have fancy signs on the bathroom door, I just do :)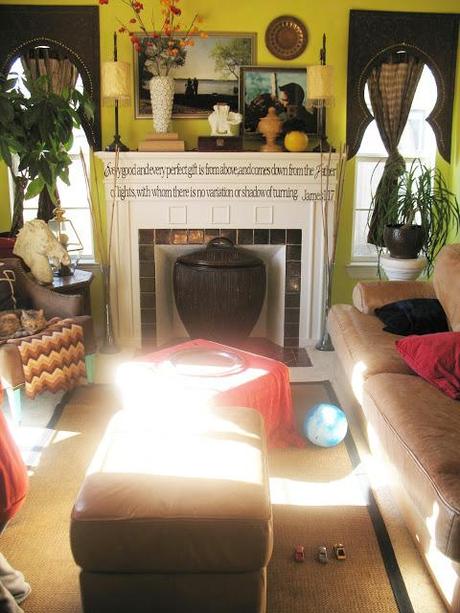 And just a snap of the living room "corridor". I decided to put the poufs in the place of a coffee table. It's softer and makes the room seem more open. Not to mention we can actually put our feet up now. How do you like the tribal undertones in here? This room is the most eclectic in our house, it's all over the place. I will try to get better pictures of these spaces one of these days so you can take a proper look around. But our place is truly the house that hand-me-downs and thrift stores built, all sandwiched with DIYs.
I've procrastinated over a graphic DIY rug for in here for about a year, I wish I could get it done already, this rug is a little small for the space. Maybe the graphicness of the new rug will distract from all the mishmash in here :) And I've been collecting fabric remnants at the thrift store for all kinds of pillows for both this room and the dining room. I should get to those too one of these days. Oy.