On deck eleven I knew it was all worth it. There were reasons for the wait. There were reasons why God saw fit that I marry later in life. It will all be realized by and by, but more of waiting's purpose became manifest in my heart, on the open sea, on deck eleven.
Deck Eleven
We embraced there. We kissed there. We held hands and looked into each others eyes there. We reclined in the deck chairs closing our eyes, soaking in refreshing winds blowing from the sea. We opened our eyes towards the night sky filled with distant lights. We shared visions of shooting stars and we worshiped God there. For these pleasures, perfectly orchestrated by God, the timing had to be right.
On deck eleven there were no regrets. There was no sorrow, no alarm, and no looking back. Because God did this, every aspect of our relationship over the last two years has surpassed our hopes and dreams. On deck eleven I could not feel the old wounds of sorrow and weariness because this blessing was God's doing according to His will, not mine.
Joy comes in the morning and all that was of a troubled night fades away forever.
Those moments on deck eleven, the first night of our honeymoon cruise, were already making up for fifteen years of waiting. The strength of our love surrounded by the grace and love of God affirmed our faith. We knew we did the right thing by waiting until God said yes.
God told me He would bless me to be married. He told me not to be hasty. He told me not to succumb to the pressure of desperation. He impressed on my mind to wait. It didn't matter what people said. It didn't matter that I would marry many years after it was promised. I believed. And when I thought I could not hold on to my faith, God's grace helped me to believe still.
I knew my husband was out there somewhere. I knew romantic and unconditional love was out there somewhere. I knew marriage and friendship was out there somewhere.
Years of waiting…years of praying…years of praising and rejoicing in the Lord…years of faith and contentment…
Then suddenly…
There it all was…on deck eleven.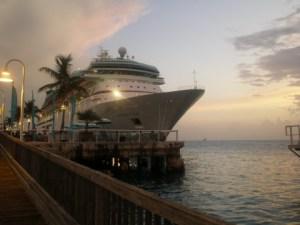 Mrs. Candra (Love in Waiting) Evans