The end of the year is nearly here so it's time for my December empties. The empties are a little light on however there are quite a few tosses.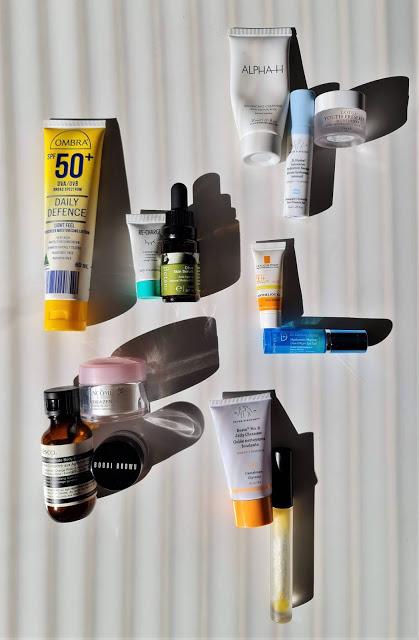 Ombra Daily Defence
Thanks to the super cheap price this has been my go to body sunscreen. I originally bought it to use on my face but it irritates my eyes. Hubby likes to use it on his head (he's bald) and because it's so cheap I don't mind how fast we go through the tubes. 

Clarins Recharge Night Mask
Whilst I liked how rich and hydrating this felt, it made my skin quite sensitive so it's not something I'd purchase. 

Botani Olive Skin Serum
I've gone through so many bottles of this gorgeous serum. In summer I use it as a moisturiser, during the drier months I'll use it as a serum. It's light, hydrating and makes my skin feel great. 

Alpha-H Balancing Cleanser
Despite having the name balancing, I found this to be a good cleanser that didn't dry or strip my skin. Usually if a product has balancing in the name it doesn't work for me, so I was surprised at how much I liked this cleanser. 

Drunk Elephant B Hydra Serum
I just don't get the hype with DE. Their Hydra Serum is okay but doesn't perform miracles. The Botani serum is both better and cheaper. 

Fresh Lotus Youth Preserve Moisturiser
I'd happily purchase the entire Fresh range, in fact if it was cheaper I would. I really enjoyed the Youth Preserve Moisturiser, it's hydrating, absorbs quickly and didn't leave my skin greasy. 

La Roche Posay Anthelios XL
My love for this will never end. 

Dr Dennis Gross Hyaluronic Marine Eye Cream
I liked this but it gave me milia so I wouldn't buy a full sized tube. 
Aesop Body Cream
Oh my goodness, I loved this moisturiser. It smells amazing and I'd love to buy it again. 
Lancome Hydra Zen
This was a great night time moisturiser. It's very rich and hydrating, great for dry, parched skin. 
Bobbi Brown Vitamin Enriched Face Base
I really like this, in fact I like it so much that I bought a full size. It has a nice citrus scent and is very hydrating on my dry skin. 
Drunk Elephant Jelly Cleanser
Jelly cleansers are so much fun. I couldn't use this on my eyes, it stung really, really badly, however it was great for the rest of my face. I like the fact that you didn't have to open the tube, you just twist the lid and the product comes out the lid, it's a great idea. 

Inika Lip Serum
I've added a lip serum to my morning skin care routine and it's been such a great addition. My lips are so much more hydrated and I'm not having to constantly apply lip balm throughout the day. I liked this one because it absorbed quickly and worked well under lipstick.

Masks and samples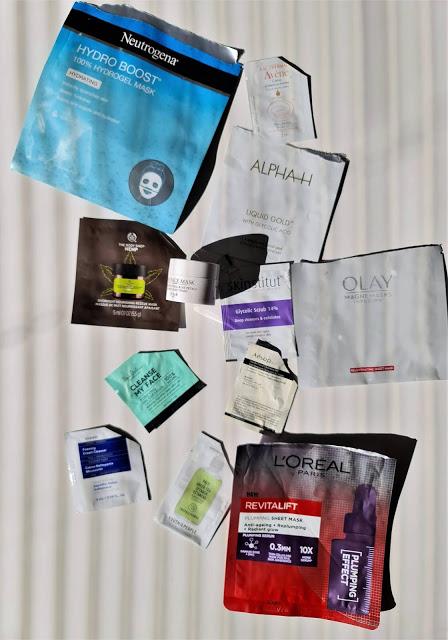 I don't have much to say about these other than the Fresh Rose Radiance Mask which I loved and will buy again one day. 
Everything else way unremarkable or the sample was too small to form an opinion.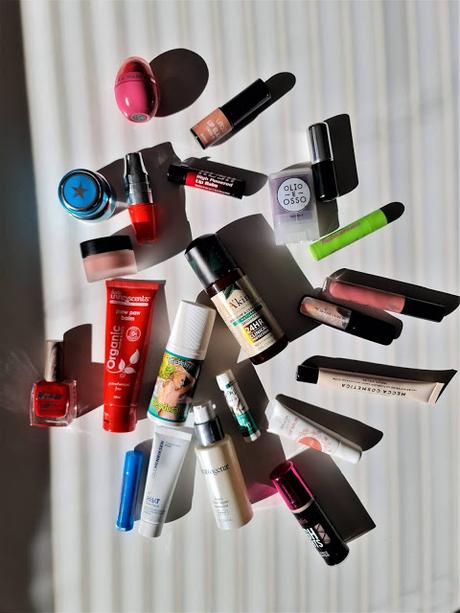 These are all tosses. 
I liked the Akin and Tinderbox deodorants for winter but they just don't cut it for summer. They're both nearly empty so rather than having them hang around taking up space until next winter, they got the boot.
The Raww Beauty nail polish only lasted a day on my toes and we all know that if something doesn't last on the toes then it truly is crap. 
The face masks and Neutrogena moisturiser just didn't work for my skin and everything else was expired.
Did you get through much this month?