Debs Flower Shoppe Fragrance Oil– Fragrance Oil Spotlight
Not only is Debs Flower Shoppe Fragrance Oil a Nature's Garden original scent, but this fragrance is a wonderful scent that will transport your senses and refresh your mind! This fragrance carries all the components for a beautiful bouquet that your nose won't want to miss. Indulge in its intoxicating combination of soft floral notes, trailing ivy, and dew drops. Allow this gorgeous scent to carry you away to a freshly watered garden blooming with life.
What Does Debs Flower Shoppe Fragrance Oil Smell Like?
This fragrance oil by Natures Garden is just like walking into a flower shoppe.  You can smell the aroma of all of the flowers, green stems, and water droplets on the flower petals filling the air.  Refreshing! NG Original Scent!
Top Notes:  lime, hyacinth, green leaves
Mid Notes:  rose, cyclamen, carnation
Base Notes:  gardenia, trailing ivy
How Do Our Customers Use Debs Flower Shoppe Fragrance Oil?
Nature's Garden customers are able to make a wide variety of useful and creative products using this enchanting scent.
First, home scenting products and perfumes can be created using Deb's Flower Shoppe fragrance oil. Any room scenters can use up to 50% of this fragrance in either potpourri or incense. Aroma beads have been tested to perform nice and strong with this scent, as well. Also, lotions, perfumes, and cleaning products can be created using no more than 5% of this scent. Further, a perfume incorporating this fragrance has been tested to work perfectly.
Next, candles can be created using this floral fragrance oil and any of our homemade candle crafters can use up to 10% in candles that use either vegetable or paraffin waxes. Further, this scent performs perfectly in joy wax, wow wax, and is nice and strong in soy wax. However, this fragrance oil has shown to not be compatible with gel wax. For coloring, we recommend either using three drops of red liquid candle dye or a small amount of shredded red color block for every four pounds of wax that you use.  Please note that you should never use crayons as a substitute for colorant in any of your candles as they will clog your wick.
Finally, cold process soaps and melt and pour soaps can both be made using this scent. For our homemade soap makers, bath oils, bath gels, and various soaps can incorporate up to 5% of fragrance and remain safe. Our cold process soap testing results for this scent revealed no ricing, no separation, and no discoloration. Further, the bar retains a strong and beautiful scent. We did find a slight acceleration even when soaped at room temperature, note that acceleration is fairly typical for floral scents in cold process soap. To assist in remedying this problem, make sure to work very fast and soap at cooler temperatures. Although we recommend coloring with either red soap colorant or hot pink soap colorant, it may be too difficult if you are unfamiliar to working with fast moving batches.  Remember to never use candle dye in any body products as they are not body safe.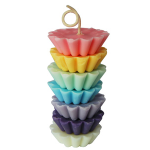 Click here to try this wonderful floral aroma in our free Stacked Flower Tarts Recipe.  Enjoy!