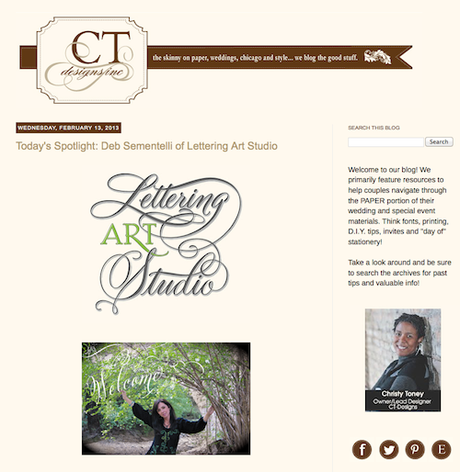 Big thanks to Christy Toney of CTDesigns, Inc. for featuring me on her blog last Wednesday!
The main topic of the interview was the inspiration and design of my two calligraphy fonts, Belluccia and Dom Loves Mary.
Check it out here.  The interview was even chosen as an "Editor's pick" on Paperblog based in the UK!
Christy is a very talented calligrapher and graphic designer based in Chicago.  I'll be sharing  more about her and her lovely work for a future post!
Thanks again Christy!
Creating a font is very labor intensive like giving birth in real life:)
The one I'm working on is a departure from the look of my other two.  More modern and whimsical.
I can't wait to share some pics!
In the meantime,you can still purchase my other cursive fonts Belluccia and Dom Loves Mary  here.
Belluccia has been on the "Best Sellers"  list for 20 months and was also named one of Myfonts Most Popular Fonts for 2011.  It's available at myfonts.com.
My second calligraphy font, Dom Loves Mary (a "December Rising Star" and  2012 Best Seller) is also available on myfonts.com.

Have a whacked out Wednesday!
You need one of those every once in while:)
Debi