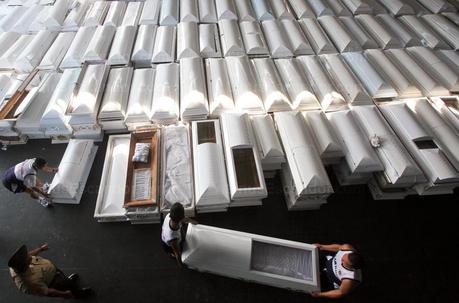 Members of the Philippine Navy carrying coffins, part of 500 coffins from Sto. Tomas, Pampanga, to be loaded on the BRP Dagupan for shipment to flood-hit Iligan and Cagayan de Oro. 
National Disaster Risk Reduction and Management Council (NDRRMC) said the death toll from tropical storm "Sendong," one of the worst to hit the country, breached the 1,000 mark on Tuesday.  
The death toll has already surpassed the 747 deaths during the onslaught of "Ondoy" in 2009. 
The toll rose sharply as the bodies of people who were swept out to sea were recovered.