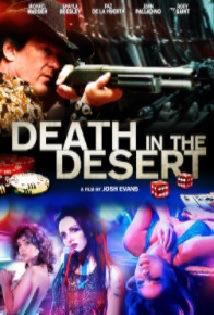 Director: Josh Evans
Writer: John Steppling (Screenplay) Cathy Scott (Book)
Starring: Michael Madsen, Shayla Beesley, John Palladino, Paz de la Huerta, Roxy Saint, Stephen Manley, Julian Brand, Mark Justice
Plot: Death in the Desert is a love triangle set in the fast-paced, sometimes lonely world of Las Vegas. The life of Kim Davis, the young live-in girlfriend of legendary casino owner Ray Easler, is thrown upside down when she falls for Matt Duvall, the man Ray hires to bury his $20 million fortune of silver on the floor of the Nevada desert.
There may be spoilers the rest of the review
Verdict: Hard Work Really
Story: Death in the Desert starts by introducing us to stripper Kim (Beesley) who lives in Las Vegas who manage to catch the eye of Ray Easler (Madsen) whose family runs the city, Kim is his on the side girlfriend who gets paid very well for her services.  When Ray asks Kim to give up her life as a dancer and move in with him Kim finds herself living a life of luxury in the city.
When Ray starts becoming a disgrace in in the town and comes up with a plan to smuggle money out of Vegas and the man he turns to for help is young man Matt (Palladino) who just so happens to catch the attention of Kim who is getting tired of the drug usage problem Ray has. When all this mix all their lives are put in risk but who will make it out alive.
Death in the Desert really is a slow moving story that really fails to pull us into the narrative. We get stuck with Ray narrating the story with what felt like just random quotes. Sadly this is just a story about a character that we don't like because he is clearly a bad guy we are not meant to like. I just found this story going nowhere with little happening that makes us need to see where anything goes.
Actor Review
Michael Madsen: Ray is the son the man who runs Las Vegas, he walks around the town like he owns the place but his drug habit is getting the best of him with the gaming commission wanting to take his license. He comes up with an idea to take his money out of the city. He also has a taste for the ladies and his latest is the beautiful Kim who he convinces to give her up stripping life to be with him. Michael is clearly an actor that needs the right director to get the best performances out of him.
Shayla Beesley: Kim is the beautiful young stripper who gets a chance to leave that life behind her when Ray comes into her life, but she finds herself fighting against his drug usage and abusive nature and when a new man comes into her life she finds herself in the middle of a love triangle. Shayla does a solid job but doesn't reach the levels that could be expected in a leading role.
John Palladino: Matt is the one man that comes into the lives of our couple, he works for Ray but gets involved with Kim, the two plan to stay together even behind the back of Ray. John doesn't get enough screen time for how important his character is meant to be.
Paz de la Huerta: Margo is the best friend of Kim, she is older and wiser with how she acts around Las Vegas, she is also worried about how she making that decision. Paz doesn't get enough screen time in this supporting role.
Support Cast: Death in the Desert doesn't have the biggest or most impactful supporting cast with most just coming and going so quickly.
Director Review: Josh Evans – Josh gives us a film that really comes and goes from nowhere to give us little to get excited about.
Action: Death in the Desert doesn't have much or any action in.
Crime: Death in the Desert has a subtle crime story that isn't to special.
Settings: Death in the Desert uses Las Vegas for setting which is always a great setting for film.
Suggestion: Death in the Desert is one to try but it isn't anything too special. (Try It)
Best Part: Las Vegas is always a great setting.
Worst Part: Story is very slow.
Believability: No
Chances of Tears: No
Chances of Sequel: No
Post Credits Scene: No
Oscar Chances: No
Runtime: 1 Hour 23 Minutes
Overall: Disappoint crime thriller that really doesn't get enough into the story.
Rating