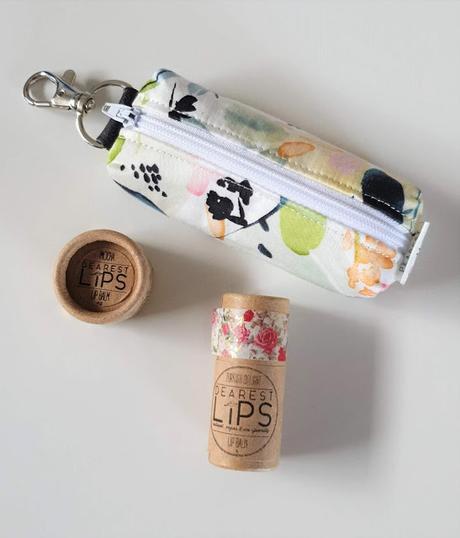 When I was in high school I had a little bag that I carried around with my money and lip balm in it. It was a tiny little black thing and it had handles on it, so cute. I used to pin it to my skirt so that I didn't lose it. I have no idea what happened to that cute little bag, I suspect that it fell to pieces as it was well loved.
I've searched for something similar for years and not found anything until I was sent the new Dearest Lips Lip Balm Holder as a birthday present. How cute is it? I love carrying my stuff around in tiny little bags.
If you too are a fan of cute little bags, check out the gorgeous new Dearest Lips Lip Balm Holders. They come in four different designs, are a bargain at only $10.95 and they can easily fit in a few lip balms and some cash.
They're very sturdy with a strong clip so they won't fall off your keys or handbag. 
Being nice and compact they fit into my pocket or if I'm wearing jeans I'll clip it onto my belt loop. I take mine when we're going to the park, it fits all my essentials (house key, garage remote, band aids and lip balm).
When we're not at the park, my lip balm holder is attached to my handbag with a lip balm, lipstick and gloss in it. Perfect.  
I love that it zips up so the balm can't fall out of it. I've lost several lip balms to holders that they fell out of which really isn't ideal. This one means that I don't have to worry about losing my favorite balm.
If you're a lover of cute little bags or in the market for a lip balm holder, check out Dearest Lips. Whilst you're there, get some of their gorgeous balms too.