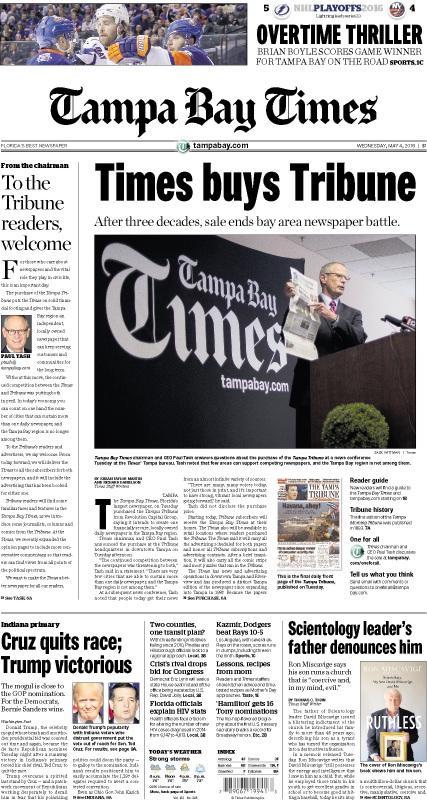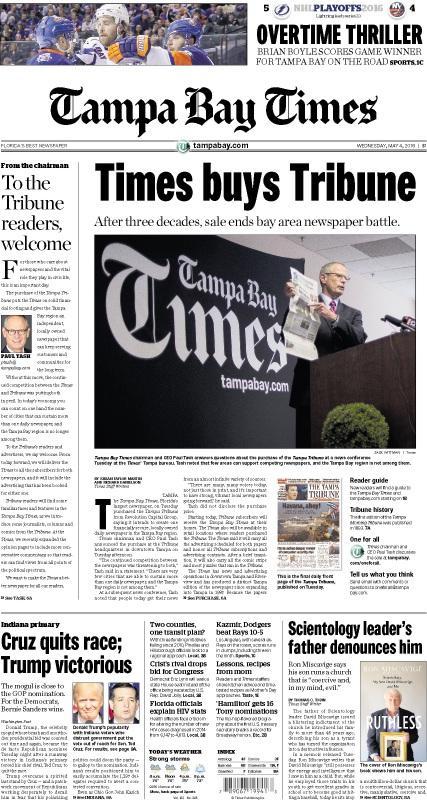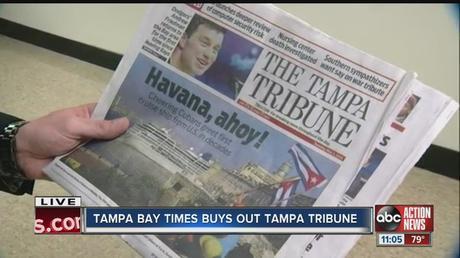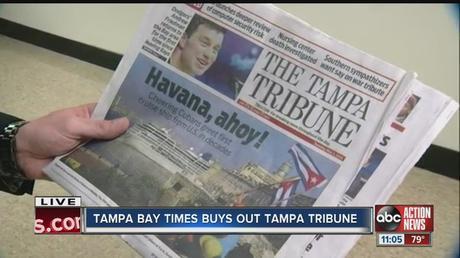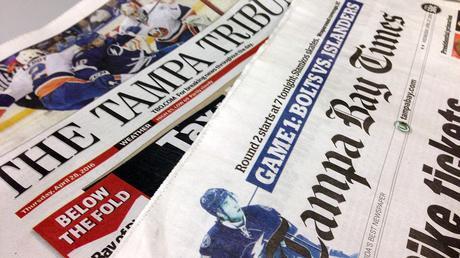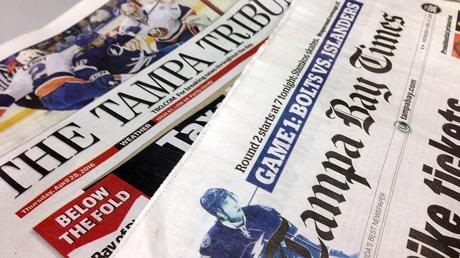 Dear Trib:
(Hope you get this letter, as I am having trouble connecting to anything with your name on it. Every time I try to do so, I end up at  http://www.tampabay.com, and even your Twitter spot is no longer there. But I am sure you can hear me, so here it goes!)
Sorry to see you go! I understand that The Tampa Bay Times has bought you and shut you down, all within a short period of time, almost as short as the time it takes a Tampa commuter to get across any of the bridges to the other side of the bay to St. Petersburg.
But many of us saw it coming. In fact, I was in Tampa--where I keep my second home--this past weekend and took a look at one of your editions. It was rather anemic, with flimsy inside sections that with hardly any content.  I also noticed an overall lack of advertising.  What I did not know is that it would be the last time I would see you. That makes me sad.
Ever since the Times started a Tampa edition in 1987, I noticed that its presence there was a strong one.  As a runner doing my early morning daily run through Temple Terrace, where I used to own a home, I started noticiing that a majority of the newspapers I would see wrapped in plastic, waiting to be collected by their owners, were the Times.  I was quietly observing the beginning of the end.
I first came in contact with the Tribune—or the Trib, as all of us in Professor Arthur Sanderson's class at the University of South Florida called it—while taking an Editing 301 course  The Trib was a daily part of our discussions. An important one.
"What did the Trib do about that story," my fellow student Polly might ask.
Then Stuart would answer: "I thought the St. Petersburg Times gave it more space and did it more in depth."
Imagine what great experiences we young journalism students had comparing the treatment of the same story by two first class newspapers.  
Prof. Sanderson had a tendency to like the Times' treatment of the story more often than he did the Trib, but there were times when the class would rally around the Trib's way of presenting that important "lead" or first paragraph of the story.  Or, the Trib would have a jazzier, less formal, headline than the Times, whose editors of the time probably considered a newspaper with more gravitas. Whatever the case, our editing class benefitted from the comparison of daily treatment of stories that no textbook could provide.  To live and to learn in a two-newspaper town was a thrill that it is almost impossible to find today.
When it came to newspaper design---it was called newspaper make up in the late 60s---there was no question about it: The St. Petersburg Times was the five star winner. Visually speakiing, the Times was inventive, visionary and ahead of its time in almost everything it did.
 I remember how we would pin pages of the Times on our bulletin boards.  The Times pioneered in the use of color and could print the type of color quality that was the envy of the industry and that one could only expect to see in glossy magazines.  They were also among the first in the introduction of information graphics to enhance stories, hiring the best talents iin the iindustry to do so, among them the great George Rorick.  Add to that the quality of its international reporting (with foreign correspondents around the globe).
In fact, I remember people often saying that  St. Petersburg was a city that did not deserve its "fantastic" newspaper. I always wondered if there was such a thing as a newspaper that did not deserve to inhabit in its own local environment.
Competition makes for better products, and such was the case with the Tribune and the Times.  Your pages started looking cleaner and more contemporary. Your artists began to produce excellent graphics. You were always the "orphan" on the Tampa side of the bay, but you did not let the label get you down.
It was gloriously fun and efficient to be a journalism student, and a reader, in a two-newspaper town.  There are few of those around, as Paul Tash, Chairman and CEO of The Tampa Bay Times (formerly the St. Petersburg Times) said when he made the announcement of your purchase:
"The continued competition between the two newspapers was threatening to both. There are very few cities that are able to sustain more than one daily newspaper, and the Tampa Bay region is not among them."
I know that many citizens in Tampa are mourning your sudden departure. After all, you had been a part of Tampa much longer than such tradition as black beans and yellow rice at the Columbia Restaurant in Ybor City, or the Gasparilla Pirate Festival .  Indeed, you first appeared as the Tampa Morning Tribune in 1893.
It is a good thing that those loyal readers of the Tribune still remaining will now get The Tampa Bay Times, one of the most prestigious daily newspapers in the United States, recognized with 12 Pulitzer Prizes (two of them this year).
Disclaimer: The Tampa Bay Times is owned by the Poynter Institute for Media Studies, of which I have been a part since the early 1980s, both as founder/director of its Graphics Program, as well as a member of its Advisory Board and currently on the board of the Poynter Foundation.
It is also reassuring, in these chaotic days of major changes in newspapers around the globe, that the purchase of The Tampa Tribune puts the Times on solid financial footing and gives the Tampa Bay region an independent, locally owned newspaper that can keep serving customers and communities for the long term.
Still, it is sad to see any newspaper disappear.  It is especially so when that newspaper was, like you, a part of the family, and, in my case, a wonderful textbook from which to grasp journalism lessons that I have carried with me for a lifetime.
For that, I join the many who salute you and give you a fond farewell.
Tampa will miss you much. I know I will, too.  You leave behind a glorious past and the collective history of a city that somehow will not be the same without you.
One thing is for sure, Tampa Bay definitely deserves the newspaper that it will now call its only one!
Gratefully yours,
Mario
In the UK, New Day newspaper shut down two months after launch
http://www.theguardian.com/media/2016/may/04/new-day-newspaper-shut-two-months-launch-trinity-mirror?CMP=Share_iOSApp_Other
A new era for the Tampa Bay Times (editorial)
http://www.tampabay.com/opinion/editorials/editorial-a-new-era-for-the-tampa-bay-times/2275796
http://web.tampabay.com/news/business/paul-tash-times-purchase-of-tampa-tribune-means-one-newspaper-for-all-of/2275766
http://www.poynter.org/2016/tampa-bay-times-buys-and-folds-the-tampa-tribune/409819/
TheMarioBlog post #2160
Please enable JavaScript to view the
comments powered by Disqus.
comments powered by

Disqus