Dear President Trump,
You may not remember me, but we met at one of your rallies. I approached you and expressed my need for a pony. I said: "I am one of your sorrowful and fragrant forgotten people, and you need to do me a SOLID. I am a 'Party Pony,' yet I possess no pony. Sad!"
I got your signature on my #MAGA hat but you didn't notice the fine print stitched inside the hat, which reads: "You will be getting a pony from me, Donald J. Trump." Because you don't like to read I did not bother you with it.
Without a pony, I am like Obamacare in its "death spiral." Without my promised pony, I can no more hold my head up proudly than you can count on KellyAnne not to rattle her chains in the "Black Hole of Calcutta" which is another term for the SUB SUB BASEMENT of the White House.
Is my pony down there, Mister President? Because I would very much like to claim him!
Does KellyAnne have my pony??!!
My pony will need a wall. A large wall. This wall will protect him from DRUGS and PONY TRAFFICKING.
I would like my wall to be 85 feet in circumference plus 8 feet in height to protect from marauding deer and pony rapists and peddlers of biblical literature. I would also like the wall to have the name TRUMP in giant gilt lettering so the animals know to be scared. I would like a separate bathroom for each type of animal, excepting the queer ones. They can piddle in the woods.
Can I get the name "Trump" tattooed onto my actual pony, Mister President? I would like the tattoo to be in gold. Can you please make the tail end of the "p" in "Trump" look like a flowing mane and the top part of the "p" look like a pony's face? Here is a sketch so that you get it perfect: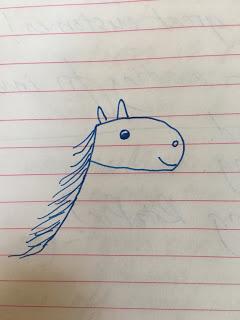 If I don't get my pony, which I will, then more DRUGS and bad hombres will liberally drown my pony in offal. This is what my pony would look like on drugs and do I need to tell you that this is bad?!! No, I do not. I drew this picture of my pony while on so many drugs it's ridiculous! Unbelievable!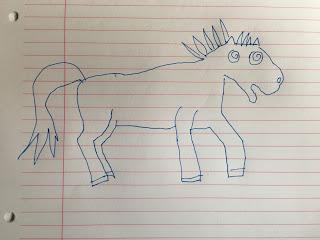 I want my pony to be a handsome animal, President Trump. He should be bedecked and beblazoned with COAL DUST and other detritus of planet-destroying badness. He should wear a collar of plastic bags from the Great Plastic Garbage Patch! Which is a hoax! I shall call him: TRUMPLETTE, and he will be mighty among very small horses.
My pony will shit into the beautiful streams of our great country! Its farts will cause the ozone layer to COMPLETELY DECAY! Ha, ha—that's fake news because THERE IS NO OZONE LAYER. My pony will belch forth great witticisms and strategies and (unintelligible)!
I would like my pony to be delivered by military aircraft. And I get to keep the aircraft. No, wait. I would actually like my pony delivered by ARMADA. Use MapQuest, please. I will also be keeping the armada. Send the aircraft too, at a discreet distance so my neighbors don't get alarmed.
My pony needs to be super-duper, higher, better, better. In fact, this will be its middle name! Actually, find me a pony whose middle name is ALREADY "Super-Duper, Higher, Better, Better." I want this documented and I want to see its birth certificate. Make sure the "higher" part is figurative because I don't want any stoned-ass, pot-smoking pony.
The pony's last name should be "Unintelligible" because I see that you used this word maybe EIGHTY-FIVE TIMES in your latest interview so it must be a word that you love very much! I will also love my pony very much!!!
Make sure that you find me a pony whose last name is ALREADY "Unintelligible." I do not want to have a pony who has changed his surname, because that pony might be Mexican, which means the pony is a gang member. Gang members are impalatable to me and to many others, including youth.
My pony will be the greatest pony in the history of, but you know what, I'll take that also, but that you could be. He will be the greatest pony but I will also accept the other. You know what I mean. Just get me my pony.
You promised me a PONY. I am not yet weary of winning. I have much energy!
Eagerly awaiting delivery of my pony, "Trumplette Super-Duper, Higher, Better, Better Unintelligible,"
The Party Pony