Here is a list of either links or coupon codes you will need to do your Black Friday/Weekend or Cyber Monday shopping!
Save 45% on the Tropical 88 COLOR eyeshadow palette today 11/25/2011 only at BHCOSMETICS.COM

On Cyber Monday you can save 50% on eyeshadow, brushes, eyeliner and more at BH Cosmetics.

You can save 20% on orders of $100 using code
BLACK
more plus free shipping on Shiekh Shoes
<a href="http://click.linksynergy.com/fs-bin/click?id=f4/DOUNmrjE&offerid=237735.10000087&subid=0&type=4"><IMG border="0"   alt="Dorothy Perkins" src="http://ad.linksynergy.com/fs-bin/show?id=f4/DOUNmrjE&bids=237735.10000087&subid=0&type=4&gridnum=6"></a>
USE CODE
DPHOLIDAY
AT CHECKOUT TO SAVE 20% ON YOUR US.DOROTHYPERKINS.COM ORDER AND FREE SHIPPING ON ORDERS OVER $75!
Save 20% on ASOS orders using
HAPPYBLACKFRIDAY
at checkout!
Save 50% on SHOPTRANSLATED.COM from 11/25/2011 to 11/28/2011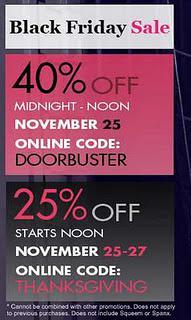 Use
DOORBUSTER
until 11am on fashiontofigure.com to save 40% today only(11/25/2011) and after 11am you can save 25% by using
THANKSGIVING
at checkout!