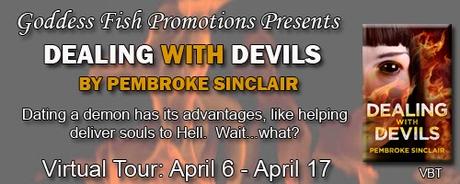 TENS LIST
What 10 things absolutely drive you insane?
1. When people don't answer emails—especially if that's the only way to contact them.
2. People who say they're going to do something and then don't.  If you don't want to do it, then don't say you're going to do it!
3. Being late.  It's a source of anxiety for me to not make it to where I'm supposed to be on time.
4. My dogs wanting in and out and in and out all day long.  Pick one!
5. Not enough time in the day to finish all my tasks.
6. When the toilet paper runs out and no one puts a new roll on.  Seriously, it takes 2 seconds!
7. Bagpipes.
8. Ruining a perfectly awesome dessert by putting nuts in it.
9. Missing a deadline.  It's like being late, it makes me anxious.
10. Being bored.
ABOUT THE BOOK
Dealing with Devils
by Pembroke Sinclair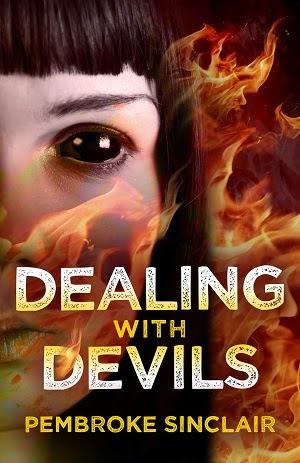 BLURB:
Dating a demon has its advantages, like helping deliver souls to Hell. Wait...what?
Katie's world has been turned upside down. She's fallen for Josh—despite the fact that he's a demon from Hell. Wes is finally out of her system and her life. Convinced she can change Josh, she sets out to make him a better person, only to find out things aren't as simple as she'd originally thought. For one thing, Josh has Katie help him deliver souls to Hell, and she kind of likes it. And to top it off, other more powerful demons are battling for her soul, and revelations from the past could change the course of her life forever.
EXCERPT
Katie leaned against the railing, staring into the night. A warm breeze touched her face, bringing with it the scent of salt and fish. Every so often, droplets of water touched her skin as the waves lapped against the side of the boat. The bass from the music that played behind her vibrated through her feet and into her chest. Lights flashed at her back, throwing her shadow onto the waves below in spastic fashion. She took a deep breath and squinted her eyes. On the far horizon, just to her right, she could barely make out the lights of Liberty Island. She sighed again and leaned forward farther, resting her elbows on the railing.
She had always wanted to see New York. She and Deb had tentatively planned a trip for the summer after graduation, before going to college. Katie thought maybe it would be a trip to orient herself with the city—attending college in the city was high on her list of things she wanted to do—but she hadn't decided where to go yet. In fact, it was the last thing on her mind at the moment. She needed to get her life back first before deciding what she was going to do with it. As usual, when Josh had showed up in her room earlier tonight and asked her to come with him, she couldn't bring herself to say no. She knew the possibility existed that she would be involved in something unpleasant such as witnessing Josh taking a soul, but she told herself she was going to stop it this time. She wouldn't stand idly by.
AUTHOR Bio and Links: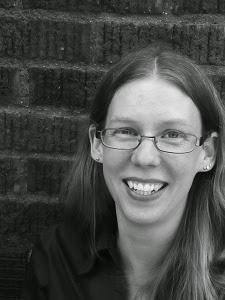 Pembroke Sinclair is a literary jack of all trades, playing her hand at multiple genres. She has written an eclectic mix of fiction ranging from horror to sci-fi and even some westerns. Born in Rock Springs, Wyoming--the home of 56 nationalities--it is no wonder Pembroke ended up so creatively diverse. Her fascination with the notions of good and evil, demons and angels, and how the lines blur have inspired her writing. Pembroke lives in Laramie, Wyoming, with her husband, two spirited boys, a black lab named Ryder, and a rescue kitty named Alia, who happens to be the sweetest, most adorable kitty in the world! She cannot say no to dessert, orange soda, or cinnamon. She loves rats and tatts and rock and roll and wants to be an alien queen when she grows up.




You can learn more about Pembroke Sinclair by visiting her at http://pembrokesinclair.blogspot.com/




Social Media Links:

https://www.facebook.com/jessicarobinsonauthor




https://twitter.com/PembrokeSinclai




https://plus.google.com/102808614523341154478/posts




https://www.goodreads.com/author/show/3522214.Pembroke_Sinclair




Find the Book:

Goodreads 




FOLLOW THE TOUR!




GIVEAWAY




Pembroke will be awarding a $10 Amazon/BN GC to one randomly drawn winner, a paperback copy of Dealing with Devils (US Only) to another winner and an ebook copy of Dealing with Devils to 5 other winners. All prizes will be awarded via rafflecopter during the tour.


a Rafflecopter giveaway