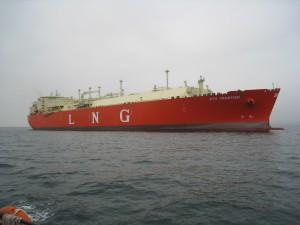 American shale gas will heat 1.8 million homes in the United Kingdom by 2018, according to a deal between Cheniere Energy and U.K.-based Centrica PLC. The development marks the first time the Department of Energy (DOE) has permitted the export of shale gas to a country not under a free trade agreement. Thus far, Cheniere is the only company in the lower 48 states to hold such a permit (21 requests are pending approval), though results of a recent study commissioned by the DOE make it near certain that more permits will be issued. The key, influential findings of the study were that liquefied natural gas (LNG) exports would have only positive effects on the macroeconomy, and that market forces would put a ceiling on domestic LNG prices (which would be pushed upward by shale exports).
The development comes on the heels of news that Britain's unseasonably cold weather depleted the country's natural gas reserves to just two days. Further exacerbating the problem was the failure of a gas pipeline that briefly caused gas prices to double until the pipeline was fixed. Prime Minister David Cameron welcomed the new commercial agreement, saying, "Future gas supplies from the U.S. will help diversify our energy mix and provide British consumers with a new long-term, secure and affordable source of fuel."
In contrast to the Cameron's rosy (and arguably inaccurate) portrayal of the deal, there has been well-publicized concern over the environmental impacts of drilling shale gas. Specifically, there is uncertainty as to how millions of gallons of chemical-laced drilling fluid could affect ground and drinking water. Environmentalists are also uneasy over the global warming potential posed by unknown amounts of methane leaks during fracking operations. Alan Septoff of Earthworks, a Washington-based environmental advocacy group, said, "We cannot guarantee that drilling occurs safely in the United States, because there is neither the science to justify nor do states enforce what regulations do exist."
The potential for more permits to export shale gas has also prompted backlash from U.S. industrial players, who recently formed America's Energy Advantage. The group (whose members include Dow Chemical, steelmaker Nucor, and the American Public Gas Association) seeks to limit gas exports, though purely out of self interest. Detractors of the group, including Jack Gerard, say that restricting shale exports makes no more sense than limiting exports of chemicals, agriculture and vehicles.
Under the 20-year contract between Cheniere Energy and Centrica, U.S.-based Cheniere will export 89 billion cubic feet of LNG, producing more than $273 million in revenue annually. Since the unit price is fixed (besides an adjustment for inflation), that amounts to nearly $5.5 billion over the life of the contract, not including the possibility of a 10-year extension. In addition to economic growth in the sector, the deal will produce a sizeable amount of pocket change for Uncle Sam.
If you're a proponent of shale gas, the future is very bright. The Energy Information Administration projects that the U.S. will be a net exporter by 2016. If you're against shale gas, well, the silver lining is that the cleaner burning natural gas should replace coal…at least temporarily.
Image by Höegh LNG