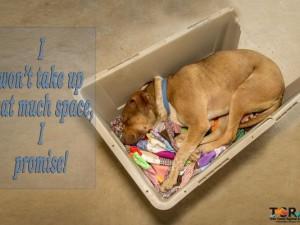 DIVIDE – The Teller County Regional Animal Shelter is full of wonderful animals waiting to find forever homes. However, there's one dog in particular who's having a difficult time finding a new family. It's unfortunate, since most families don't know how talented he is.
The dog's name is Connor, and he is a 1-year-old pup. Connor was born with something called Cerebellar Hypoplasia, which according to the shelter means his cerebellum never matured. Connor will forever be a perpetual puppy.
Connor was transferred from another animal shelter, because no one wanted to adopt him. According to the Teller County Regional Animal Shelter, he likely would have been put down had they not taken him in.
The staff at TCRAS noticed Connor was having a difficult time adjusting. He wasn't listening to commands or paying attention to anyone. That's when a tech named Tori realized something: Connor is deaf.
Tori took it upon herself to teach Connor American sign language, the shelter told us.
"The difference is nothing but miraculous," said Nancy Adams, who works at the shelter.
Adams said she has groups of school children coming in to see his abilities.
"A deaf family came up this weekend to show him to their deaf daughter. He responded to her commands," Adams said.
The shelter is hoping to find Connor a forever home.
For more information on TCRAS and Connor, visit: http://www.tcrascolorado.com/.
~Via 9News Colorado
Tags: adoptable dog, Deaf dog, dog sign language