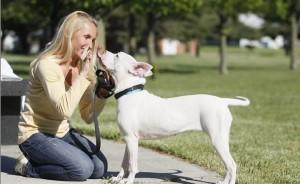 You can't tell by looking at Rudi that she's different from any other dog.
The energetic young "pit bull"-mix loves to play and loves the attention of her owner, Angi Holt-Parks, who lives in the Point Place neighborhood of Toledo.
But Rudi has a disability: She's deaf. Ms. Holt-Parks and her husband, Don, are learning American Sign Language — the same used by and with deaf people — and teaching it to the dog to communicate with her.
So far, she has learned the hand signals for "potty," "no," "good girl," "love," and "sit," she said.
The couple adopted the dog from the Lucas County dog warden, where Ms. Holt-Parks is a volunteer.
"After working with her and walking her, I saw she had a lot of potential," she said. "She just wasn't given the chance by anybody because she was deaf. She kept getting looked over. I was constantly thinking about her and even did some research online about deaf dogs and sign language before I got her."
Ms. Holt-Parks said she has disabilities in her family, including deafness, so it has been fascinating to learn sign language.
"I also think I have a soft spot for her because of my line of work and the kind of people I help on a daily basis," said Ms. Holt-Parks, who is a physical therapist assistant. "I feel like she is definitely in my life for a reason, and I believe that she is capable of doing great things."
Although she's never worked with a special-needs dog before, Ms. Holt-Parks said she's owned several dogs with medical issues.
"The biggest challenge thus far is keeping her attention during training because she does get distracted easily because she is young and still wants to play," Ms. Holt-Parks said.
John Brown, Lucas County dog warden behavior technician, has worked with Ms. Holt-Parks on ways she can communicate with Rudi, who was called "Charm" at the pound.
He suggested a vibrating collar, which is a training collar that allows a person to press a button on a remote-control device, which then sends a signal to the collar, causing it to vibrate. The vibration is not a shock, and it is not very strong, Mr. Brown said. Many people who have used the collars first worried that they wouldn't work because the dog didn't seem to notice, he said. But with conditioning and training, the dog will respond to the vibration.
Mr. Brown also referred her to the Web site deafdogs.org, which has information on training. The group is a nonprofit founded to speak on behalf of and assist in the betterment of life for deaf dogs.
"Until we get a vibrating collar, she is learning through other methods of touch and vibration, like stomping on the floor to get her attention or a light touch on her side and neck to get her to make eye contact," Ms. Holt-Parks said.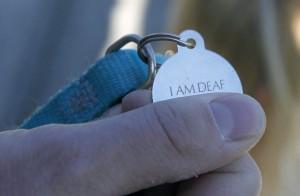 Ms. Holt-Parks takes Rudi to Friendship Park in Point Place for one-on-one training sessions. However, the fun-loving dog gets distracted by the family's other dogs.
"They love her, especially Zoey, who is around her age," she said. "They play and cuddle. She was accepted into the group right away. It was actually pretty amazing.
"I do believe they 'know' she has a disability," she said. "They are always sniffing and licking her ears."
Ms. Holt-Parks said she hopes her experience with Rudi will inspire others to consider adopting a dog with a disability.
"My advice to people wanting to give a deaf dog a home is, don't treat them differently," she said. "She is just like my other dogs, and most people wouldn't know she is even deaf. You just have to communicate with them differently with hand signals and facial expressions."
Having a deaf dog has been a wonderful learning experience, Ms. Holt-Parks said.
She hopes Rudi can be certified as a therapy dog so she can take her to schools, hospitals, and nursing homes.
"We can educate people about not only the 'pit bull' breed, which unfairly gets a bad rap, but also about how you can communicate with not only deaf people but also deaf dogs via sign language," she said. "Deafness is definitely not a barrier or a disability, because she is living the same life that my other dogs are.
"We just communicate differently with her. I truly believe people will enjoy her, and she is so willing to learn."
~ Courtesy of Toledo Blade
Tags: American Sign Language, Deaf dog, dog deafness, dog learns sign language, dog training