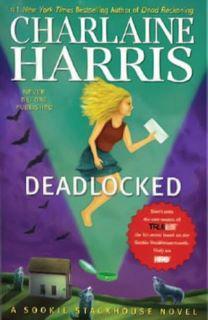 Great news everyone!
Deadlocked, the penultimate and 12th Sookie book written by Charlaine Harris has premiered on the Indie Bestseller List at…………………………..#1 for Hardcover Fiction!
The book debuted on Indiebound's Indie Bestseller List for the week ending May 06, 2012. This is what they said below;
(Debuted at #1 in Hardcover Fiction) Deadlocked by Charlaine Harris: "Growing up with telepathic abilities, Sookie Stackhouse realized early on there were things she'd rather not know. And now that she's an adult, she also realizes that some things she knows about, she'd rather not see—like Eric Northman feeding off another woman. A younger one." (May 2012)
That's awesome! Congratulations Charlaine! We're not surprised by this, since many of us waited for this book for over a year!
What are your thoughts? Are you surprised? Is it deserving? Share 'em below!
Source