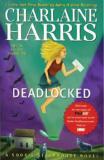 Charlaine Harris has posted Chapter 2 of the next novel in the Sookie Stackhouse series, "Deadlocked" over at her site!! Yes, you read that right! It's Chapter 2, not Chapter 1 – though we have NO idea why they didn't post the first one first.
WARNING: For those who don't want to know – please don't read below!
Please note that the DEADLOCKED excerpt is not available for mobile devices such as cell phones or iPads and requires the most recent version of Adobe Flash to view.
You can download the latest version of Adobe Flash here.
 Read Chapter 2 of Deadlocked here!
Feel free to discuss the 2nd Chapter in the comment section below!
As for my two cents…
Wow, not sure what to think…glad Niall is back, but I wonder how and why he showed up. I think Pam's warning has to do with FDC and the Queen of Oklahoma.
Most of all…SO HAPPY Sookie tells Dermot… "Two, I love Eric and I should only bunk down with him." ♥♥♥
What are your thoughts? Share 'em below!