WHAT?!?!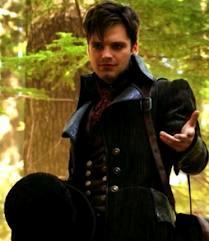 EXCLUSIVE UPDATED:
 The Mad Hatter may get his own series. I've learned that ABC brass are mulling spinning the character from fairytale drama 
Once Upon A Time
 into his own series. I hear ABC's original plan was to do it with Sebastian Stan, who has played the character in six episodes. But he was not available for the potential series commitment, so the network has quietly put out feelers to recast the role. (Stan is finishing a run in 
Picnic
 on Broadway, segueing straight into training for his role in
 Captain America.)
I hear one scenario has ABC filming a short presentation with the character. It is also possible that the Mad Hatter returns to Once for a guest stint later this season. If the character and his storyline pop (as they have done in the past), that would serve as a backdoor pilot and ABC will consider launching a spinoff centered on the Mad Hatter. If he appears on the show, the new Mad Hatter would be cast as a guest star with a series option behind it. This is not an unusual practice for Once, which casts many guest stars with series options, allowing the network to make them regulars. Actors who have been upgraded to regulars on the show from guest stars include Emile de Ravin (Belle), Meghan Ory (Red Riding Hood), Colin O'Donoghue (Captain Hook). There is an Alice In Wonderland-themed project already in the works for next season — NBC's drama pilot Wonderland, executive produced by Anthony Zuiker, which was originally set at ABC Studios, the studio behind Once. Its production was recently rolled.