Hey Eric & Sookie Lovers!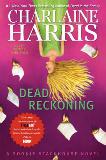 We found this book review of
Dead Reckoning
and just had to share it with you! The writer brings up many great points and gives you something to hope for the rest of the series!
She feels, Dead Reckoning is only the beginning of what's yet to come in the series and gives you a different perspective for those who didn't like the book for whatever reason(s).
Will Sookie fight for Eric? Will Eric be Sookie's HEA? Burning questions we're all dying to know! You will have to read this review and see what the writer says!

You may read the review

here

!
PS. To Tiffany (the writer), I couldn't agree more and I'm glad you feel the same way as I do! What happens in Dead Reckoning – isn't the end of the world for Eric & Sookie…but only the beginning!  Thanks for writing your review!