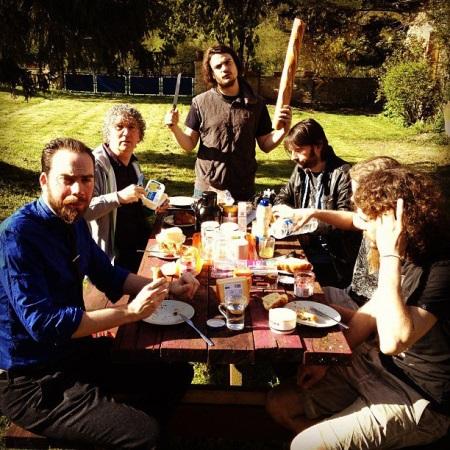 Dutch alternative rock band De Staat have announced a lengthy Duthc club tour, kicking off with a warm-up gig in their hometown Nijmegen in September.
Mixing engineer Vance Powell (Jack White, The Raconteurs) just finised his work on the band's third album in Nashvll, Main man Torre Florim is putting on the final touches.
Sunmmer tour dates:
06/07 Anywave Festival, Zierikzee, The Netherlands
06/08 Lunatic Festival, Lüneburg, Germany
06/14 Ract!festival, Tübingen, Germany
07/13 Sound Circle Festival, Hüntwangen, Switzerland
08/01 Free & Easy Festival, München, Germany
08/03 HORST Festival, Mönchengladbach, Germany
Dutch club rour:
09/19 Doornroosje, Nijmegen
10/17 Vera, Groningen
10/18 Effenaar, Eindhoven
10/19 Gebouw-T, Bergen op Zoom
10/20 Burgerweeshuis, Deventer
10/25 Paard van Troje, Den Haag
10/26 Melkweg, Amsterdam
11/09 Atak, Enschede
11/14 Corso, Rotterdam
11/15 IJsselhallen, Zwolle
11/16 De Vorstin, Hilversum
11/28 Mezz, Breda
11/30 Het Bolwerk, Sneek
12/05 De Spot, Middelburg
12/07 Bibelot, Dordrecht
12/12 Luxor Live, Arnhem
12/13 De Kelder, Amersfoort
12/14 W2, Den Bosch
12/20 Metropool, Hengelo
01/23 Tivoli, Utrecht
01/24 Nieuwe Nor, Heerlen
01/25 DRU Cultuurfabriek, Ulft
01/30 Patronaat, Haarlem
» destaat.net
HCTF review of Machinery.