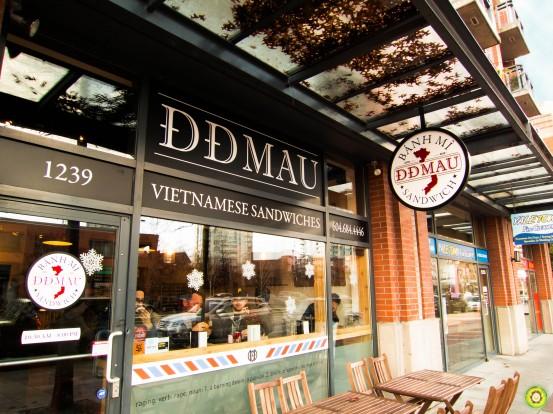 With my pile of homework and projects petering out, I finally found the time to try out DD Mau, a specialty Vietnamese sandwich shop in Yaletown.  Ever since I bought the VANEATS dining pass, I've been desperately wanting to go!  Tantalizing photos of the infamous subs were no longer enough to sustain me and my craving.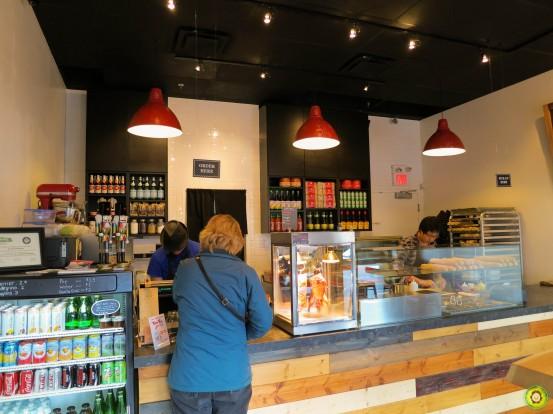 The interior is really simple and inviting.  I especially liked the wood-themed furniture.  There's also a few tall tables and chairs for the eat-in folks; otherwise, people just grab and go!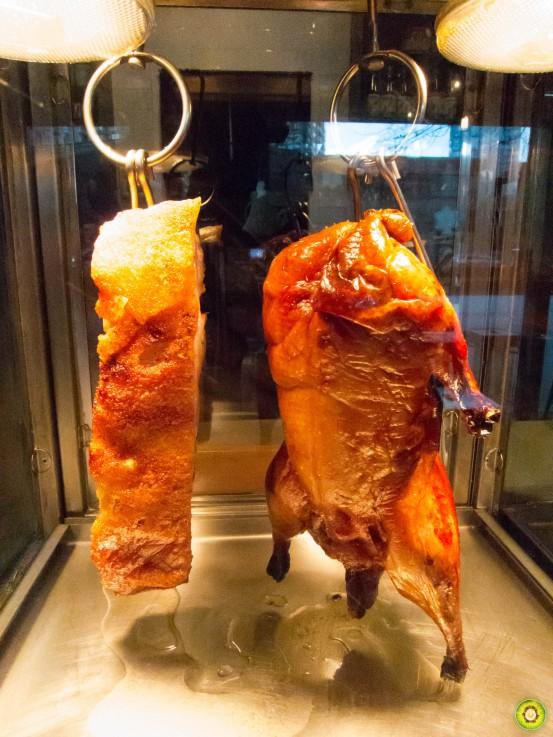 Once hippoCHAN and I walked in, we immediately saw our meal dangling in front of us – literally.  The display case reminded me of those in Parker Place, where all the C-lai (師奶; SL; middle-aged Chinese ladies) line up for roasted pork or cha siu!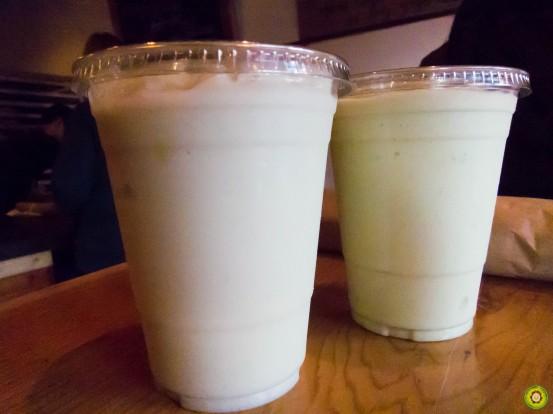 The dining pass included one Fresh Fruit Smoothie:  Honeydew or Avocado.  Yes, avocado is a fruit!  Since hippoCHAN bought one as well, we ordered one of each :)
On the left, the honeydew was refreshing and sweet, but a little bit too icy.  On the other hand, the avocado was creamy and more subtle in sweetness thanks to the condensed milk.  Also, because the smoothies are made with almond milk, there was a pleasant hint of nuttiness.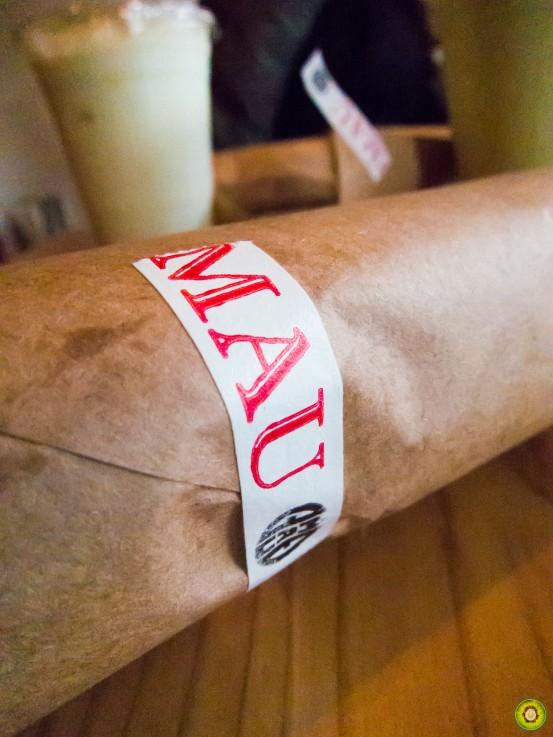 Now onto the submarines!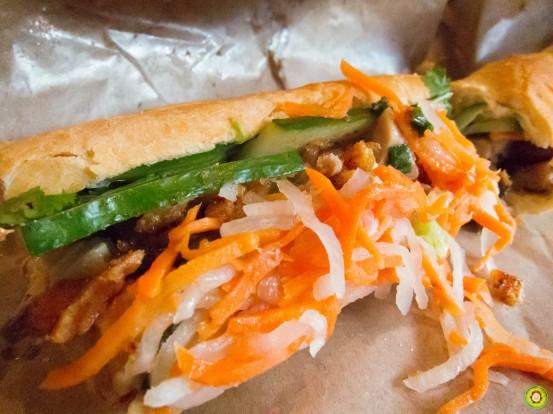 The Crispy Roasted Pork had sautéed scallions, pickled veggies, cilantro, garlic aioli and jalapeños.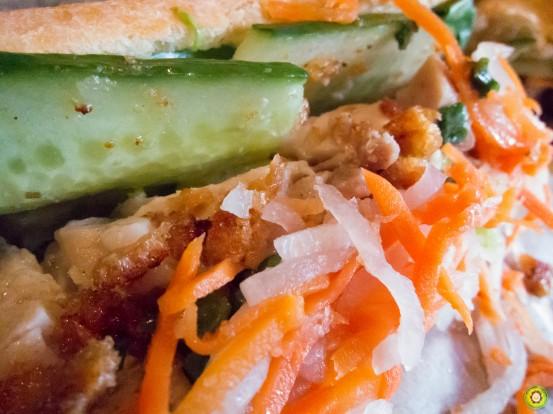 To my delight, I became really fond of the pickled veggies that weren't overly acidic.  They paired well with saltiness of the pork and richness of the aioli.  Although, I didn't pick up much of the heat from the jalapeños.  Oh well, the crispy pig skin made up for it!  While munching on this, I was somewhat reminiscing about my time at Meat & Bread and their porchetta sandwich.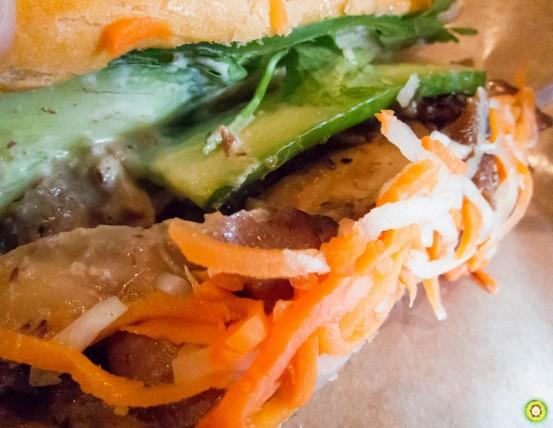 Okay, I admit it… this photo looks pretty much the same as the one before.  But, this one is actually the Grilled Lemongrass Chicken!  Similar to its porky cousin, this sub has pickled veggies, cilantro, and jalapeños… PLUS a sweet chili aioli.
The chicken is marinated for 24 hours with lots and lots of lemongrass!  So much lemongrass that you'd feel like a cow, just kidding!  Although, you may feel like a pig because you will scarf this baby down.  The lemongrass was very prominent and delicious.  Yet, what stood out most for me was the sweet chili aioli!  It was rich and indeed sweet.  I could also taste the jalapeños this time, which really gave the sub a soft kick to the buns!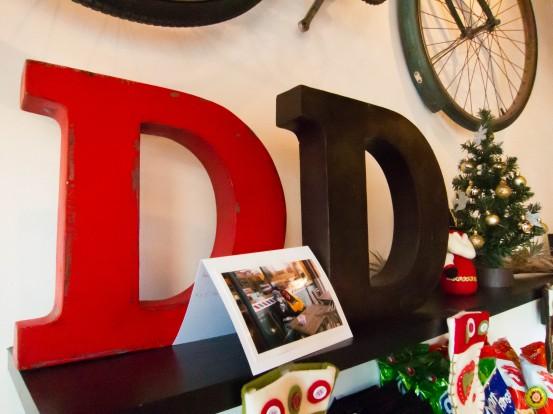 Without a doubt, this was one of my favourite lunches!  I will definitely come back, especially since it's so conveniently located.  Also, the DD Mau Dining Pass can be purchased from the VANEATS website for $9.5!
Final Bytes
1.  Fresh sandwichs served at quick speeds!
2.  Very limited seating!  Come before 12:30pm to beat the rush!
3.  2 minute walk from the Yaletown Canadaline Station!
Foodobyte's Rating

---