New to little Indiana? Subscribe for free to my RSS feed. Thanks for stopping by!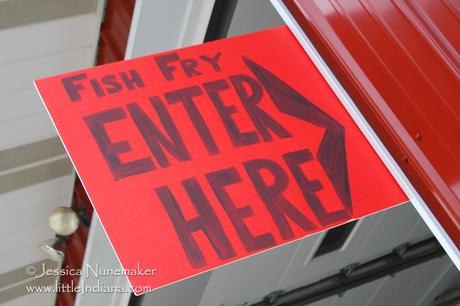 Dayton, Indiana Sheffield Fire Department Fish Fry
little Indiana never  passes up a chance to eat–and Dayton, Indiana's Annual Fish Fry at the Sheffield Fire Department was no exception! This Indiana town event? Full of all the hometown fun you would expect: yard sales, craft booths, and even a cake auction.
Sheffield Fire Department
So, I officially missed the cake auction (hubs and I arrived too early) but we did get to check out the fire trucks! I've ridden in a fire truck once before. It was in a town parade thanks to a fire-fighting friend of the hubby and we got to throw Tootsie Rolls to the masses. Fun!
I guess I forgot how high up those fire trucks really are! Whew! I Thought I would need a step stool to get into the thing. Anyway, what was neat and unique about the Fire Department Fish Fry in Dayton, Indiana is that they actually had all the trucks open with their gear lying around it–so that kids could check it out.
Well, kids and me, of course. There were jackets, boots, and hats scattered here and there. I had to try on a hat. Wow–heavy, heavy, HEAVY!
Craft Booths and Things
We strolled around the craft booths. I admit I found a puzzle for Kid #1 and a cute train for Kid #2 to push around. A bargain at $1 apiece! Score! Hubs? Not so amused.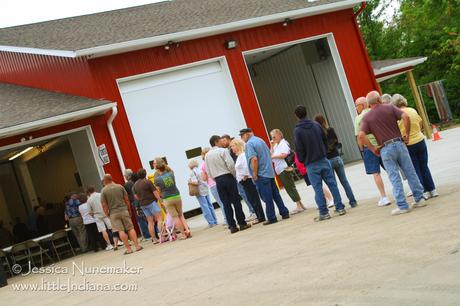 Fish Fry at the Sheffield Fire Department in Dayton, Indiana
What we thought was fun were the bunches of bikes. Apparently there's a hobbyist or two in town who likes to fix up and restore old bikes or Recycle them (ahem), in the case of one of the guys, he mashes together different bikes to create a totally new type of bike. Pretty cool!
We saw quite a few people zipping around testing them out. Since we both already have bikes, we carried on–and saw this giant line outside (and inside) the Sheffield Fire Department! I think everyone in this Indiana town turned out!
The Fish Fry
Wowza. Lots of people, lots of great smelling food–you could definitely call this annual fish fry a hit! What better way to spend an afternoon than in a cute Indiana town like Dayton?
For images of Dayton and other pictures of Indiana, check out my Flickr photostream. Stay tuned for more from Dayton–and a heap of images to come!
little Indiana: Where to Stay, Play, and Eat in Small Towns in Indiana. Discovering Indiana's best small towns! Now get little Indiana on your Kindle.
New! Offering affordable online advertising for your small Indiana business! little Indiana Businesses is the online presence that you've been looking for.