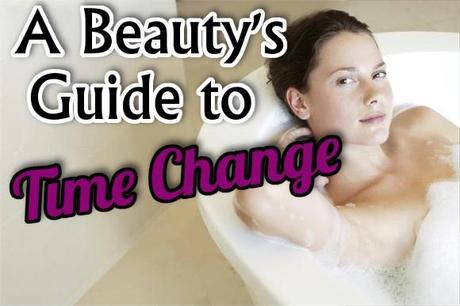 A wonderful thing is about to happen – Daylight Savings is ending. Time changes and we all get 1 extra hour to do something spectacular. Here's my list of beau-ta-bu-lus things to do with the extra time. And, yes. It all evolves around pampering…
Light a candle and let your favorite scent fill the room.

Give yourself a 

10-min manicure

 and try a new and adventurous

nail color
Exfoliate your face with an electronic brush like the Spa Sonic for deep cleansing. Even take a moment to get rid of any unwanted facial hair in a flash with SH Brush on Hair Remover.
Take an exhilarating shower with a cleanser that will romance the senses like Caress Evenly Gorgeous body wash while you're favorite holiday song plays in the background. Then get your Honey to massage you will organically exotic coconut oil afterwards.

Slather on some eye cream like 

Loreal Youth Code Eye Cream

 or 

Loreal Eye Defense

 and catch up on some much needed rest. Take advantage of the extra hour of beauty rest. We can all benefit because the hustle and bustle of the holiday season is nipping at our heels.

This is the best time to treat your feet. Slather them with a softener like Heel to Toe Feels Like New and put on your favorite comfy socks. Then grab a snuggie and do some journaling. It's so therapeutic for the soul.
Hope you enjoy your extra hour of sleep! Relax and enjoy it. We have a hectic holiday season lurking

. What do you typically do with your extra hour? sleep? I wanna know. Let me know in the comments below.