Today is day 4 of 5 on making delicious dinners from your leftover gammon or pork joint.
Every day this week there will be two recipes for you to choose from, though you can make all of these meals with the one joint alone!
Yesterday I gave my recipes for a couple of tasty toasties!
Today, after leaving some gammon to defrost overnight we have two really delicious treats awaiting us!
Today's recipes are:
Gammon, Rice & Mushroom Filo Pies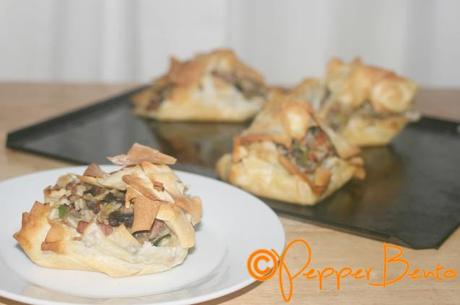 &
Gammon & Egg Croquettes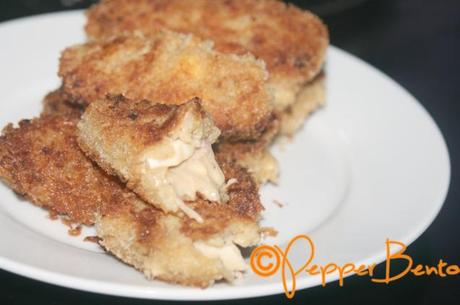 My gammon, rice and mushroom filo pies taste so good no-one would suspect it as leftovers or even care!
The rice takes on a whole new flavor as it is roasted in the oven and is just fantastic.
Gammon, Rice & Mushroom Filo Pies
Serves 2 to 4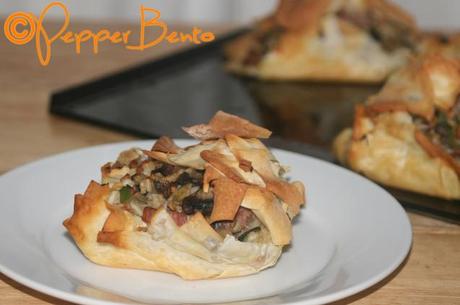 Ingredients
For the pastry
5 sheets of filo pastry, about A3 paper sized
30g melted butter
For the filling
50g long grain rice
150ml chicken stock
1 tablespoon olive oil
1 finely chopped onion
100g white mushrooms, diced
1 large courgette, diced small
70g left over gammon, diced
Salt & black pepper
Method
Place the long grain rice in a small saucepan with the chicken stock and bring to the boil on a medium heat with the lid on, turn down the heat when it starts boiling and cook the rice until tender.
Meanwhile, on high, heat a large frying pan with the oil.
Place the onion, mushrooms and courgette in the pan and cook, stirring until the courgette is soft.
Add the rice and chopped ham into this mixture and season, stirring to combine the flavours, leave to cool for a few minutes before placing in the fridge.
Next, take four of the delicate pieces of filo and place them on top of each other.
Cut the stack into 6 equal pieces to create 24 squares.
Take each square and brush melted butter over it's surface on both sides.
Make 4 piles of 6 square sheets, each sheet placed on at an angle to create something resembling a star.
Preheat the oven to 190oc.
Transfer each pile to a baking tray and place an equal quarter of rice mixture into the center of each.
Fold up the sides of the pastry to create little cups.
Lastly, butter the last sheet of filo on both sides and cut into strips.
Scatter the strips over the top of each pie opening and place in the oven for 10 minutes, until golden and crisp, serve!
Gammon & Egg Croquettes
Serves 2 to 4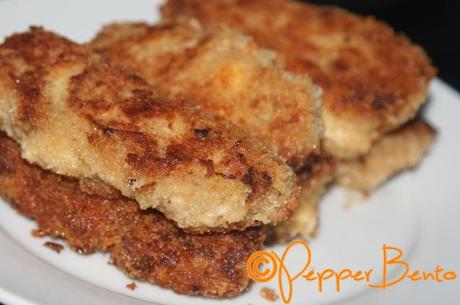 Ingredients
1 tablespoon finely diced onion
4 tablespoons butter
95g plain flour
235ml milk
135g gammon, chopped
3 large eggs
1 tablespoon dry white wine
Large pinch of Cumin powder
Large pinch of chilli powder
Large pinch of dried oregano
Large pinch of onion powder
Large pinch of Garlic powder
1 teaspoon salt
1/4 teaspoon white pepper
2 eggs, whisked
1 tablespoon water
Panko breadcrumbs to coat
6 tablespoons vegetable oil
Method
Place the eggs in a small saucepan and cover with cold water.
Bring to the boil and place a lid on.
Turn off the heat and cook for 10 minutes before plunging them in cold water and peeling, dice into small cubes.
In a large frying pan, melt the butter and sauté the onion until softened.
Add the flour to make a thick paste then on a low heat add the milk gradually until combined.
Add in the chopped eggs, the gammon, wine and seasonings to taste.
Leave to cool and refrigerate for at least 2 hours, the longer the better.
Heat a small frying pan with vegetable oil about 4 cm up.
Take a tablespoon of the mix straight from the fridge and roll it into a hot dog shape about 2cm thick and 7cm long.
Dip into the whisked egg mixed with the water then into the breadcrumbs.
Repeat with each and then pan fry until golden.
Drain and serve!
Tommorow will be the last day of my Waste Not Want Not Week and I have some hearty, comforting foods in mind!
See you then!