I don't even know how to introduce this. I loved it! Reggie had a potluck a while back at work and I decided to make this, feeling that it was a festive choice. And after the potluck some came home, and I happily got to try it. Now I will caution that when getting your cheesecake 'bath' ready, please be careful not to let the water over the top of the foil. I think a little bit of water made its way into the base of the pan and my crust was a little soggy. But that didn't stop me from eating the entire rest of the dessert that was brought home.
So if you like mint, and cheesecake, I bet you would enjoy this little number!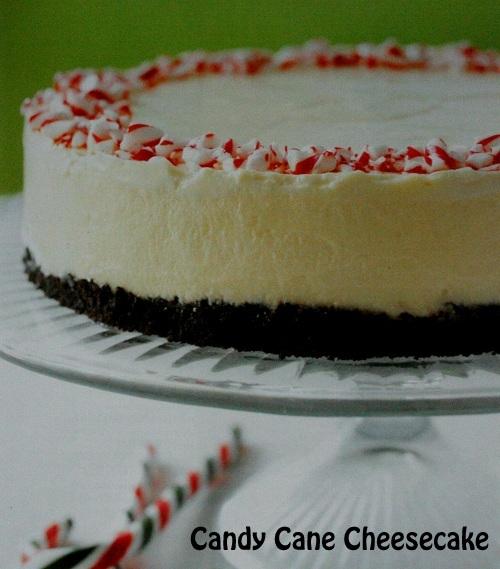 From Canadian Living, can be found on the website here.
Ingredients
2 pkg cream cheese, softened
3/4 cup granulated sugar
3 eggs
2 cups sour cream
1 tbsp lemon juice
1 tsp peppermint extract
Crust:
1-1/2 cups chocolate wafer crumbs
1/4 cup butter, melted
Topping:
1 cup sour cream
2 tbsp granulated sugar
1/2 tsp vanilla
2 tbsp coarsely crushed candy canes
Directions
Grease bottom of 9-inch springform pan; line side with parchment paper. Set pan on large square of heavy-duty foil; press up side of pan. Set aside.
Crust: In bowl, stir crumbs with butter until moistened; press into prepared pan. Bake in center of 350°F oven until firm, 10 minutes. Let cool on rack.
In large bowl, beat cheese until fluffy. Beat in sugar until smooth; beat in eggs, 1 at a time. Beat in sour cream, lemon juice and peppermint extract. Pour over crust.
Set springform pan in larger pan; pour enough hot water into larger pan to come 1 inch up sides.
Bake cheesecake in center of 325°F oven until shine disappears and edge is set yet center still jiggles slightly, about 1 hour.
Topping: Combine sour cream, sugar and vanilla; spread over cheesecake. Bake for 10 minutes. Turn off oven. Let stand in oven for 1 hour.
Remove cheesecake from water and transfer to rack; remove foil and let cool. Cover and refrigerate until set, about 2 hours. (Make-ahead: Refrigerate for up to 2 days or overwrap in heavy-duty foil and freeze for up to 2 weeks.) To serve, sift candy to remove powder; sprinkle pieces around edge.
Alternatively, if you are like Reggie and aren't big on the mint flavour, swap out the mint extract for vanilla and use berries or chocolate flakes as topping!
6 days, we are 6 days away from Pip's first Christmas! I am starting to get excited!
Happy Baking
xox