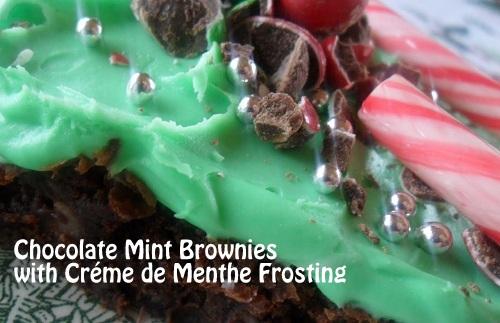 From: Turnips 2 Tangerines
Prep:15 mins

  

Cook: 35-45 mins

  

Serves: 8-10
Ingredients
¾ cup Hershey's Cocoa
⅔ cup butter, melted and divided
2 cups sugar
1-1/2 cups flour
¼ teaspoon salt
½ teaspoon baking soda
½ cup boiling water
2 eggs
1 teaspoon vanilla extract
½ cup mini chocolate chips
½ cup coarsely chopped mint m&m's, plus extra for garnish
⅓ cup chopped pecans
2 Tablespoons chocolate fudge ice cream topping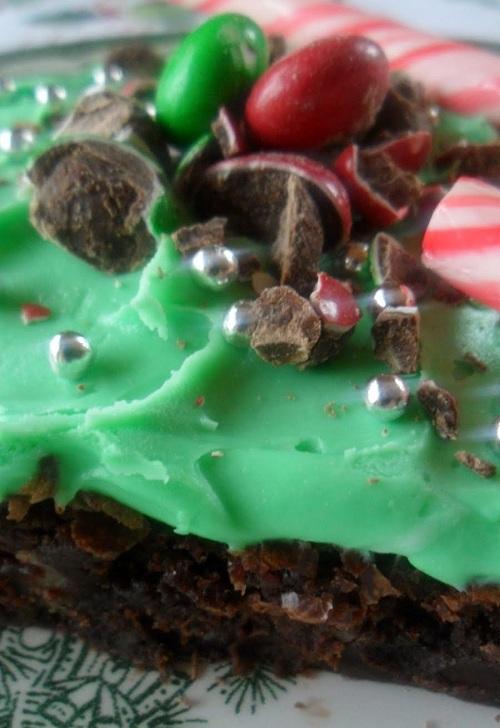 Directions
Heat oven to 350º. Grease 13 x 9 x 2 baking dish

Stir together cocoa and baking soda in a large bowl; Stir in ⅓ cup butter.

Add water; stir until mixture thickens.

Stir in sugar, eggs, and remaining ⅓ c butter. Stir until smooth.

Add flour, vanilla extract and salt; Stir until well blended.

Stir in  mini chips, mint m&m's, pecans and fudge topping. 

Spread in prepared pan.

Bake at 350º for 35-45 mins or until toothpick inserted near the middle comes out clean.

Remove from oven, cool on wire rack. Cool completely.

Frost with Créme dé Ménthe Frosting and  Garnish with  Chopped M&M's
Créme dé Ménthe Frosting:
¼ cup (1/2 stick) butter, softened

3-1/2 cups confectioners' sugar

¼ cup green créme dé ménthe liqueur

¼ cup milk, or as needed
Cream all ingredients together until creamy.
Spread on cooled brownies
Sprinkle reserved chopped mint m&m's over  frosted brownies
Note: for a nonalcoholic version, omit liqueur and use peppermint extract
------------------------------------------------------------------
Do those ever look tasty! I might have to give them a try, but

with everything going on they might have to wait until after Christmas, when things settle down a little.

There is another square recipe coming at ya tomorrow, and then another link-up on Friday. And you still have time to link-up your cookie recipes here.
xox