A while back I made some chocolate peanut butter cookies, without a recipe. Now I don't usually use a recipe for a standard cookie like that, and I they always turn out great. With this time being the exception. For some reason they were a little dry, and lacking in the chocolate department. So after a few days when there were still quite a few left, I knew they needed a new purpose, and these bars were born!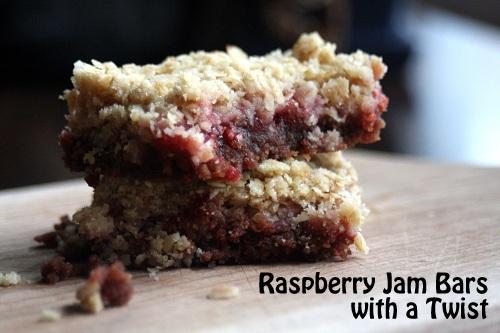 Ingredients
Base
1 cup crumbled, no-good chocolate peanut butter cookies (lol, or chocolate wafers)
1/4 cup butter, melted
Filling
Raspberry Jam, or any flavor of your liking
Topping
1 1/2 cups quick cooking oats
1/2 cup flour
1/4 cup brown sugar
3/4 cup butter, softened
2-3 shakes of cinnamon
Directions
1. Preheat oven to 350˚F. Grease at 9x9 baking pan, set aside.2. Mash your no-good cookies into crumbs
(it's rather satisfying when you can destroy a baked good gone wrong)
, and combine with melted butter until moist.
3. Press into the bottom of greased pan, and bake on center rack for about 10 minutes. Allow to cool slightly.
4. Meanwhile, combine oats, flour, brown sugar and cinnamon. Using pastry blender cut in butter a little at a time until coarse crumbs form
(you might need a little more or less than called for)
.
5. Once cooled spread jam over base, and cover completely with oat topping.
6. Bake for 25-30mins until topping is golden brown, and jam is bubbling. Transfer to a wire rack to cool. Cut into squares and finally enjoy those no-good cookies! :)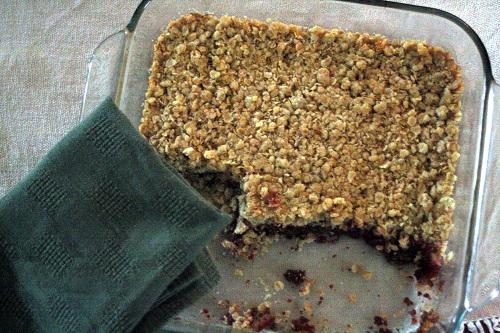 And there you have it! Day 11, a simple yet delicious recipe, and a perfect way to use up one of your other baking adventures gone wrong. I can't believe it is already December 11th, it's going to be the 25th before we know it. I better get to work on the Christmas presents I am making for everyone :)
xox