How does it feel, ladies and gentlemen, America, to be going into day 10 of vote, voter and election denial by this Republican Party President Trump? I feel like our Democracy has been and is being violated, personally. Meanwhile, more good developments on this issue today.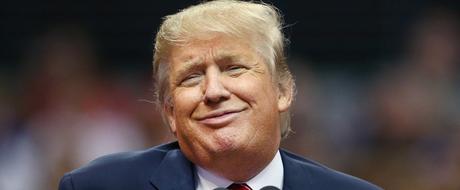 Top Officials: Nov. 3 Election Most Secure in US History

A coalition of federal and state officials say they have no evidence that votes were compromised or altered in last week's presidential election, rejecting unsubstantiated claims of widespread fraud advanced by President Donald Trump and many of his supporters.
Trump Campaign Lawyer Admits to Judge: Our Search for Evidence of Fraud Produced Obvious Lies and 'Spam'

Election security officials: 'No evidence voting systems compromised'

A few Republicans have spoken up on this election, too, thankfully. Republican Maryland Gov. Larry Hogan responds to Pres. Donald J. Trump's remarks: "There is no defense for the President's comments tonight undermining our Democratic process."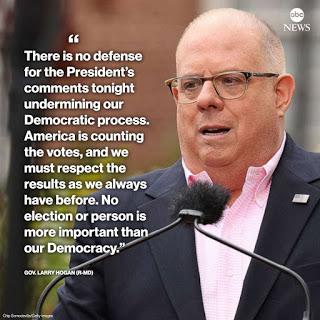 Even some of Trump's biggest supporters are urging him, wisely, to concede.
Sheldon Adelson's Las Vegas Review-Journal twice endorsed Trump. Now it's advising him to admit he lost.
Then they realized their lawsuit in Arizona is so empty, they dropped it. This report is today.
Trump campaign drops Arizona lawsuit requesting review of ballots
Meanwhile, the orange man in the White House is laying unusually low and keeping quiet, a low profile.
Donald Trump Has Gone a Full Week Without Making Public Comments Beyond Twitter
President Donald Trump hasn't publicly spoken for a week, outside of written remarks issued via Twitter. He last spoke publicly on November 5 in a White House press briefing in which he proclaimed that he won the election, made allegations of widespread voter fraud and then retreated without taking any questions from the press.
Though Trump hasn't spoken publicly since then, he did appear for about 10 minutes on Wednesday at the Arlington National Cemetery for a ceremony observing Veterans Day. He made no statements at the time.

And with that Twitter feed, this. Him and their false reality.
Trump lost. But his Twitter feed keeps giving supporters false hope.
So this is what we've now devolved to with this President.
As Trump stews over election, he mostly ignores the public duties of the presidency
On Thursday, six American service members were killed in a helicopter crash during a peacekeeping mission in Egypt. Tropical Storm Eta made landfall in North Florida, contributing to severe flooding. The number of Americans infected with the novel coronavirus continued at a record-setting pace, sending the stock market tumbling.
At the White House, President Trump spent the day as he has most others this week — sequestered from public view, tweeting grievances, falsehoods and misinformation about the election results and about Fox News's coverage of him.
Neither he nor his aides briefed reporters on the news of the day or reacted to Democratic leaders who accused Republicans of imperiling the pandemic response by "refusing to accept reality" over the election results.

More and more data keep coming out about the election too, naturally.
Biden got the highest percentage of eligible voters in about half a century
It's just not going well for the Trumpster. Not that it should.
Biden finds support among Republicans as Trump scrambles to salvage his strategy to contest the election
At this point, though it seems clear, unfortunately, that no one is at the helm of our ship of state, so to speak, presently. Isn't that terrific? We're in, again, the worst, most deadly, killing international pandemic in the last more than 100 years and we are virtually, if not even actually, leaderless. And then, on top of that, we're in this state because he, this Republican Party President, doesn't want to recognize our vote, our votes, our election and/or our Democracy.
'Covid-hell.' 'Humanitarian disaster.' Experts sound the alarm about U.S. coronavirus outbreak.
Thanks, Mr. President!Thanks, Republicans!
While the Orange Man digs in his heels, there's some progress in all this.
Trump lawyers suffer embarrassing rebukes from judges over voter fraud claims
Meanwhile, the rest of the world is still going forward.
The good news, of course, is that America woke up and voted him, Trump, out. The bad news is, besides this pandemic that's haunting, killing us now, is the work that lies before us.
Trump's contempt for democratic norms could haunt us for years
...Trump is attacking, defaming and delegitimizing U.S. elections in a manner unprecedented in the country's history. His obstructionism won't keep him in power, but it will deeply wound America's democratic culture. He is whipping his base into a frenzy about a stolen election, and few of them are going to change their minds because of court decisions and recounts. The conspiracy theory of the stolen election of 2020 is here to stay.

That's troubling to the point of frightening, honestly.
For now, all we can do is push for this man Trump to accept reality and recognize our vote, our votes, our election and our Democracy as I keep saying.  67 days to inauguration.  Let's do this, America.