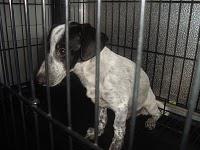 Oreo was not feeling well this past few days. He stop eating, and if he does eat, he just vomit it out. His weight started to drop. Because I was so worried, I called a vet and ask about his condition. She ask me to do a couple of things to insure how dehydrated he was. Unfortunately, he was very dehydrated. The Vet advised me take Oreo to the clinic the next day.
On our way to the clinic, Oreo was so steady at his sit. He even have the time to nap. When we arrived there, the Veterinarian immediately accommodate us. She took Oreo from me and do their Initial assessment. I found out that Oreo had a fever from his temperature results. The doctor also perform some microscopic exam on his stool and found out that he has a worm. They even gave me a chance to look over the microscope and have a look at the worm's egg.
The Doctor explain to me, that it was the worms living inside his body that cause his loss of appetite and vomiting. She then advise me to let Oreo be admitted in the clinic for the mean time, until he regains his strengths and starts to eat. I really wanted Oreo to get well so I decided to leave him there for a while.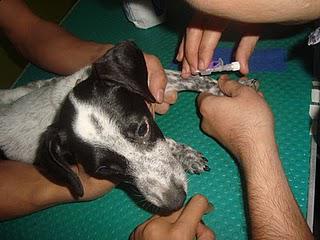 The doctors put up an IV line for Oreo to aid in his dehydrated status. They also told me that they will give him some Iron supplement to help build up some blood in his system, because he was so anemic. They said that they will deworm Oreo starting with little dose. They're afraid that if they will give him a larger dose of deworming medication, Oreo's body might not be strong enough to take it and might cause his death.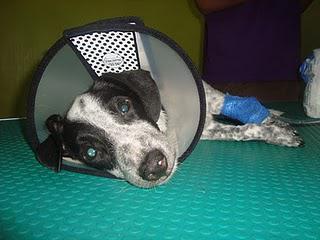 They even put some mouth guard to prevent him from eating his IV line. He was so weak. If only I can take out all his illness and transfer it to myself. I will really do it. I really love him and I don't want to loss him. Although I was so worried about Oreo, I was also happy knowing how pessimistic the doctor was regarding his status. 
I hope he start regaining his strengths. We really want him to get well, so that we can take him home. The house is really empty without him. No one to follow me around and bark those cats from our neighbors. We plan to visit him tomorrow in the clinic. I'll just keep you posted on his status.
ZCVSVBMKMN43