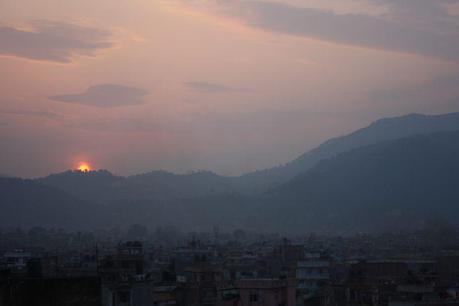 Arriving in Kathmandu is a jolt to the senses.
Brilliant colors, throngs of people, endless unabating smog, constant honking and roads flooded with people, goats, cars, rickshaws and trucks scraping through the dust-covered streets. We spent our first 24 hours in something of a daze, wandering the city's tourist district, Thamel, before strolling south through the temples and monuments of historic Durbar Square. 
Walking in Kathmandu requires eyes on every side of your head and constant scanning for the often aggressive oncoming traffic that whirs by from every direction. The water here has been described as "nearly lethal" and we're avoiding it as such, sipping mostly on tea and stuffing ourselves with Tibetan momos any chance we get. In our small hotel just outside Thamel, we're learning to predict when the power is turned on (Kathmandu experiences rolling black outs that leave power off for 16-18 hours of the day) and spend most evenings navigating our room by headlamp.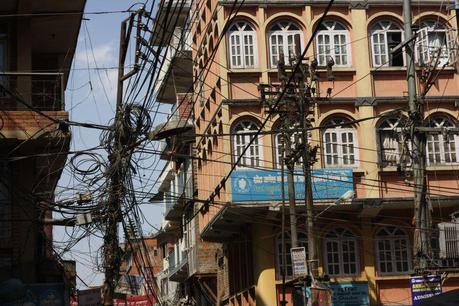 In short, we couldn't feel further from Bali. And despite the madness of it all, there's something truly captivating about life in this city that seems almost the epitome of a study in contrasts - a richly historical cultural epicenter complete with extreme poverty, rampant tourism, magical narrow streets and alleys reminiscent of how I would imagine turn-of-the-century New York, and an infinite quantity of knock-off $10 North Face coats. 
Unfortunately, it's hard to stay in Kathmandu for long. Despite the incredible amount of culture, monuments, temples and museums here that could easily fill a two-week stay, the pollution is so debilitating that only 24 hours after arriving I'm already coughing like a lifelong smoker. Popularly dubbed the 'Himalaya Hack', it's nearly constant background noise in the city and a constant reminder of the deleterious effect of major air pollution on delicate lungs. In Kathmandu, you very literally see the air before you breathe it.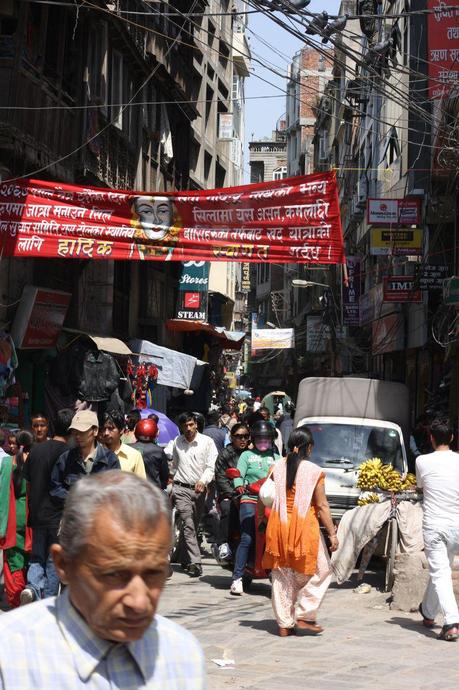 Smog, frightful traffic and all, we're kind of loving it. There's just something about Kathmandu that feels so utterly unique, almost like traveling back in time. The color of the markets, the smiling women doling out popcorn, spices and nuts from street side stalls, the huddled groups of young Buddhist monks with their Jansport backpacks, and the feeling of being perched just on the threshold of the Himalayas. Even though we can't see them, knowing that several of the world's tallest mountains are virtually a stone's throw away lends a particularly magical feeling to this nerve center of Nepalese culture and history. 
After a few more days resting up and exploring the city, our plan is to fly to Lukla early Tuesday morning to begin an 18-day trek around the Everest region and possibly up to Everest Base Camp. A lofty goal, especially considering that the most exercise we've done in the past two months is trot around a few Bali rice fields, but thanks to the lack of time constraints we're planning on taking it very slow and are very ready to cut the journey short and/or completely change routes if need be. April / May is prime time for summiting Everest, so we're incredibly excited just to travel there and experience it - trekking with our guide and porter by day, resting our feet at local tea houses by night, avoiding yak attacks (!) and taking in all that is 2+ weeks in the Khumbu region. 
Regardless of where we end up, looking forward to a real adventure.