Handwrytten allows you to send real cards and notes with your message written in pen and ink. Just select a quality card, type your message and hit send! Then, our robotic handwriting machines will "wryte" your message in realistic handwriting on the card, address the envelope and place it in the mail with a real stamp.
Q: Please tell us a little bit about your company - what is Handwrytten all about?
Handwrytten is a platform for sending personalized quality notes and cards directly to the recipient. Handwrytten allows users to quickly select a quality card, type their message (through the iPhone or Android app - website coming soon), and even include a gift card to their favorite store or restaurant. Our robots will then write out the message in realistic handwriting using a real pen and mail the card for the user. The idea is to bring back the lost art of written correspondence, and automate as much as possible.
Q: Please tell us a little bit about your background and how you started your company?
Prior to launching Handwrytten, I spent seven years building Cellit, a text messaging platform, which I sold to HelloWorld, a marketing firm in 2012. After working for HelloWorld for two years, I left and started Handwrytten.
Q: What are some of the projects you are working on right now?
Right now we're launching a new version of the web site which will provide the same functionality as the apps. We hope this will be done in the next month. We also have a number of additional integrations with cloud-based platforms in the works.
Q: What are your plans for the future, how do you plan to grow this company?
Integrating with other platforms is key to our strategy.
Q: How do you bring ideas to life?
By doing it! So many people plan, plan, and plan and fall into "Analysis Paralysis". It is important to take the leap and start executing.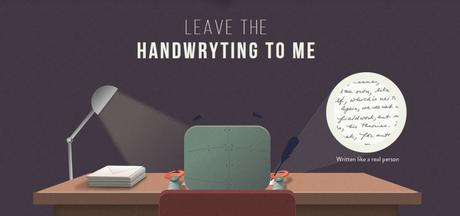 Q: What's one trend that really excites you?
The "everything moving to the cloud" idea is very exciting, as it is truly lowering the cost of entry for entrepreneurs while providing scalable platforms for growth. When I started my last company, Cellit, in 2005, I still used dedicated servers at a colocation facility, and had to worry about server size, network topography, security and everything else. Now with Handwrytten, and by leveraging the cloud, our code runs seamlessly and everything simply scales as appropriately. Not only does this lead to higher uptime and better scalability, but the costs are a fraction of before. This is very exciting.
Q: What were the top 3 mistakes you made starting your business and what did you learn from it?
Thinking that being in the app store would be enough, and marketing wouldn't be necessary. The app store is crowded. Having a solid ASO (app store optimization) strategy is key, along with a great marketing strategy.
Also, launching without a functional web site. While having two functional apps is great, many people still search for the functionality without downloading the app. While "apps first" is a fine strategy, we need to back ours up with a functional web site as well. We are working on that now.
And lastly, not having a strong PR partner in place from the beginning.
Q: How do you go about marketing your business, and what has been the most successful form of marketing for you?
We are still navigating the marketing waters here. I think things will truly take off when our PR presence grows. For now, people are finding us through organic search, our limited news presence, social and limited pay-per-click advertising.

Q: What would you say are the top 3 skills needed to be a successful entrepreneur - and why?
Perseverance Rome wasn't built in a day and neither is a company. It (usually) takes two years or more to see real results in a company. Being able to weather this time is critical.
Flexibility. Understanding when to pivot your strategy is key. My first company ended up being very different than what I initially had planned.
Opportunistic. Similar to flexibility, but keeping your eyes open to new opportunities.
Q: What are the top 3 online tools or resources you're currently using to grow your company?
I love elance.com for finding and managing outsourcers.
Skype for chatting with vendors, whiteboarding, and videoconferencing.
And of course, Quickbooks online, which is still the best.
Q: What are three books you recommend entrepreneurs to read?
Q: What is your favorite entrepreneurship quote?
"Always get in over your head". This was actually told to me by Conan O'Brien
when he came to my college campus years ago to speak. I was on the welcoming committee and he mentioned it to me then. It's the one piece of advice that I really took to heart, and it has been over 17 years since he said it.
Q: How can our community get in touch with you?
Instagram: @Handwrytten
Twitter: @Davidbwachs
The following two tabs change content below.