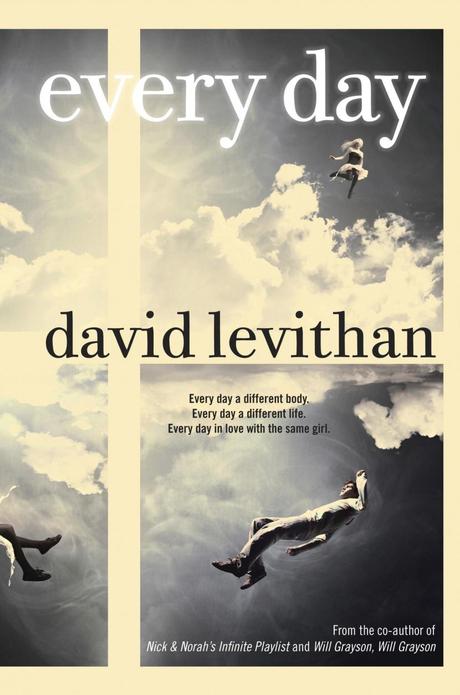 Since I started reading a lot more YA last March, there are two young adult authors I've come to really adore–let's face it, obsess over–and those are John Green and David Levithan. Within a few weeks of each other, I read Green's Looking for Alaska and Levithan's Boy Meets Boy, and I was in love. I've since read Green's beautiful The Fault in Our Stars and purchased Paper Towns, and I've purchased Levithan's The Realm of Possibility and Are We There Yet? 
So color me surprised and excited when I picked up the newest issue of Entertainment Weekly to see a glowing review of a new Young Adult novel written by… David Levithan! I don't know how I went all summer stumbling past very important info that one of my new literary heroes had a brand new book coming out, but I did! And boy, does his new book sound amazing. It's called Every Day. Check out the synopsis below:
"Every morning, A wakes in a different person's body, a different person's life. There's never any warning about where it will be or who it will be. A has made peace with that, even established guidelines by which to live: Never get too attached. Avoid being noticed. Do not interfere.
It's all fine until the morning that A wakes up in the body of Justin and meets Justin's girlfriend, Rhiannon. From that moment, the rules by which A has been living no longer apply. Because finally A has found someone he wants to be with—day in, day out, day after day.
With his new novel, David Levithan has pushed himself to new creative heights. He has written a captivating story that will fascinate readers as they begin to comprehend the complexities of life and love in A's world, as A and Rhiannon seek to discover if you can truly love someone who is destined to change every day." (Via Amazon)
How incredible does this book sound? Incredible enough for me to order my copy! And you should, too! Support this amazing author. He truly is one of the best.
And look for my review of Levithan's follow-up to Boy Meets Boy, The Realm of Possibility, in the coming days…