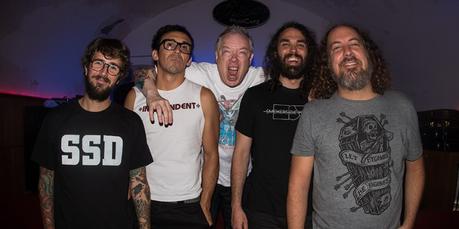 Dave Smalley has been putting out music since 1983. He's worked on hardcore punk projects with DYS, Dag Nasty, All, and mod band The Sharpshooters, as well as releasing solo material and producing. He's been around, and we mean that in the best possible way.
Touring, Dave met and spent time with Marcelo "el diablo" Pesoa and Pablo "the master of disaster" Magallanes. They were a great fit and plans were hatched to make music together. Add to the mix Javi "Dr. Legs" Pérez on bass and vocals, and Rafa "the thunder" Camisón on drums and you've got Dave Smalley & The Bandoleros. For those of you not fluent in Spanish, a bandolero is a bandit, and we love the way the name feels on our tongue.
At the end of November, the band released their first album, Join The Outsiders. It's a banging 11-track album that comes in at 32 minutes. The album was recorded in both Spain and the US and then sent back to Spain for mixing. Australian artist, Annie Walter, who has worked with artists including, Minority of One, Wilhem Scream, and Pennywise did the album artwork, and we love it.
We had the pleasure of getting to the nitty gritty with Mr. Smalley in a Q&A, and you can check out his answers below. Before you start reading, skip to the bottom and hit play on the Spotify stream for Join The Outsiders.
Dave Smalley & The Bandoleros Q&A
Q) Tell us how you and the Bandoleros came together?
Dave Smalley) I have been friends with, and a fan of, Marcelo and Pablo since our bands (Down By Law, Rockweilers and G.A.S. Drummers) had played together at different times in Europe. I loved both their bands and their skills as musicians. We got along great. Then I did some solo dates in Europe and Marcelo and Pablo both played with me on those dates. We had a great time, made some great music together, and then we performed as a band, with all the guys, for some dates in Spain. Mostly DBL and Dag Nasty songs, and these guys played the songs better than some of the originals! The logical next step was making new music together.
What I didn't know was how great their combined songwriting with Javi and Rafa would be. When I got the music they had written, I literally had to sit down and take a breath for a minute. These songs were something beautiful and special. I knew right away this was going to be something way more than just a project band. This is one of the best records I've ever been a part of.
Q) Who are your biggest musical influences?
Dave Smalley) I think a good musician should have a lot of different answers to that. On the punk side, the early stuff - The Clash, The Jam, the Pistols, the Ramones, Generation X, The Undertones, the Buzzcocks. But I would also say some melodic hook-heavy rock and roll, like Boston, Zeppelin, Skynyrd and the Steve Miller Band. And a ton of metal, including Motörhead, Ozzy, Priest, Maiden, Metallica, Megadeth. And vocally, I grew up with powerful role models as a kid, everyone from James Taylor to Chicago to the Vienna Boys Choir. I listen to a lot of different stuff - Elvis (Presley and Costello), Big Band music like Glenn Miller, you name it.
Q) You released your Join The Outsiders at the end of November, can you talk about the writing and recording process?
Dave Smalley) The guys sent me some demos they had been working on in Cadiz. I was blown away. Marcelo was sending stuff from Denia, and they all got together for songwriting. They sent me the music, and I made vocal melodies for the songs, and of course, lyrics. It was great teamwork, very natural, across the ocean in the name of rock! I recorded the vox in a studio in the States, sent them back to them, and everyone seemed to dig it. They mixed it there. Really a cool international partnership.
Q) Do you have a favourite track/lyric from this release?
Dave Smalley) I love them all. So much to sing along to, amazing drums, killer bass, insane guitar and backing vox. I guess if you put a gun to my head to chose: Join the Outsiders, and also The Calling. The message of both of those is so uplifting and unifying. Plus the guitar and drums and bass are just incredible in both of those. Come along, join the outsiders! This is one of those albums that makes so many people feel like this is THEIR album, their life story. Those are the best albums.
Q) In addition to CD and digital download, the album was released on vinyl, a sweet red, white and blue, why the throwback to vinyl?
Dave Smalley) Vinyl is making a huge comeback, and I am glad. It's a beautiful art format - you really hold it. The art jumps out at you. And doing it in different vinyl is just so damned cool! The label did an amazing job.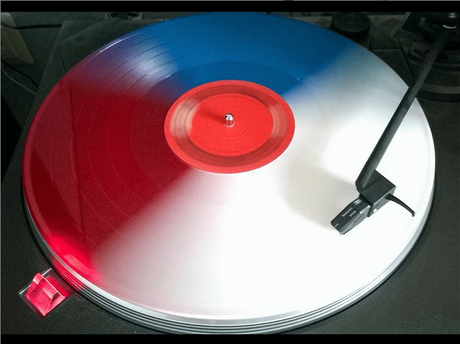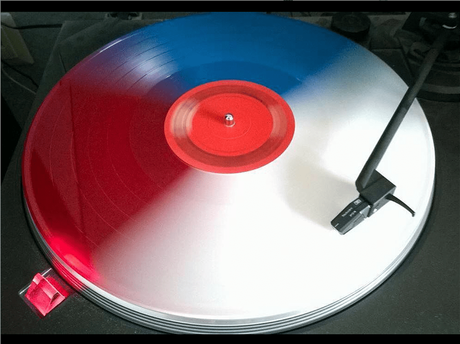 Q) Can you tell us about the tour in Spain?
Dave Smalley) I absolutely love Spain. The culture, the land, the people I have met there. The guys and I did some dates together there and it was just pure joy. Musically it is incredible. The guys are just killer players, a treat to watch and feel them. And we are friends, and musically bonded, and it really shows. I can't wait to play together again, the audience will really feel something special.
Q) Will there be North American dates coming?
Dave Smalley) I hope so!
Q) What should people expect from a live Dave Smalley and the Bandoleros show?
Dave Smalley) A joyous experience. A musical fist. A real show and a real reason to go to a concert, and leave feeling great and energized.
Q) You've been putting out music since 1983, from your point of view, what's the biggest change in the music business?
Dave Smalley) So much. Vinyl almost died, then came back. Indie record labels got huge in the 90s, then many got hurt in the digital revolution. Club shows are more challenging now, but there are still big festivals. I want to encourage people to buy our album and come out to rock with us, because when you do that, you are supporting a very unique and special band to continue to be able to release music - and you are also supporting a great indie label - and supporting great music in your life. It's music that you can believe in.
Q) Is there anything else you want us to share with our readers?
Dave Smalley) A big thank you to you for this interview, and to all our new fans around the world. We are absolutely excited and this is just the very beginning of the story!
Dave Smalley & The Bandoleros - Join The Outsiders on Spotify