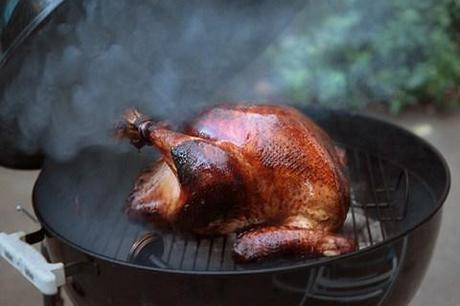 Author's Note: This is a regurgitated post of mine from last year. Please note that I have added the word "course" in front of the term kosher salt. If you are using fine salt, reduce the amount by half.
-Dave
This recipe was developed for indirect grilling using charcoal on either a Weber 18.5″ dia. or 22.5″ dia. kettle, but you can do it on a gas grill as well, if you must.
Notes:
1) Best results are obtained if prepared one day before serving, allowed to cool for one hour, then wrapped tightly in aluminum foil, refrigerated overnight, and removed one to one and 1/2 hours before carving. Warm birds are difficult to carve neatly.
2) Do not stuff the bird, as it impairs smoke penetration from inside the cavity, and could also lead to the growth of harmful bacteria. Cook stuffing or cornbread dressing separately in the oven.
3) I usually stop adding smoking chips after about 90 minutes, as some people really do not like too much smoke.
You will need:
1) One 10-12 pound (preferably fresh) turkey. Larger birds do not cook all that well, so if you need more meat, cook a second bird or, as I often do, a fresh turkey breast – which will usually fit on a 22.5″ Weber along with a 10 to 12 pound turkey so they can be cooked at the same time. Just remember a breast will be done well before a whole bird.
2) One marinade injector.
3) One cup of white wine (any cheap chardonnay will work here).
4) One slightly rounded tablespoon of course kosher salt plus more for seasoning the surface and cavity of the bird.
5) 6 to 8 cloves of garlic split in half.
6) One stalk of celery cut into 2″ pieces.
7) 1/2 of a medium onion cut into 1/2″ wedges.
8) One fresh lemon, quartered.
9) course kosher salt and fresh-ground pepper for seasoning the cavity and the exterior of the bird.
10) A fair amount of your favorite smoking chips. For me, that means hickory, but apple, cherry, pecan, etc., work very well, too.
11) Plenty of your favorite holiday adult beverage.
12) A little patience.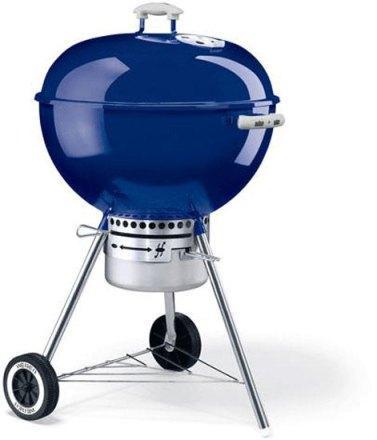 22.5″ Weber One Touch Gold – This is my flagship Weber
Directions:
1) Remove turkey from refrigerator, rinse well, and pat dry with paper towels.
2) Combine one tablespoon of course kosher salt with one cup of white wine. Stir until salt is dissolved.
3) Inject turkey all over with the white wine/salt mixture.
4) Put a little salt and pepper in the bird's cavity, add the garlic cloves, celery, onion and lemon.
5) Coat the outside of the turkey liberally with cooking oil (I use 100% pure olive oil instead of extra-virgin), and season with salt and pepper to taste, tie the legs together with butcher's twine, and allow to stand for 30 minutes.
6) If you are going to soak your smoking chips in water or wine, now is a good time to immerse them.
7) Prepare your grill for indirect cooking as per manufacturer's instructions, and don't forget the drip pan on the charcoal grate, unless scraping a lot of congealed fat out of the bottom of your grill is a favorite pastime for you. If you are using a gas grill, you can place the bird directly into the pan on the cooking grate.
8) Once the grill is ready (a cooking temperature of 350 degrees is optimal), add the smoking chips and the bird, pour any remaining wine/salt mixture into the drip pan, close the lid and don't open it for at least one hour.
9) Add charcoal every hour (12 briquettes for a 18.5″ dia. grill, or 16  for a 22.5″ dia. grill to maintain approximately 350 degrees), as well as additional smoking chips as desired.
10) Once the turkey has reached an internal temperature of 165 degrees as measured in the thigh (away from the bone), remove turkey from the grill, cover tightly with foil and let stand for at least twenty minutes before carving, or one hour if you are going to refrigerate it for the next day.
11) Chow down.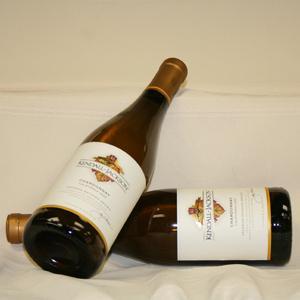 Happy Thanksgiving, everybody!
-Dave