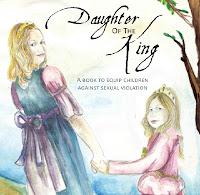 "We TELL to protect other boys and girls.  We TELL so darkness can be brought to light.  We TELL so we all can be safe.  We TELL so we can all be free from the plan of the enemy."
The book, Daughter of the King is a tool that helps bring the problem of sexual abuse to light through "education and awareness" by helping children to be "aware of evil and give them the courage to tell."
Powerfully written, this book first and foremost establishes that EACH PERSON IS CREATED SPECIAL BY GOD.  And that He loves each of us no matter what we have done!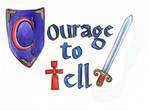 Practically, it explains why we shouldn't keep secrets from parents, defines "bad touches" and what to do in situations where we are uncomfortable or in danger of being hurt.  Equally important is the advice of telling parents if friends are making poor choices - sometimes a cry for help in its' own right!
Most importantly though, the author stresses that it is never the victim's  fault and above all, have the courage to TELL!  
The 
statistics
 are startling!  Almost 90% of cases are perpetuated by someone the child knows.
Coming soon - a secular version of this book called
Courage to Tell
 which will be great for public schools.  You can learn more about Author Tammy Sutton's ministry and speaking engagements by visiting Courage to Tell!
Disclaimer:
I received a copy of this book free of charge in exchange for an honest review.SPECIAL OFFER FOR Homeschool Circus SUBSCRIBERS through October 31: Use code
LISAtips
for a $19.99 discount when you buy any curriculum CD Library plus Spanish Empire library. This post written and property of Homeschool Circus and can be found at: www.upatdawnreadytowork.com.