GUEST POST
5 Favorite Books
What author doesn't like to talk about her favorite books? My problem is narrowing it down, honestly, which is a problem I'm sure many have. But I tend to wax eloquent about each, so I only feel I can safely talk about five today. Enjoy!
1)

  
The Cloud Roads
by Martha Wells
If you're not familiar with Martha Wells, she writes the most amazing things. Her worlds are richly imagined, her characters are flawed but honest, and you want them to succeed. I re-read this book every time I feel overwhelmed. Moon is a character I commiserate with on a gut level. Also have I mentioned that all the main characters in this book are shape-shifting lizard-people? It's everything I wanted as a kid and never knew I needed.
2)

  
Radiance
by Catherynne Valente
This book is a work of art, as all of Valente's stuff is. Her most recent release, Space Opera, left me sobbing. But Radiance remains my favorite of her works. It's set in an alternate universe where Bradbury's kind outer space - with its close, habitable planets - is a reality, and it's told through several screenplays written by an aging director as he attempts to process the loss of his daughter and understand what happened to her. It is, in a word, excellent.
3)

  
All the Wind-wracked Stars
by Elizabeth Bear
It's hard to pick just one Bear book. Like Wells, Bear's books are richly imagined, with strong, diverse characters. Bear's characters, though, have edges. This book, a reimagining what happens after Ragnarok, features a young valkyrie, the youngest of her sisters, and the only one to survive. It's a dreamy scifi-fantasy apocalypse dealing with guilt and loss and the bonds of fate.
4)

  
Kushiel's Dart
by Jacqueline Carey
Turning back the clock a bit, no favorite book list is complete without one of my earliest favorites. It's a sprawling, epic tale of gods and the mortals caught up in their games that is nonetheless forgiving and hopeful with a lot of well-done sex scenes. In retrospect, I have to admire the skill that lets an author blend those elements so adroitly. This is a wonderfully sex-positive and woman-positive book and I'm glad it found me when it did.
5)

  
Fire Logic
by Laurie J. Marks
Speaking of sex-positive and woman-positive books, and going back even a few years more, this little-known local library find remains a personal favorite. I recently reread this book and loved it even more. This book was the first romance that I read between two women, and both of those women have scars - one because of her addictions and both because of the violence done to them. It's a beautiful story full of love and hope that is nevertheless not without its shadows, and it can be read as a standalone. I will warn the potential reader that the series itself remains incomplete, though I believe the author intends to finish it.
ABOUT THE BOOK
Daughter of Madness
by Amanda J. McGee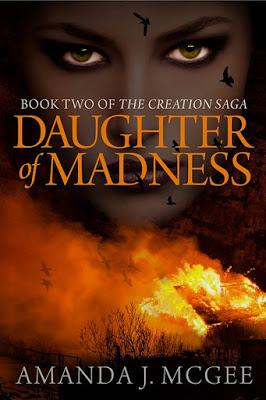 GENRE
:

  

Epic Fantasy
BLURB:
Liana has lost much to Herka's manipulations, though nothing so precious as her sanity. Emerging from her madness, she finds the world changed - her body wasted, her son gone, and her kingdom still beyond her reach. Only the fires of vengeance remain, and she will build the flames high.
DAUGHTER OF MADNESS tells the story of a princess and her twin, a soldier and his king, and an oracle who is more than she seems.
Amazon http://tinyurl.com/y8e9achd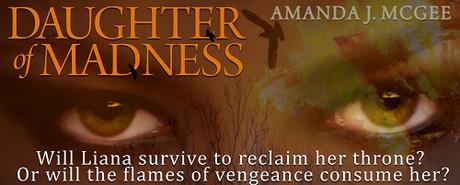 EXCERPT




He remembered the moment that the curse had claimed him.




The king sat in the garden, and the moon shone down. There was a phantom caress on his skin, an ice cold hand.




Darkness bloomed in his blood.




He remembered the moment, over and over, the darkness rising, rising, swamping him.




There was terror there, but for the king it was an old terror. He had lived with the darkness now for a timeless time, and in the darkness he was sheltered. He remembered nothing. He was nothing. That was good, for the man that had been a king sensed that he had failed, that he had hurt. The world beyond the darkness was made of nothing that he wanted to see again.




But no night could last forever.




The man who had been Alexander came back to himself in blood.




AUTHOR Bio and Links:




Amanda J. McGee is fantasy author living in Southwest Virginia with the love of her life and two cats. She likes baking, gardening, and flights of fancy. You can find out more about her books and her blog at

www.amandajmcgee.com

.




Twitter: @skylit1

Facebook: facebook.com/amanda.mcgee13




Patreon: patreon.com/amcgee




Mother of Creation http://tinyurl.com/yalzzmh9




Daughter of Madness http://tinyurl.com/y8e9achd




GIVEAWAY




Amanda J. McGee will be awarding a copy of both published volumes of The Creation Saga: MOTHER OF CREATION and DAUGHTER OF MADNESS, (after the June 2, 2018 publishing date, US participants only) to a randomly drawn winner via rafflecopter during the tour.


a Rafflecopter giveaway