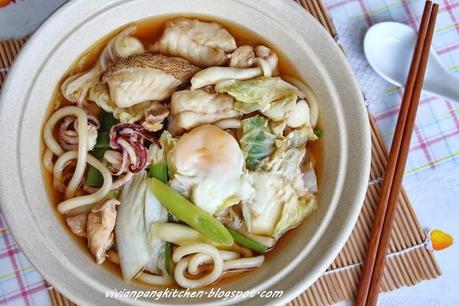 We used to visit Japanese food restaurant and my kids love Japanese food. After knowing how easy it is to prepare dashi stock I start cooking it at home.
According to JOC, dashi is Japanese stock, and it is a fundamental ingredient in many Japanese dishes.  Dashi is made from kombu (kelp), bonito flakes (dried and smoked skipjack tuna that is shaved into thin flakes), sardine (iriko or niboshi), or a combination of all or two of them. Dashi provides great umami from all these ingredients. With this homemade dashi stock I can prepare udon noodle soup at home.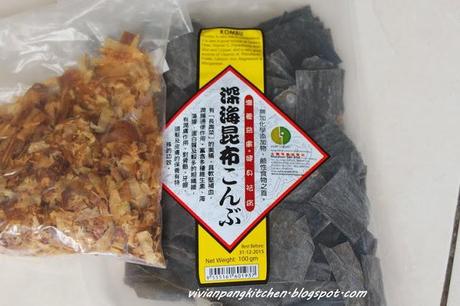 Kombu and bonito flakes that I used
Recipe adapted from Just One Cookbook
Dashi Stock
Ingredients:
0.7 oz (20g) dashi kombu
2 cups (30g) loosely packed bonito flakes (Hana Katsuo or Katsuobushi)
4 cups (1000ml) water
Methods:
1. Gently clean the dashi kombu with a damp cloth but leave the white powdery substances which contribute to the umami flavor in dashi. Do not wash the kombu!
2. Make a couple of slits on the kombu. (Mine came in small pieces)
3. In a medium pot, put the kombu and water. If you have time, soak for 3 hours or up to half day. Kombu's flavor comes out naturally from soaking in water. If you don't have time, skip this process.
4. Heat up the pot slowly on medium low heat. It will take 20-25 minutes to a boil. Meanwhile, clean the dashi by skimming the surface.
5. Just before the dashi starts boiling (you will see bubbles on the bottom of the pan), remove the kombu and keep it for "
Niban Dashi
" (see Note). If you leave the kombu inside, the dashi will become slimy and bitter.
6. Either turn off the heat or add a little bit of water to let the dashi cool down a bit.
7. Add bonito flakes in the dashi and bring it to a boil again. Continue skimming.
8. Once the dashi is boiling, reduce the heat and simmer for 30 seconds (not minutes!). Continue skimming and then turn off the heat.
9. Let the bonito flakes sink to the bottom, about 10 minutes.
10. Line the sieve with paper towel (cheese cloth/linen cloth) and set over a large bowl. Strain the dashi through the sieve. (I used ordinary strainer)
11. Gently twist and squeeze the paper towel to release the extra dashi into the bowl. Keep bonito flakes for "Niban Dashi" (see Note).
12. If you are not using the dashi right away, save it in a bottle and keep in the refrigerator for 3-7 days.
Note:
"Niban Dashi": It means second dashi and it is light dashi using leftover kombu and bonito flakes from "Ichiban Dashi" you just made.
1. In a pot, put 4 cups of water and leftover kombu and bonito flakes used in Ichiban Dashi and bring it to a boil over high heat.
2. Lower the heat and cook for 10 minutes while skimming.
3. Add additional .18 oz (5 grams) of bonito flakes and turn off the heat.
4. Let the bonito flakes sink to the bottom and strain the dashi through the sieve.
After we have the dashi stock now is time to cook udon :)
Inspired by Japanese restaurant dashi soup udon Reference from Just One Cookbook Kitsune Udon Dashi Soup Udon Ingredients: 4 cups dashi stock 2 servings of udon
~Seasonings 2 tablespoons soy sauce 2 tablespoons mirin 2 teaspoons sugar ¼ teaspoon salt
~Toppings Fish fillets (marinate with egg whites, salt and pepper) Chicken fillets (marinate with egg whites, salt and pepper) Squid, sliced Chinese cabbage, cut into bite size Leeks, sliced diagonally shimeji mushrooms Eggs
Methods: 1. In a medium pot, simmer dashi stock. Add the seasonings and wait till simmer.
2. Open udon packages and add udon in the simmering soup. Cook for 3-5 minutes (according to the packaging intructions). Dish out the udon and place into 2 serving bowls.
3. With the remaining dashi stock add in chicken fillets, fish fillets, squid, Chinese cabbage and leeks. Cook for few minutes till cooked. Add in mushroom and cook for a minute. Lastly crack in eggs. Cover with lid and bring to simmer.
4. Off the heat and divide the soup together with toppings into udon bowls. Serve immediately.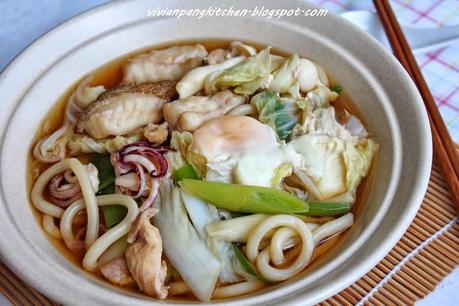 I'm submitting this post to Asian Food Fest

 #1 Oct 2013 : Japan hosted by 

Alan from Travelling-Foodies