I have to start this post confession that I totally forgot about daring baker's challenge this month. To top that I woke up this morning to this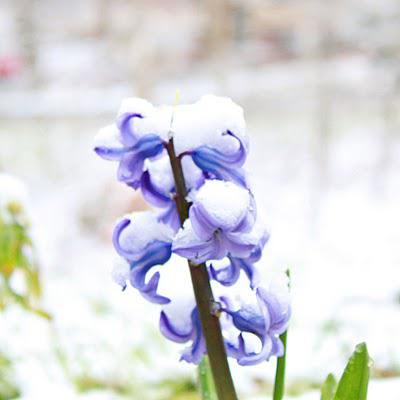 Snow on the ground, in late March. Are you kidding me? I was so excited that my daffodils and hyacinths had bloomed and now this.  Life is playing jokes on me.
While enjoying breakfast and Sunday newspaper I realized today is 27th and I haven't baked the cake for this month challenge. Not to worry, still plenty of time but no will power. Was looking forward to this Sunday to relax after a hectic week.
What's a girl to do, roll up her sleeves and measure the flour.
The March 2011 Daring Baker's Challenge was hosted by Ria of Ria's Collection and Jamie of Life's a Feast. Ria and Jamie challenged The Daring Bakers to bake a yeasted Meringue Coffee Cake.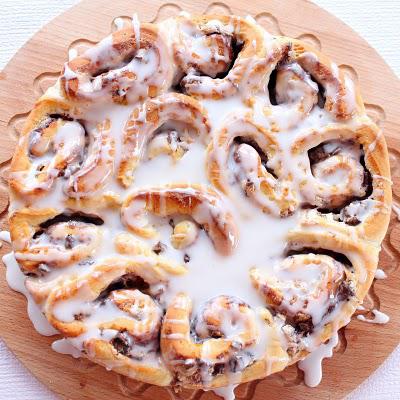 FILLED MERINGUE COFFEE CAKE
Ingredients
For the yeast coffee cake dough:
300 gr flour
25 gr sugar
1 teaspoon dry yeast
1/2 cup whole milk
2 tbsp water
1/4 cup unsalted butter at room temperature
2 large eggs yolks at room temperature
few strands saffron
pinch of salt 
In a large mixing bowl, combine 100gr of the flour, the sugar, salt and yeast.
In a saucepan, combine the milk, water and butter and heat over medium heat until warm and the butter is just melted. Add the saffron threads to the warmed liquid and allow to steep off of the heat for 10 minutes. This will give the mixture a distinct aroma and flavor and a yellowish-orange hue.
With an electric mixer on low speed, gradually add the warm liquid to the flour/yeast mixture, beating until well blended. Add the egg yolks and enough flour to make a soft and elastic dough.
Place the dough in a lightly greased (I use vegetable oil) bowl, turning to coat all sides. Cover the bowl with plastic wrap and a kitchen towel and let rise until double in bulk.
For the meringue:
2 large egg whites at room temperature
pinch of salt 
1/4 cup sugar
In a clean mixing bowl  beat the egg whites with the salt, first on low speed for 30 seconds, then increase to high and continue beating until foamy and opaque. Add the sugar, a tablespoon at a time as you beat, until very stiff, glossy peaks form.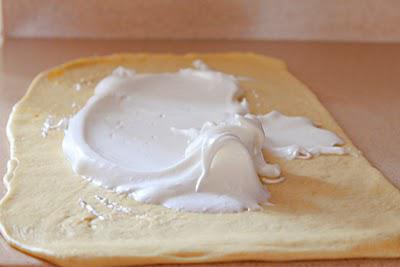 For the filling :  
3/4 cup chopped dates
1 cup Nutella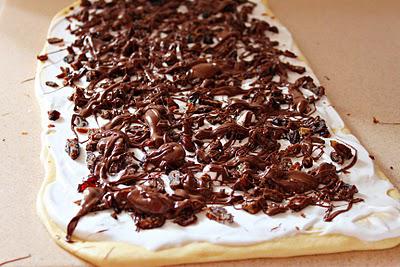 Being used to making rolls I start cutting 1 inch rolls and realized what I was doing after I had half cut. Well, there was no turning back. Placed the rolls into a 10 inch spring form and let them rise for about 15 minutes while I preheat the oven at 350 F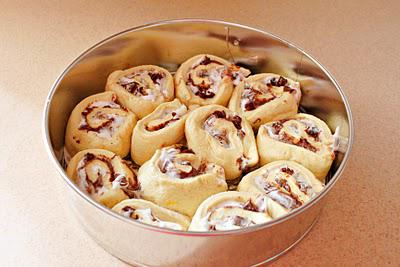 Baked for about 25 minutes until golden.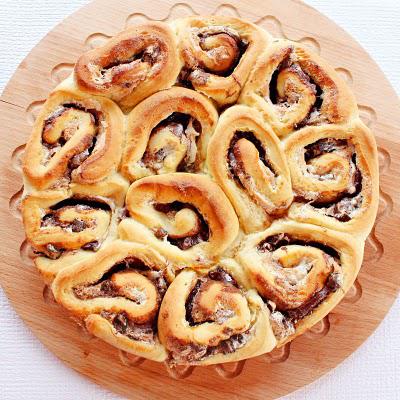 From 2 cups of confectioners' sugar and few drops of milk made a glaze and poured it all over the fresh baked cake.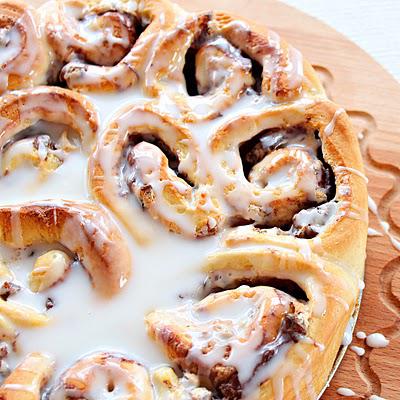 When cooled I enjoyed it with my hot chocolate.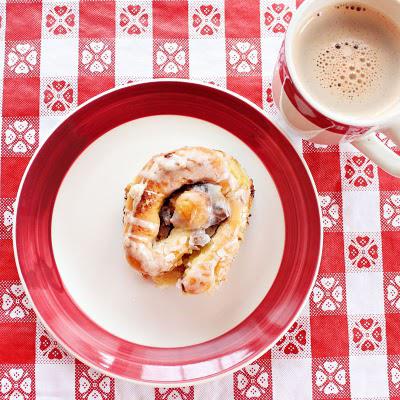 I intend to make it again hoping next time I won't cut it into rolls.
Thank you Ria for this challenge, even if it was in a hurry was fun to make it and tasted great.
Looking forward to April's challenge.
Thank you everyone for visiting and taking the time to leave a comment. They make me smile.
As usual,