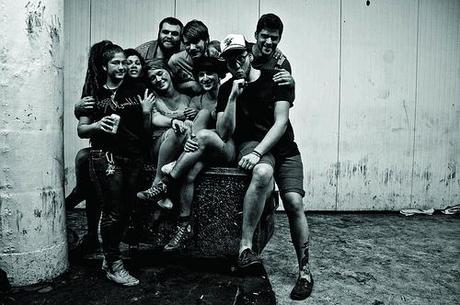 Carnival music. That was the first thing that popped into my head when I put on the debut full-length from Philadelphia's Dangerous Ponies. The intro song begins with a carousel-like keyboard line and follows with guitars and boisterous gang vocals. This minute of pure joy segueing into the first song is the perfect introduction to the joyful, loud abandon of this band. There are quiet moments, of course, but the lack of pauses between tracks and celebratory quality of the music are the true experience.  I dare you to listen to "I've Been Going About This All Wrong" without humming it all day.
Their music sounds like confetti, glitter, neon paint and fireworks, but that description betrays the subtle songwriting and complex melodic structure that is sometimes disguised by the big sound. The lyrics are emotional and personal. This is a big piece of candy with a protein center that rewards repeat listening. Take "I Only Wear My Favorite Clothes" — The song begins with a fun, brash guitar part and loud drums, but with a little over a minute remaining, amidst the noise, there is an absolutely gorgeous swirling keyboard part, tinkling percussion and soft, emotional vocals.
At the moment, Dangerous Ponies, who identify themselves as a "7 piece queer and allied band that wants to have fun with you" don't seem to be on tour. Keep an eye on their Facebook though, as I hear their shows are spectacular. I should also mention their debut EP, Dr. Ponie Medicine Ponie, is possibly my favorite album titles in recent years. It is equally as good as the album and features my favorite song of theirs (at the moment), "Honey Trap" as well as a few other classics.  I can't wait to see what these guys do next.