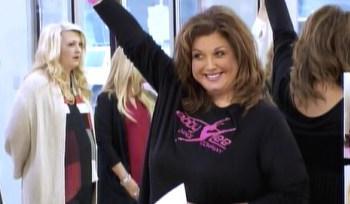 Raise your hand if you got something way better than a postcard in Vegas. Dolla Dolla Bill, yo!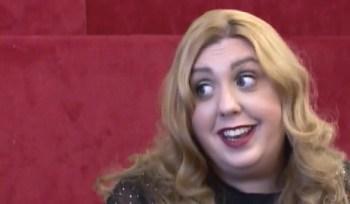 I'm not telling you where I hid all the other Christies until you give me that damn track jacket. I'm not playing.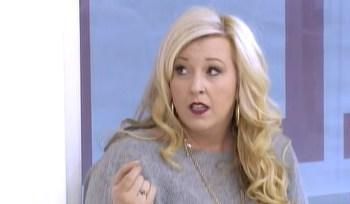 I'm totally serious. If they're just gonna flip out and leave again, I'm calling their parking spot.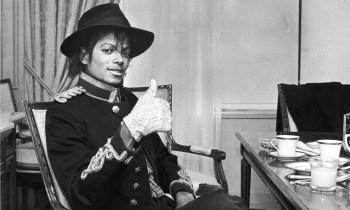 Imma need you ladies to wrap up all this crazy asap. I'm pitching a double header tonight.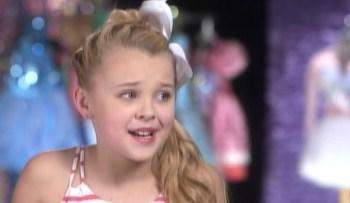 Ummm…Hello? I dance. I like sparkly things. And nobody understands me. I'm freaking Hee Hee Shamone MJ.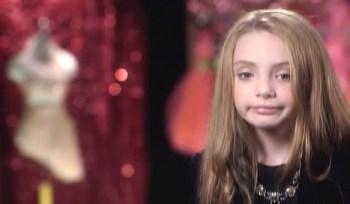 So my voice finally changed. And yet I still have no words for what I'm walking into right now…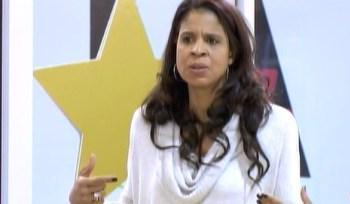 Me and my kid even in this episode? Cuz if that's how we're playing it this week, I'm just gonna make a hair appointment.
Cue the music.
Living on the Dance Floor.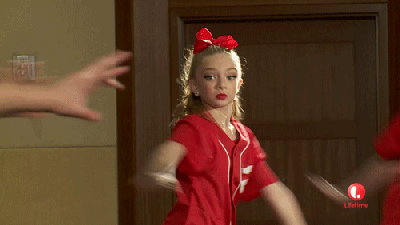 Blood on the Dance Floor.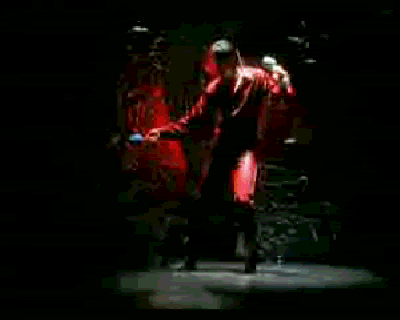 Yup.
Dancing and Bloodshed.  Thats what I'm talking about.
And there was a lot of both this week, literally and almost physically a few times, as old and new faces collided (…insert unintentional, yet inappropriately hilarious and smoothly transitional Michael Jackson Plastic Surgery Joke right here: _______ ) during the latest episode of Dance Moms.
Starting with The Return Of Christy Hunt.
Dat's rite.
Look who was sitting on the MomBleachers as soon as the credits finished rolling.
Sarah Hunt's loud and proud Mama.
Christy was back.
No.
Not this Christi.  You wish.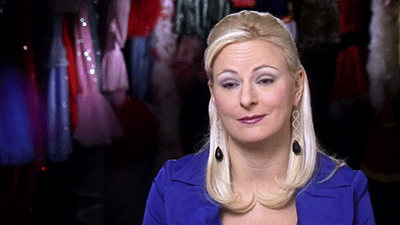 Or this Kristie.  Look at those crazy mime in a box arms flailing around.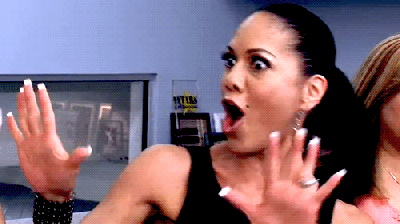 But the third one that everyone used to call
CHRIST-y
from back in the Pittsburgh days when it was the Attack Of The Christies every week.
The one who looks like John Candy in a Celine Dion wig.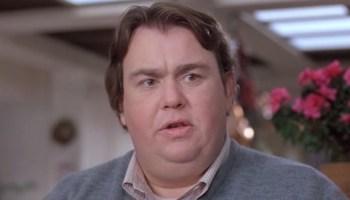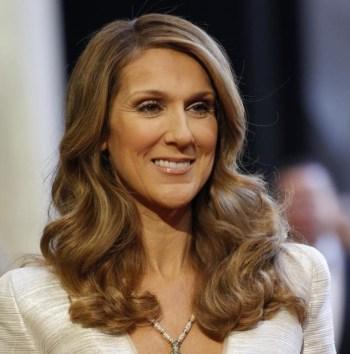 That one right there.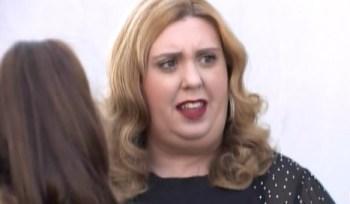 She didn't used to look like that, but somehow on the flight from PA to LA she got herself natural highlights and a tube of lipstick and now she looks like that.
Side note:  I think she's a riot.  And you know I love every Mom on this show, so no hate tweets.  Especially from John Candy fans, please.  Because that was a joke.
And I nailed it.  And you know that's right.
Christy #3 was sitting on the MomBleachers all by herself when Ashlee rolled into the studio, so they had no choice but to awkwardly introduce themselves to each other and immediately pit their two kids against one another in a battle for that elusive ALDC jacket.
Side note again:  I love how everyone in Pittsburgh can just pick up everything they own in a rolling duffel bag and move to Los Angeles on a whim.  Don't any of these people have pets  Whose feeding them?  I mean, how much dry cat food can you really leave in a bowl if you're planning on sticking it out through the end of the 2016 dance season?
New Drinking Game Alert:  Ashlee's hair.  It's different in every shot.
Check it out next time.  She's clearly one of those nervous hair finger runner-through-ers, because every time the camera cuts back to her she has a different part going on up there.  Nothing drastic, but sometimes it's over there, or over there, or there's a messy thing happening on top a little bit.
Relax, honey.  You got the gig.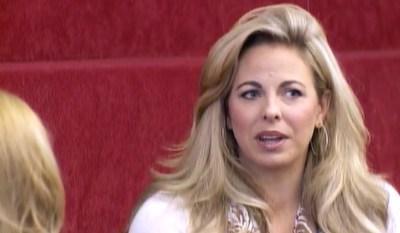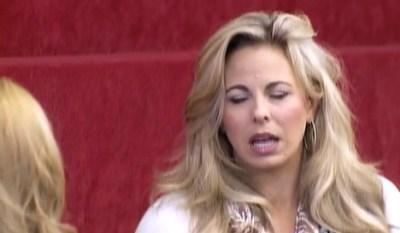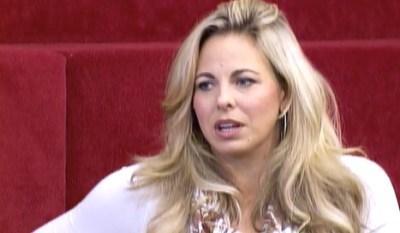 Next in the door was Melissa, who was all of the sudden Christy's new BFF and gave her hugs and kisses like she just got out of prison and thanked her for all the millions of text messages from Pittsburgh while she was locked away.
Hold up.  Didn't Melissa try to push Christy down a flight of stairs the last time they were together?  Or am I making that up?
Turns out that Christy had changed her…ways…and now Melissa loved her.
In capital letters:  LOVED her now.
This is Christy's old hair.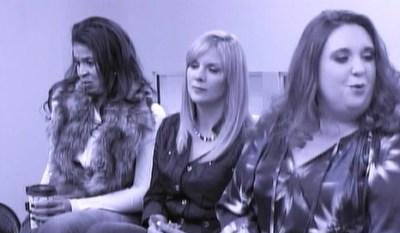 And these are her old ways.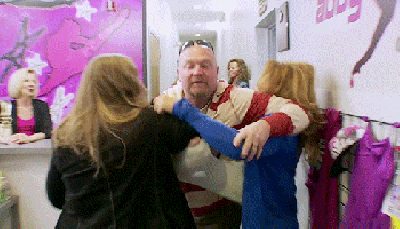 Not gonna lie.  Kinda miss both.
And why was Holly dressed like 1960s Cher that day?  Not that I'm complaining.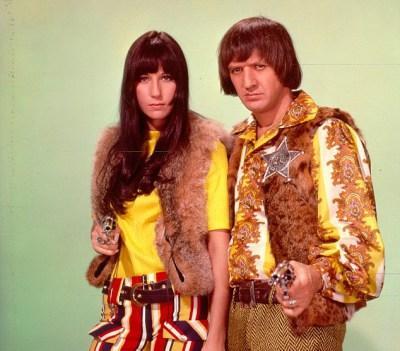 After everyone else stumbled in for the Pyramid of Shame, it was explained that
Kira
and
Kalani
were not in LA this week due to a family funeral.  Condolences and a hug.
And then one more hug for that cute baby.
Bottom of the Pyramid was all about Kalani, Mackenzie's bad feet and JoJo, followed by Kendall, Maddie and Nia on the mezzanine level.
Which left little Brynn on top, with the highest score at last week's competition and a track jacket that she could finally have embroidered with her own name.  You go, girl.  Muah.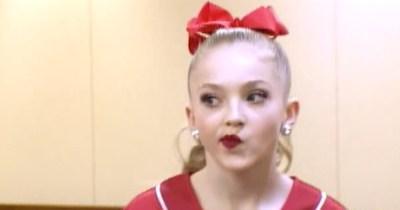 This week the gang was headed to
New York Dance Experience
in Long Beach.
And Abby got some last week.
Because that's how smoothly that transition went.
I was like…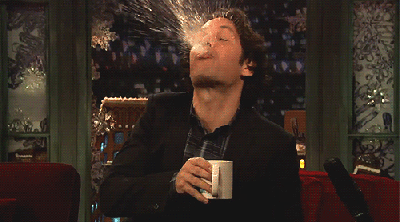 And Abby was like…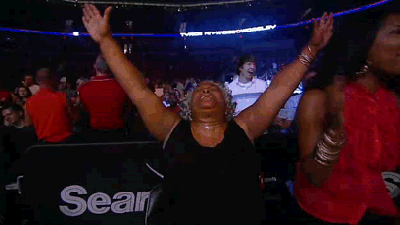 And then my MomCrush
Jill
explained that Abby had hooked up with some Mystery Man she nicknamed
Magic Mike
and now the Apocalypse is upon us for real.
Bonus:  Actual unedited, never before seen footage from Abby's Vegas trip: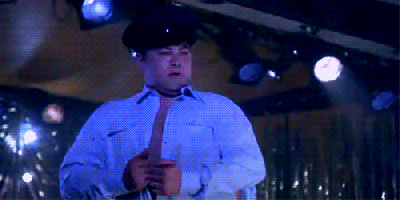 Isn't that the Candy Apples lady in the red?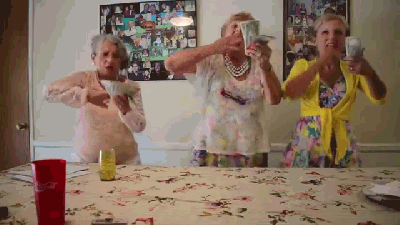 Think about that for a minute.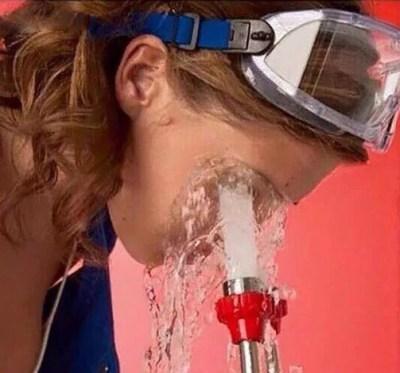 When she wan't making it rain up in there, Abby somehow managed to find time to take in the Michael Jackson 
ONE
Cirque du Soleil
 show and was now determined to create some MJ-inspired dances for this week's competition.
Like the group routine.  Which had a baseball theme.  Because MJ loved baseball.
Excuse me?
Holly looked that way…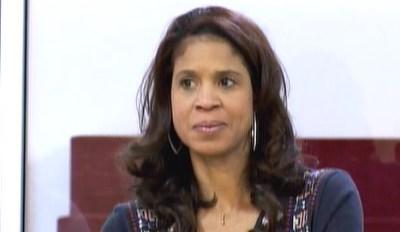 And then that way…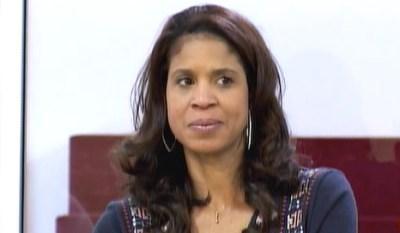 And then that way and was all like Wait.  What?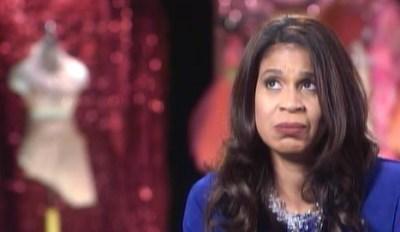 Everyone was Googling it, but nobody could find any Wikipedia references to how MJ's signature sequined glove was actually a catcher's mitt or any MLB regulations on backing up into home plate with a Moon Walk vs. sliding in face first.
I did find this dude from the Lehigh Valley IronPigs wearing a Thriller uniform for some reason.  His pants are tight, but his glove is so not sparkly.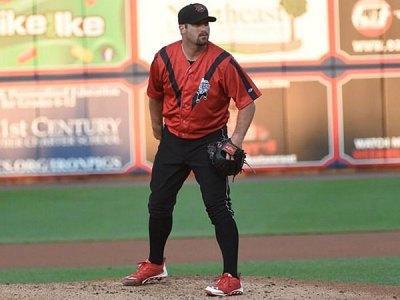 And I found a baseball with Michael Jackson's face on it that only costs $19.99.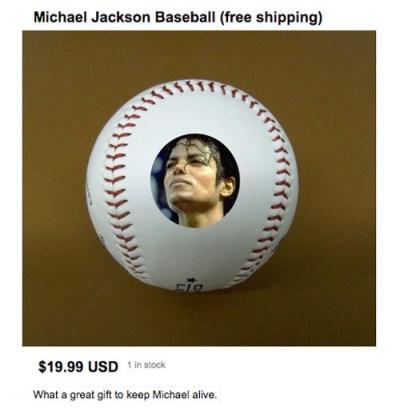 But mostly I just found pictures of Michael and the baby from
Escape From The Planet Of The Apes 
looking all matchy matchy.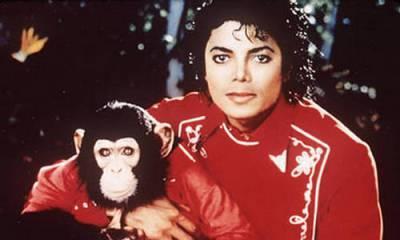 And this, of course.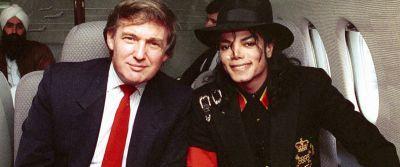 America.
Brynn and Sarah scored a duet, as well as Maddie and Kendall.  Except that Maddie was going to be MIA for the next 24 hours due to some Disney shindig that required her presence and now Kendall was already stressing out about it.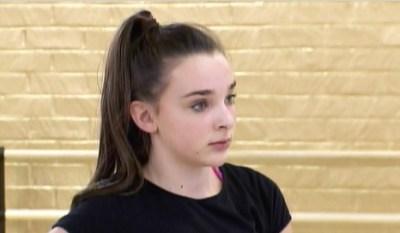 She and Maddie are BFFs and with all the TMZ/US Weekly rumors over at CVS about the Zieglers evacuating the dance floor after this season, it made sense that KK wanted to get as much MaddieTime in as possible.
Bonus:  Here's a shot of Ashlee and Christy when they were on The Price Is Right bidding on that Final Showcase at the end of the show.  Am I right?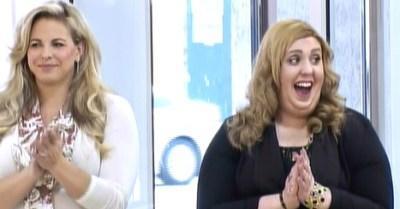 After the girls rehearsed the group routine for a few, Melissa and Maddie had some time on the DL back in what I assume was the ALDC LA store or something.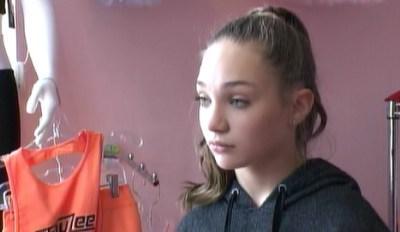 With all the crap piled up in the storeroom next to Abby's twin bed, I can't believe there's only one tank top and a pair of booty shorts hanging on that whole rack.  When I worked at the GAP I would have fired someone for that kind of merchandising.
That scene was basically foreshadowing things to come.  Stay tuned.
The next day, after Kendall got done taking all her selfies in the back parking lot (…you see that?…) everyone went inside so they could all get under Melissa's skin over the TMZ/Us Weekly/CVS thing again.
Melissa has been making this face a lot lately.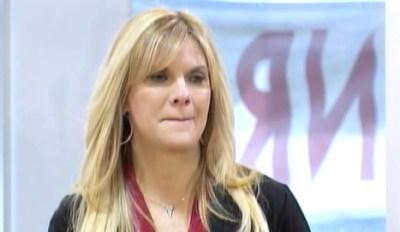 When she's not booty popping, I mean.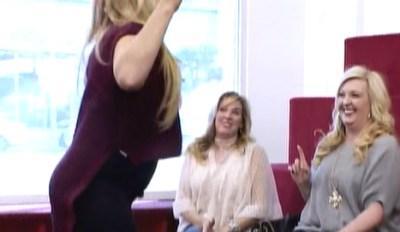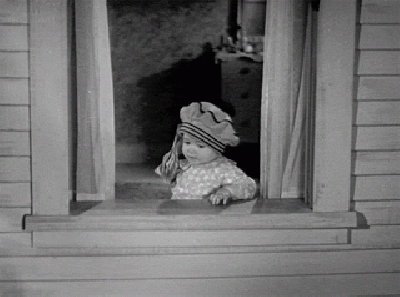 Imagine driving by that window with all them ladies talking dirty.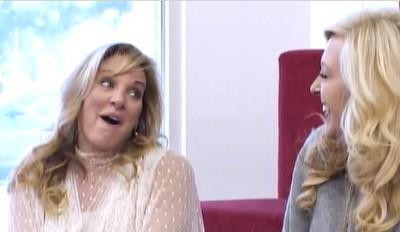 Oooh, Magic Mike.  You nasty.
Side note:  Where did all those people come from all of the sudden?  Look at 'em all.
The place has been empty for 2 seasons and all of the sudden it looks the Today Show window.  And what's even happening right now with that one Mom right there trying to get her 15 minutes in front of the camera?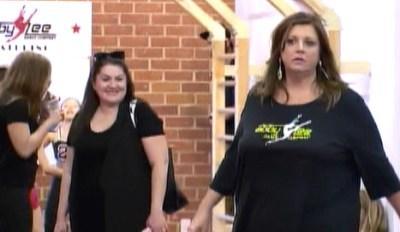 I know those are probably sunglasses on her head, but if you squint she kinda looks like Michelle Pfeiffer in Batman, right?
And there she is again.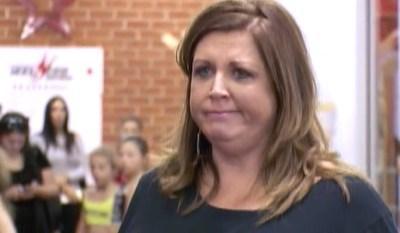 Maybe she should be less worried about texting her girlfriends that she's on the television and more worried about her kid hanging off that jungle gym back there.
That kid.  Right there.
Get down from there right now.  Go in that Homework Room.  I'm not tell you again.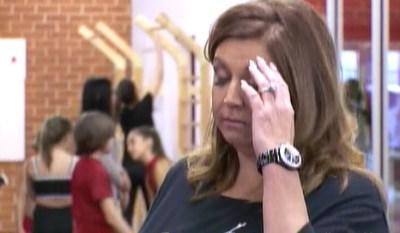 Look at Abby having one of those mini strokes.
Side note Two:  I'm gonna assume we missed out on some Nia solo or something that never aired, because otherwise I have no explanation as to why Sasha was wearing fancy BigGirl heels and talking to herself and spinning a mirror around and around in the corner while Brynn and Sarah rehearsed.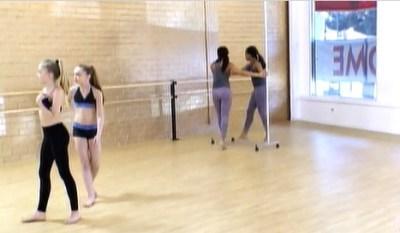 Please let it be a solo.  Because otherwise that's something that a crazy person does alone at home on a Friday night with lipstick smeared all over their face.
You said you'd text me back.  I know you have your phone on.
Side note Three:  That was pretty much the extent of Holly and Nia's participation this week.  And I am not happy at all.
Granted, Holly had a few more Pearls of Wisdom that she unleashed during the episode, which is a given.  But there were not nearly enough #HollyFaces or Moments of Clarity and/or Slaying to fill the hour and thats an issue that needs to be addressed asap by the producers.
#YAAAAAAS.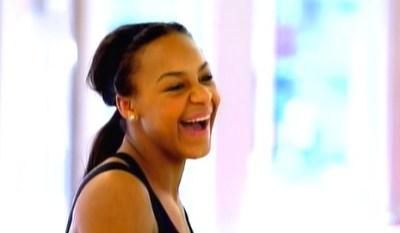 Programming note:  For this evening's rehearsal performance, the role of Maddie Ziegler will be played by JoJo Siwa.  And that's pretty when it all started to go downhill.
JoJo and KK weren't syncing up right.  Kendall wanted Maddie, even though she loves her some JoJo.  And she didnt' want to do it as a solo.
So naturally, everyone started yelling and KK started crying and ran out of the studio and then back into the studio and snipped at Abby a little and then got dragged back out again by Jill who wasn't going to let her do this in front of Abby or the cameras or me, because she knows it gives me anxiety.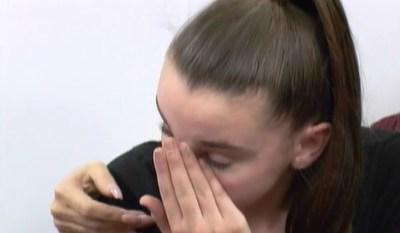 But you know how Reality Television goes.  They could have left out the part where Kendall got hit in the back of the head with a shovel by Wile E. Coyote and that's why she was crying.  You just never know.
But regardless, everyone was running in circles like they do on Scooby Doo when they run in and out of all those different doors all at once.  It was crazy pants.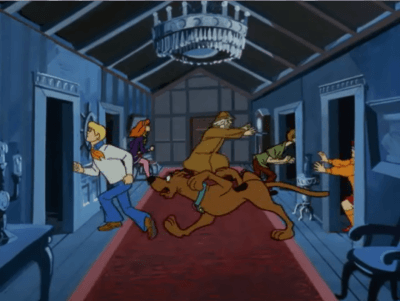 I love KK.
Yeah, I know.  She's a crier.  But even Holly noted that…umm, duh…they're children.  And this is an extremely stressful time for the children thanks to TMZ/US Weekly…etc.
So cut her some slack, yo.  Or take it to a chat room.
Contractually Obligated "I'm Done!" Scene:  Jill and Kendall ended up leaving.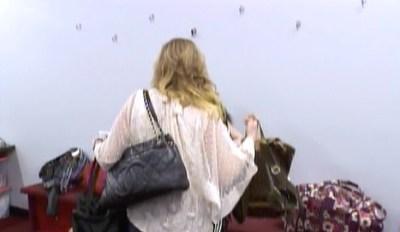 Q.  Why is all that stuff always laying all over the floor and the benches when they have like a million empty hooks on the wall?  Seriously.
The next day, Kendall was back, but her duet with Maddie had somehow turned into a solo for JoJo.  And you know how well that was going over with everyone.  Especially Christy who kept needling Jessalynn about throwing friends under the bus just to get your kid ahead.
Check out everything that's going on with Christy right there.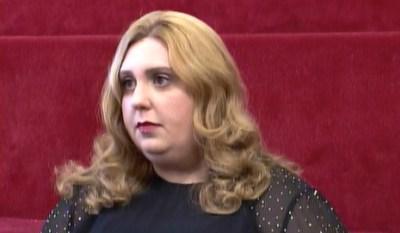 When you got Dance Moms at 2 but you're chaperoning Prom at 7.
What the–?  This show, I swear.
Finally, it was Showtime!
And…is that…?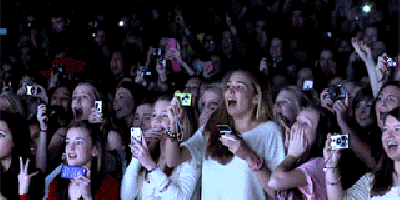 AAAAUUGGGHHH!  OhMyGawd!!!!!
Nobody told me Rachelle Rak was judging this thing!
I almost spit out the apple I was biting.  The 'Sas' was back!  We love Rachelle!
You remember her from Abby's Ultimate Dance Competition and all the other stuff I keep reminding you about every time she shows up.
She's my Broadway Girlfriend.  She just doesn't know it.  Clearly.
Otherwise I'd have some box seat tickets in my hand right now.
Here she is getting ready for the competition.  I think they filmed it on Casual Friday at Toys 'r Us.  Got enough Fisher Price on the floor there?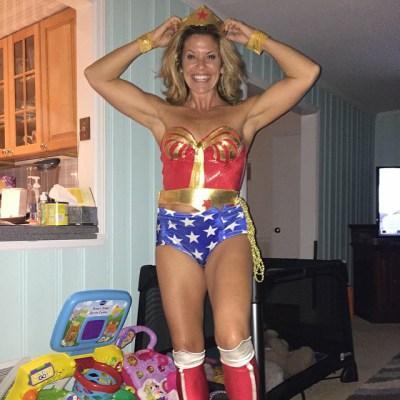 And here she is on her way to the competition.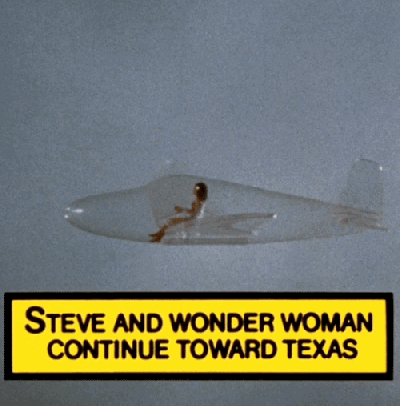 I don't know who Steve is, or why they were headed to Texas instead of Long Beach where the NYDE was being held.  But if she's cheating on me, I'm glad Steve fell out of the plane because I don't see him anywhere.
And finally, here she is realizing that the show had terrible lighting.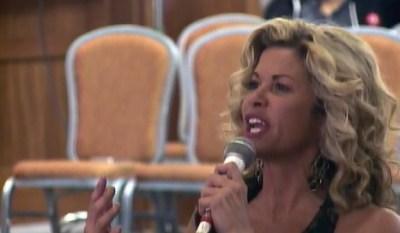 That's right, baby.  Find that bright spot.  Mama didn't raise no fool.
Werk.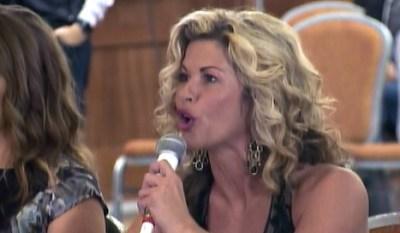 JoJo's solo was a delightful mix of Michael's
Bad
Video meets
Janet
's
Rhythm Nation
meets
Toddlers & Tiaras
Outfit of Choice
.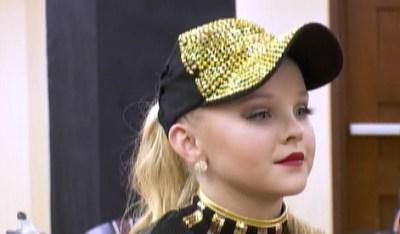 Unfortunately, she didn't even place during the Awards, which was not cool.
Brynn and Sarah did well, though Brynn may or may not have wobbled, depending on who you talked to and what judge's score sheet you reviewed.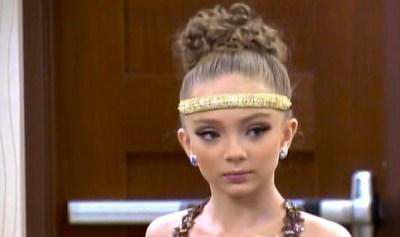 Throughout the entire competition, Abby was remarkably calm and…dare we say…almost pleasant?  It was creepy.
Clearly, Rolaids and Role Playing can do that to a person.
You heard me.  They said Abby role plays with Magic Mike.
But nothing impromptu.  She has a script.
For role playing.
With a man.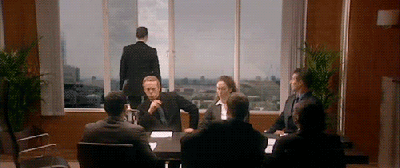 #ImDone.
Luckily, the Michael Jackson Little League World Series was about to begin.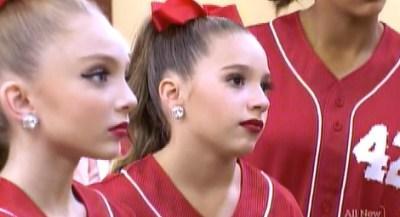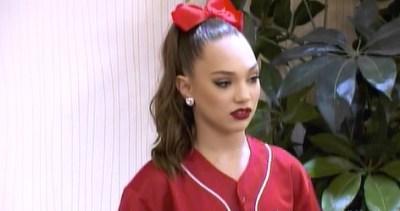 Bonus:  Here's a picture of MJ disguised as a baseball player when he wanted to go to Costco or wherever.  I forget.  But at least it finally proves he really did have a love for baseball, right?  Or at least International Day when they give out all the samples.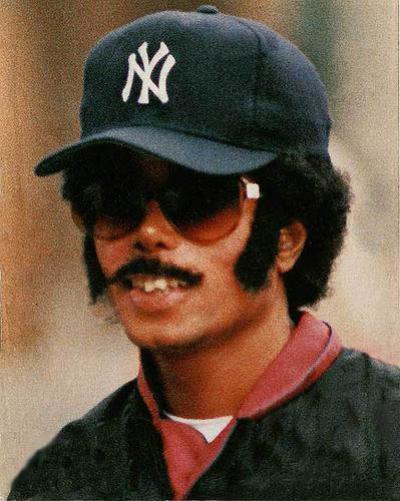 Rachelle loved the number, even though she was quick to point out that there was not supposed to be an aerial in baseball.  I'm not sure which side of the coin she was judging on that one, but I guess it's not out of the question that she could umpire in the Bronx on Mondays when most of the shows are dark.
When it was all over, Brynn and Sarah took home First Place.  But the group dance struck out.  Nada.  Nothing.  They didn't even place.
But Abby was still pretty chillaxed about the whole thing.
Her biggest concern was that Sarah wasn't a Quicker Picker Upper when it came to spills and choreography.  But that would have to wait for another day back at the ALDC Dugout.
Yeerrrrrrrrr Out!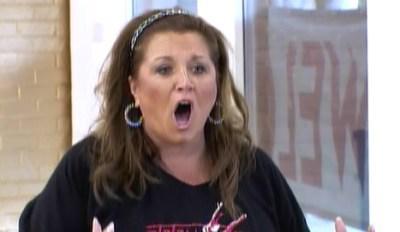 Game Over.
Buh Bye.