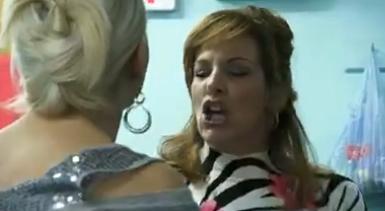 Scream all you want, sister. That Target top is even louder than your mouth.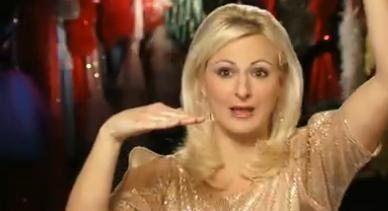 Seriously. Her head is like this high and her hair is like this high. I swear.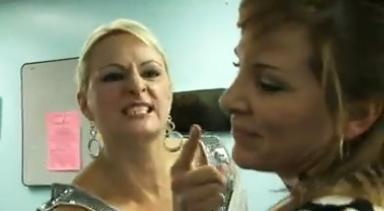 I'm from Pittsburgh, bitch. I will cut you and your Jersey poof right now.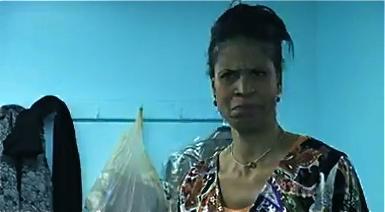 Oh no, she did not just say that. No she did not. Tell me I did not just hear that.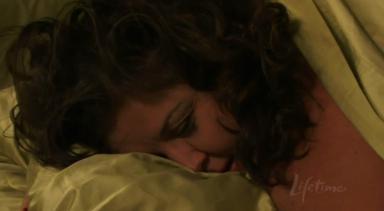 In the jungle, the mighty jungle, the Lion sleeps tonight.
Ouch.
I don't know what hurts more.  My eyes or my ears.
Dance Moms just slapped us in the face with another episode so full of screaming and bad fashion choices that I'm not even sure where to start.  Between enough shrill voices to drown out a low flying jet on training maneuvers, and more wild patterns than they stock in the Pittsburgh Super Walmart Fabric & Notions Department, I need to regroup for a moment before I relive that hour again.
After not placing first in all their fancy dancy categories during last week's competition, Abby Lee Miller had high hopes for her little performance peanuts this week.
But before she dramatically revealed the now infamous Even When Maddie Isn't On The Top She Is Still Better Than You Will Ever Be Pyramid of Shame, Abby met up with expressionless 13 year old Brooke to try and make her grovel under the restaurant table for a few laughs as Brooke nervously asked if it would be ok to return to the World of The Dance.
As you may or may not have repressed in the back of your minds, a few weeks ago Brooke had left Abby & The Moms hanging high and dry mere hours before a competition in order to try out for a spot on the cheerleading team.  Brooke, who is most well known for her blank expressions and apparent lack of functioning smile muscles, wanted to see if The Dance was really her thing or not by…umm…not dancing, I guess.
I know.  I know.  But she's a teenager, people.  Cut her some slack.  She really is a nice kid.  It's not even her fault she was born with an overly active mopey gene.  She means well…Brooke just needs to stop acting like her whole life is being filmed for the CW Network.  Chill out.  Teen angst is so last season, unless you're a vampire.
But who knew.  Turns out it only takes under two weeks to make life changing decisions when you're a teenager, and Brooke now wants back in the line up.  It appears that shaking her pom poms didn't fulfill her inner emotional needs, or score her more dates.  So she wants back in, asap.  Vampires make it look so easy, but she seems to have learned her lesson.
After pointing out that Brooke let down everyone from the dance team to Abby to that Lifetime intern's son who kinda has a crush on her, Abby caved and allowed Brooke to come over to the Dark Side again.
The Pyramid was next, and that is always way more fun than the old Dick Clark Game Show version ever was.
First a bit of biz, though.  Kendall is off probation, and now officially a member of the dance team.  She got her shiny embroidered jacket, a pat on the head and a quick "Don't F*** it up" from Abby.  Kendall was happy, but nowhere near as happy as Real Housewives of Pittsburgh Mom Jill who clapped and cheered like she was at a Barry Manilow concert.
(Hey…I heard that.  She's a Mom.  If she was 13 it would be a Bieber concert.  I know what's trendy and I'll thank you to not question my knowledge of Pop Culture.)
Anyway.  The group is heading to beautiful Long Island this week for the Starbound Dance Competition, and it was time to get it together, Pyramid Style.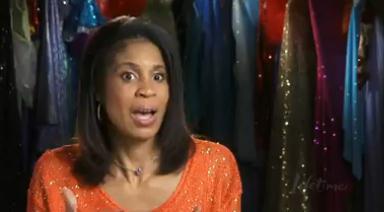 Mackenzie and her Jack-O-Lantern smile were on the bottom, along with Nia and Paige, as well as newbie Kendall.
Newsflash:  A shiny jacket and no probation don't get you nuthin at the Abby Lee Miller Dance Company.  Jill didn't handle that one very well, and it was the calm before the storm as they say on The Weather Channel.
Pint sized Mack just needs more experience and more adult teeth before she can move on up, while Nia and Paige just need to get it together.  Kendall is told she needs to fix her feet, which could either mean more practice or orthotics.  Abby wasn't clear on that one.
Maddie and Chloe were again pitted against each other on the second row, which was a multi tasking slam against Chloe's Mom Christi as well as a super challenge to Maddie to keep on getting even more amazing.
With only one spot left on top, crazy Mom Leslie was all excited that her daughter Peyton could embrace her sudden growth spurt and finally be the star this week.  At least until Abby peeled off the cover sheet and revealed the blank stare of the returning Brooke.
The girls all squealed like little piglets at dinner time when they saw the photo, while Leslie took the opportunity to blow another major nutty in Abby's face.  Leslie flipped out and accused Abby of dangling a carrot in Peyton's nose, giving her the false security that she would be a part of the team.
Ok.  Leslie.  Honey.  Dial it down.
One.  Peyton was already cut once from the team.  Take a hint.
Two.  Abby couldn't even reach that high to dangle a carrot.  Somebody is way too tall for her own good to be shimmying around with 8 year olds.
Three.  You're just loud.  No way around it.
In another classic "How Dare You?!?!?" Susan Lucci moment, Leslie grabbed her kid and stormed out so quickly that I was afraid Peyton would bonk her forehead on the top of the door frame.  But she made it out and they disappeared down the highway, probably stopping at The Dollar Store on the way home.
Now it was time to practice 'til you drop.
Side note: The group number was designed as a bit of a slam against Cheerleading now that Brooke had jumped ship.  I know some Cheer Moms now, and you don't diss the Cheer.  I know better.  Trust me on that one.
As the girls worked on the group and solo numbers, all the Moms climbed up to their perch to judge and get their Mom Talk on.
Apparently now that Jill and Kendall were off probation, this gave Mom carte blanche to start laying down pointers on how things are done in Jill World.
Now I skipped a lot of my High School Science classes, so I don't know exactly where Jill World is…but I'm pretty sure it's located somewhere in the I'm Prettier Than You Constellation, which you can't get to without passing through the Don't Piss Me Off Black Hole.
Let's just say that the Real Jill was starting to come out to play.
She trash talked Brooke, which got Kelly all bug eyed, and then implied that little diva Nia was weak.  Nobody picks on my Nia.  I almost bitch slapped my TV.
They were so busy picking on each other and revving up for a Jerry Springer chick fight that I don't think any Mom even noticed little Mack working on her acrobatic solo.  Wearing her pointy clown/dunce cap and spazzing out to The Party Starts Right Now, Mack was getting classic Abby choreography pointers to "Stick your boobs out" while she bootie slapped her 7 year old backside.
Umm.  If I remember correctly, back in grade school Health Class when they used that creepy doll to show what your junk is actually called…I don't think a 7 year old girl even has boobs or a bootie yet.
Uncomfortable, much?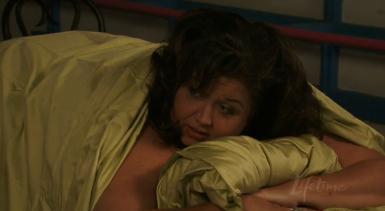 Jill proudly states that watching her daughter dance is her hobby.  Beats a real job, I guess, but maybe she wouldn't be so high strung if she tried scrapbooking.
I think Jill's other hobby is QVC shopping, because she seems to own every faux furry vest Rachel Zoe ever sold along with more jewelry than you will ever find in those sketchy flea market booths on the Jersey Boardwalk.  Jill wants big parts for her daughter, big patterns on her blouses and Snookie poofs big enough to block someone's view of a movie if they're unlucky enough to be seated behind her.
Since she didn't learn her lesson last time, Jill scoots back down to the rehearsal floor to nag Abby about giving her daughter something besides back up dancer status.  Again, that goes just as well as you would expect it would go.  Geezis, Jill.  How many times do you need to put your hand on the stove before you realize it's gonna burn you?  Seriously.
To celebrate Brooke's return to The Dance, Kelly had everyone over to the house which also went exactly as you would expect it to go.  In what could only be described as the Poor Man's version of The Real Housewives of New Jersey, all the Moms sat around like they do at Caroline Manzo's house and drank wine and got overly aggressive on each other.  Jill again proudly stated that she will doing anything, kiss anything and most likely taste anything she has to if it will guarantee Kendall bigger parts.
Between more bad fashion, faux fur and screaming it was sensory overload.
Even Melissa couldn't take it anymore, scooped up her kids like grocery bags and stormed out quickly followed by Jill, because Jill pretty much does whatever Melissa does, and that means she had to storm out too.
Storm Jill was just about to blow the following day at the studio, where she set up a touchy feely personal massage for Abby and Assistant Gianna.  Bringing in two big gym rats to work them over, Jill was at her most blatantly obvious butt kissing best.  She probably put something in the lotion that would numb Abby's thought process.
As the massage dude who drew the short straw kneaded Abby's oiled up back like he was making a really big pizza, the rest of the Moms came in and realized what was going down.
Christi, who I love but I swear even sleeps in sequins (…seriously, no wonder Chloe squints all the time…) busted the massage up like it was one of those illegal prostitution rings run out of the back of a strip mall bagel place and then the whole thing just got nasty.
Jill accused Holly of being an absentee Mom which is not cool.  I would totally accuse Holly of not having time to do her hair that day for sure, but never being an absentee Mom.
Holly, Girlfriend…what was that all about anyway?  You know better than that.
Tight & Right.
Then it was just a whole bunch of finger wagging and screaming and pointing and Moms getting their Crazy on.
Let's be honest.  The dancing part didn't really even matter this week.
There was screaming on the bus.
There was screaming in the makeup rooms.
There was screaming in the hallways.
Then there was a little dancing, since it's still a show about dancing.
And then there was more screaming.
Storm Jill had made landfall.
Abby even did a smack down on the Moms.
Twice.
Jill got (bleeped) out, so you know that was some good (bleep) we missed.
The more the Storm swirled, the more the kids buzzed around in circles looking for shelter while trying to avoid flying debris.
Storm Jill is gaining speed and momentum as we speak.
Grab your emergency makeup kit and get down cellar…fast.
There's nowhere to hide.