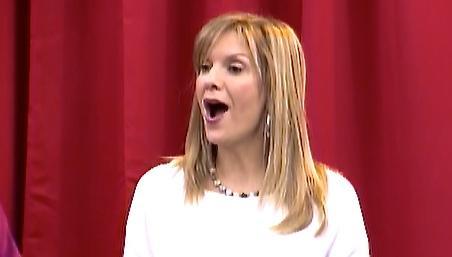 Did she just say DALLAS? That was my favorite show. I totally need a selfie with Sue Ellen.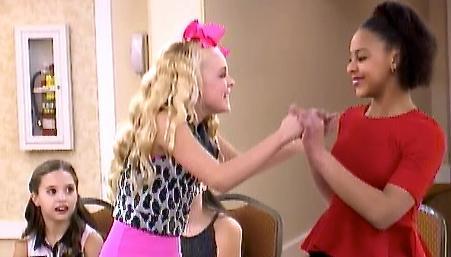 Whoa. Hold up, Grandma. I don't care if you are Korean. Nobody touches the hair.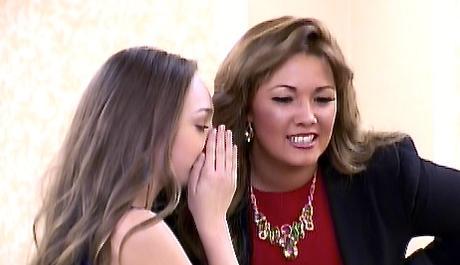 Psst. Just pretend you're a drunk and your sister shot JR or we'll never get out of here today.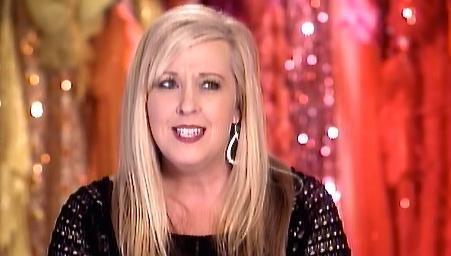 And you think the racist Korean part doesn't make any sense? What the **** is happening today?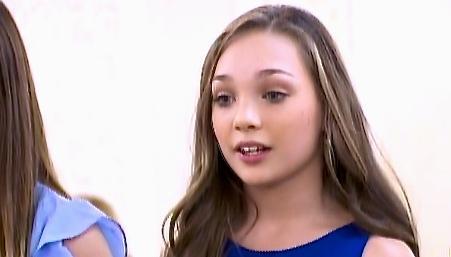 Probably not as tired as you are of people still calling you 'Demi Lovato's Sister.' We done?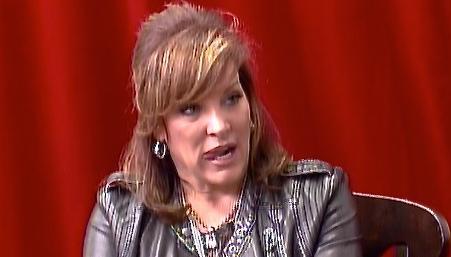 If God wanted me to read contracts and credit card bills, He would've made the print a lot bigger.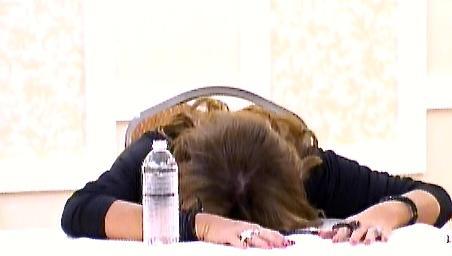 We need to wrap this thing up and find a Dairy Queen. Mama's blood sugar levels are dropping.
Werk It.  Walk It.
Werk It.  Walk It.
And while you're at it, maybe you should Sign It.
Or at least Read It.  Because you're in Hollywood now, baby.
Dance Moms was back on the West Coast again this week for ALDC LA: The Sequel.
After less than stellar results during their first trip to California, Abby Lee Miller and Co. had gone home, regrouped, rehearsed and reapplied spf50 and were now back in sunny CA with a reenergized vengeance for Round Two.  With dreams of First Place trophies, Pop Stardom and a franchise that would someday rival a Starbucks on every corner, Abby was looking to mark her turf in a big way this time around.
And nothing was going to stand in her way.
Except maybe the Pyramid of Shame.  Because that always takes priority, even when it's relocated to the mirrors at the top of 3rd St. Dance Studios.  ALL the way at the top.
(Holy Leg Day, Batman.  You mean to tell me that Abby couldn't have rented an empty room on the ground floor somewhere?  You see how many stairs they had to climb?  Six floors up and no elevator.  And you know Jill's Louis bag weighs a ton with all the crap she carries around on a daily basis.)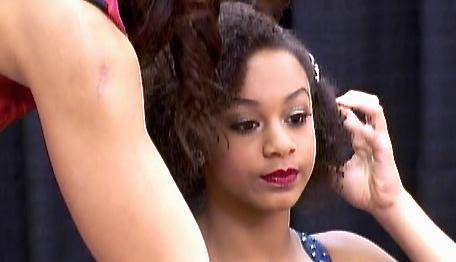 Jill Vertes Fashion Watch:  Speaking of.  Pretty low key this week due to the change in temperature from Pittsburgh to California.  Trust me, Los Angeles humidity doesn't really lend itself to fur and feathers unless it's Pride Week.  But Mama V was still getting it done, despite that one uncomfortable head shot confessional where the makeup girl put too much bronzer on her face and forgot the rest of her neck.  Anyone else see that?  But she's my MomCrush and that makeup girl is out of a job now, anyway.
So, yeah.  Jill's awesome.
As the gang caught their breath after scaling Mt. Staircase, somebody mentioned that Mackenzie had accompanied Abby around the city to scout out locations for the new ALDC studio.  Apparently Melissa has been secretly homeschooling her kid for a real estate license all this time in case the whole MackZ gangsta rap thing doesn't work out.
Always have a back-up plan, kids.  The More You Know.
ALDC Fashion Watch:  Now the girls were all in teal ensembles.  Seriously?  Somebody needs to pick a color and stick with it, or my team mascot costume isn't gonna make any sense when I unveil it at the Reunion Show.
Bottom of the Pyramid was nothing but Mackenzie flying solo.
The only thing worse than being on the bottom of the Pyramid is being the ONLY person on the bottom of the Pyramid.  Ouch.  But she can find you a duplex with walk-in closets and a view of the Pacific Ocean at below market rate.  So whatever.
The Middle Tier was home to Kalani, Nia and Kendall, which meant that the Top Spot was shared by JoJo and Maddie.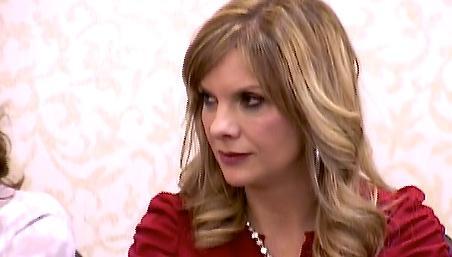 JoJo had taken First Place with her solo last week, while Maddie had not even been in the building.  But Saturday Night Live always trumps anything in the Real World.
Abby's Weekly Sia Chandelier/Elastic Heart Reference:  Boom.  That was it.
This week the gang was headed to another New York Dance Experience (…in Anaheim, so the name made no sense whatsoever…) where they would once again be critiqued live on stage after each routine by a selection of judges with microphones.
Spoiler Alert:  Yaaaaaaas, Hunty!  I bit that apple and almost choked on it before spitting it back out.  The Sas was Back!  You just sit yo'self back down and wait until showtime.
After all the MattyB drama that ensued the last time they were in California (…resulting in Five Hundred QuaTrillion youtube hits and his own Toys 'R Us spray cologne by now, no doubt…) all the Moms really hoped to start this trip with a clean slate.  There really wasn't time for any unnecessary stress considering that Kendall and Nia were getting ready to shoot their first pop music videos and Maddie was still fighting jet lag after flying around the world on Shia LaBeouf's private concord.
The Battling Pop Stars both scored solos.  Kendall's 'Waiting' and Nia's 'Never Knew' dance would put the girls head to head not only on stage but also on the iTunes download charts.  Everyone was pretty excited, I gotta say.
The group dance, called 'Together We Stand' was Abby's attempt at pulling everyone back into one United State of Dance.  Putting a splintered ALDC team on stage during their previous Hollywood trip had definitely not worked out very well, so hopefully parading out one big happy family would score higher with the judges this time around.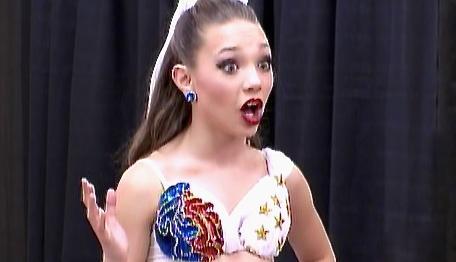 Oh.  And did we mention that on Friday everyone was going to an Acting Seminar with Demi Lovato's sister Dallas?  OMG!
I know, right?  Demi Lovato's sister.  Who was born in Dallas.  And her name is Dallas.
Shut.  Up.  It's true.  Because it's on the internet.  And she was the voice of some animal in some show about a Little Penguin which I'm sure was delightful.
Because penguins are delightful.  Especially little ones.
Needless to say, when Abby unleashed that bit of news on the girls everyone screamed and wet themselves faster than I would if Rachelle Rak ever followed me on Twitter.
Which she did.  And which I may have.  So there's that, I guess.
As the girls all got down to dance biz, the Moms all headed next door to a fake MomPerch (…complete with a closed-circuit plasma screen like the ones they use in federal prisons…) to watch their kids rehearse and argue about the need for showbiz contracts.
Basically, there was a lot of creative control/legal mumbo jumbo back and forth between Holly and Jill for the remainder of the episode.  Nia had already begun her pop star bootcamp, so Holly was simply trying to pass on what she felt was valuable insider information, but unfortunately most of it just irritated Jill and made Melissa do that rapid eye blink thing she does when people start yelling around her.
Melissa wears contacts, right?  Didn't we discuss that a long time ago?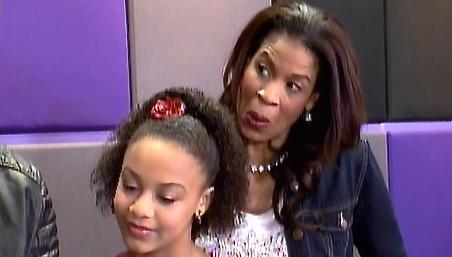 Let's be honest.  The only thing that really mattered was when Abby came in and told Jill that she had already burned through $57,000 on Kendall's career in just this month alone.
Fifty.  Seven.  With Three Zeroes after it.
Ok.  I just Googled "Gold Grills" and you can purchase what they call a starter grill for only $500.  So what the hell?
Side note:  My search history now includes WhoIsDallasLovato, MattyB videos, shows on Nickelodeon, glitter spandex, oversized hair bows for crazy little girls, the weather during Pride Week, HowHotIsItInsideTeamMascotHeads, gangster rap and cheap gold grills.
I'm so going to jail if Chris Hansen ever finds my hard drive.
Quick.  Let's lighten the mood and go visit Mikey Minden, Nia's video choreographer.
Who.  Is.  Fabulous.  Dot.com.
Werking It.  Walking It.  Werking It.  Walking It.
Honestly, the only thing more Fabulous than Mikey were Holly's Fabulous HollyFaces whenever Mikey opened his Fabulous mouth.
Imagine a long hallway.  Holly looked down the long hallway.  Imagine you back dat thang up against the mirror and shimmy down it like I don't know what.  Holly looked all around the room like when you point a laser pen at a cat.  Imagine you snatch the microphone and then get all like Hey I just snatched the microphone.  Holly snatched the microphone.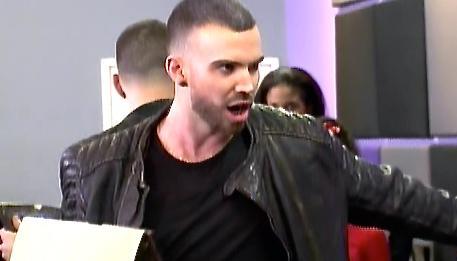 Imagine Janet Jackson's makeup artist doing Nia's face for the video.  Holly couldn't breath.  Imagine Nia getting her hair done by Katy Perry's hair stylist.  Holly blacked out for a minute and almost hit her head.
Side note:  When Mikey wiped himself all over the mirror I made a mental note to start cleaning my shower doors the same way from now on.
I bet even his Scrubbing Bubbles are Fabulous.
Love me some Mr. Minden.  Dude.  Is.  Faaaaaabulous.
When Holly finally picked herself up off the floor, she pointed out that THIS is what LA is all about.  Hollywood, baby.  Hollywood!
Gurrrrrl, pleez.  Free hair AND getting your face painted like a Rhythm Nation dancer?
You are preaching to the choir, sistah.
How could it get any better than this, you ask?
Maybe we should scoot over to the Acting Seminar with Demi Lovato's sister and see.
Part acting seminar, part timeshare sales pitch and part off-site retail commission training at the Ramada, Dallas put the girls through every audition hoop she could think of to prepare them for life outside the studio.
Side note:  Dallas didn't look anything like any of the pictures from Google.
After name dropping Selena Gomez a few times, Dallas had each girl pick a random character that was floating around in their head and then do an impromptu group scene.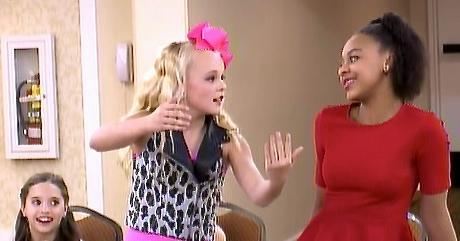 One.  Kalani chose the dumbest sales clerk I've ever seen, so I'm assuming it was someone from Abercrombie & Fitch.  The scent they pipe out through the air ducts in that store makes you stupid.  It's true because I wrote it and now it's on the internet forever.
Two.  Maddie was tired, but nothing else really mattered after JoJo chose 'Elderly Korean Woman' because, well…I mean…'Elderly Korean Woman.'  C'mon.
I just can't.  The fact that 'EKW' was even on the menu inside JoJo's sparkle-filled brain was almost more than I could handle.  I was also relieved to find out that after all these years, I'm not the only person relying on my inner 'Elderly Korean Woman' when faced with awkward social situations.
YouSoPrettyLady.
I swear.  JoJo is my Spirit Animal now.  It's like we're twins or something.
You just need to watch it.
Side note:  JoJo taking at-home Korean lessons somehow made getting Root Touch-Up in your Christmas stocking seem less odd.  I'm so in love with her Mom Jessalynn now that I should probably go back and edit out about 98% of the smack I said about her in my old Abby's Ultimate Dance Competition recaps.
Seriously.  When did Jess get so damn funny?
Finally, it was Showtime!  And time for a new Lighting Director.
Did you see all that harsh lighting in the auditorium?  And even some of the last confessional thingamajigs?  What are they using lately…sunlamps?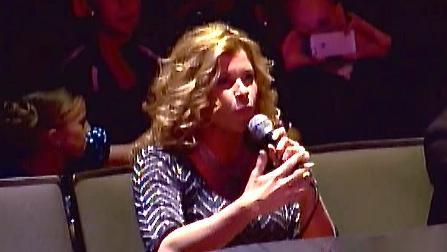 You could tell my girl Rachelle was not happy at all.  How's a bitch supposed to get all Sas-y when she's sitting under a bulb that looks like a Star Trek transporter?  Beam me up to Home Depot, Scotty, so I can get some soft focus incandescents.
And how about all those little babies in the front row?  What was that all about?
Where were their parents?
Side note:  The stage was ginormous but the wall logo was a tiny iPhone home screen app.  Really.  A tiny little square sitting on the floor.  Go figure.
Nia and Kendall's solos both went really well.  The emcee was Super Pregnant in a sequined dress.  Or at least I hope she was.  I apologize in advance for any insensitivity if she wasn't.  But if she was pregnant, I think it might be time for flats because those stilettos were giving me third trimester anxiety.
Plot Twist:  Turns out that Holly and Nia didn't have any signed contracts either.  What the what?  That sudden realization made Jill say something that got bleeped out and reminded me of the time she threw a shoe across the room.
Some days I really miss Cowboy Hat Jill.
Backstage before the group routine, Abby had just enough time for a quick Q&A.
Q:  What do you think a lot of money is?
A:  (Maddie) A Billion Million!  Go Big or Go Home, yo.  (JoJo)  Less than that.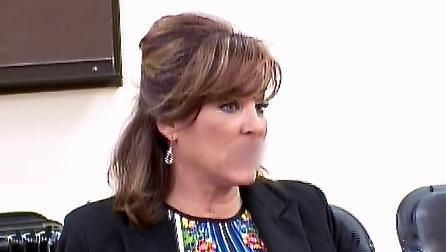 And maybe a pony.
The point was to make sure the entire team realized how much bankroll Abby was investing in their careers.  No pressure, of course.  Especially you, Kendall.
And you're $57,000 whatever.
Then the ALDC hit the stage for their final dance of the night.  Which was lyrical.  Because that's their thing again.
And I stand corrected.  Abby got Kendall a starter grill AND paid someone off to pump her new iTunes song through the loud speakers before the awards ceremony.  So that was $57,000 well spent.
At the end of the day, Nia took Third Place and Kendall scored First.  Awesome!
Maybe it was just from sitting under the hot lights for an entire competition, but I thought Abby had said that the girls were going up against each other in a Battle of the Pop Stars and yet they ended up getting two different awards in two different age categories.
I will never understand DanceMath.
All in all, given their previous adventures in Hollywood, everyone was pretty happy with the results as the whole thing shut down for the day.
Both Kendall and Nia's music careers were starting to percolate.  The Moms were all kinda sorta getting along.  And JoJo even offered to take everyone out for Korean food.
YouSoHungryLady.
Werk.