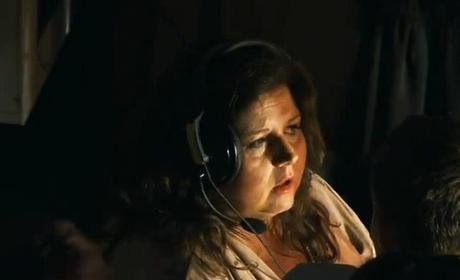 This is Abby, your Captain speaking. Please turn off your cell phones because this s*** is about to get real.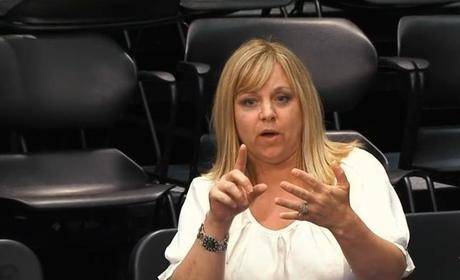 I can count on one hand how many times I've been to Walmart today.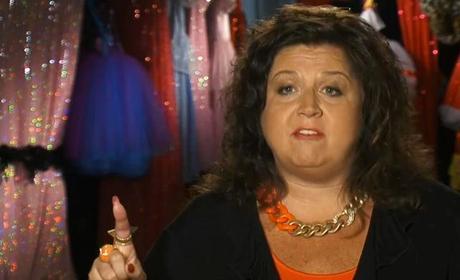 I can count on one finger how many times I'm gonna do my hair like this again. WTF?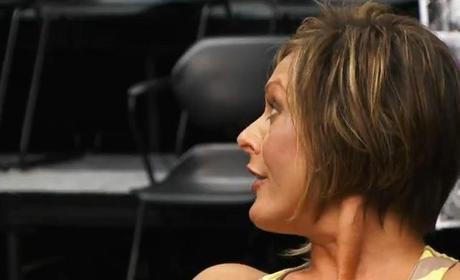 Do I remember the Class of 1985? Girl…Seriously? I don't even remember what shoes I put on this morning.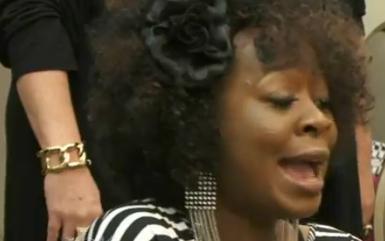 Oh. Hell. No. The bus driver told me this was Bravo TV. I can already tell these bitches are Cray Cray.
Overture, Curtain, Lights.
This is it…the Night of Nights.
…On with the Show, this is It!
Before we proceed with this week's Dance Moms hilarity, you need to Google youtube and the musical opening number for the classic Warner Brothers Bugs Bunny Show.
Then you need to find someone who knows Photoshop and have them cut & paste the faces of Abby Lee Miller, Holly, Kelly, Christi, Melissa, Jill, Cathy and bat s*** crazy Leslie over the bodies of all the cartoon characters.
And then you need to watch it again until milk shoots out your nose, because that pretty much sums out how it all went down this week during the 2012 ALDC Concert.
Which was really a recital.  But I didn't ask why Abby kept calling it a concert.  Maybe because it had music.  I dunno.  By now, we all know I don't make the rules.
But, whatever.  It was the annual ALDC tribute to…well…ALDC, and a chance for anyone in Pittsburgh without basic cable to buy a Xeroxed paper ticket and watch every dance number that the rest of us had already seen on Lifetime.
As Abby explained it before the Pyramid of Shame was revealed, every dance aficionado in Pittsburgh would be in attendance, which would explain the four folding chairs set up around a card table at the front of the stage.  Count 'em.  Every one.
Not that I would recognize an aficionado if I stepped on one, but the way she went on and on about it before rehearsals began I expected at least two of the So You Think You Can Dance judges to show up.  But nada, unless the aficionados were incognito or something.
Regardless, even the Concert of all Recitals had to wait until the Pyramid was unveiled.
Rules are rules, people, whether I make them or not.
Still hanging tight at the bottom were Paige and that big, clunky boot.  Turns out that breaking your foot when you're on a show about dancing doesn't really open up much opportunity for advancement.  Climbing stairs and pyramids are just way too much work nowadays, so Paige was content to lean on her pirate leg and let the other girls fight it out for top honors.
Fallen Angel Maddie was also on the bottom row because last week she had refused to learn a new number in under 42 minutes and then retain it long enough to go head to head with those scruffy boys from Candy Apples.
She told Abby NO.  And people don't tell Abby NO.  Nobody tells Abby NO.
Proof of that fact can be found not only in the crumbled dust of broken young dancer souls that Abby keeps in a mantel urn, but also in the increasing number of Pennsylvania All-U-Can-Eat Country Buffets now filing for bankruptcy.
Whaddayamean I can't have any more ribs?
Third spot in the basement went to Chloe, because she had ruined any chance at a Starbound clean sweep when she lost by 1/10th of a point.  Which had to suck.  I would rather lose by a bazillion points and then fall off the stage head first than lose by 1/10th.
I hugged my television.  Poor peanut.
Second row went to Brooke and Mackenzie.
Brooke took some heat for last week's Children of the Corn dance when she was supposed to tie a bonnet on Maddie's head at a Star Trek warp speed of mach 8, and she nervously fumbled the ball a little.
Cut her some slack, lady.  I'm pretty sure that Amish people are in no hurry when it comes to putting their bonnets on.  It's not like they've got anywhere to go…the cabinet shop will still be there no matter how long it takes to strap on their head gear.
But you know Abby.
MacAttack beat 2 boys and her front teeth were coming in nicely, so it was all good.
Top spot for the second week went to Miss Sasha Nia, cuz that's how we roll, bitches.
But before Nia could even bust out a celebratory Death Drop, Real Housewife of Pittsburgh Jill got all up in Abby's grill about Kendall once again not being scotch taped to the mirror.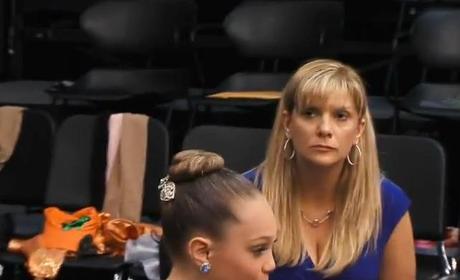 Kendall deserved it.  Kendall deserved this.  Kendall deserved that.
Don't get me wrong.  I'm a big supporter of parents who cowboy up for their kids.  But Jill is the kind of Stage Mom who would show up unannounced at the U.N. and shut down half of New York City under a suspected terrorist threat as she melts down over Kendall not being able to perform with those multi-national kids who are always in the Radio City Christmas Show.
Somebody needs to spend a little more time figuring out her new hairdo and a little less time making her daughter cry on national TV.  Just saying.
The new number for the recital was a hip hop bootay poppin' thang.  Please pause here and Google a group photo of these little ALDC dancer girls.  I'll wait.
Got it?  Yeah.  I can pretty much guarantee you that this is the only time you will ever see the words Gangsta and Chloe in the same sentence.  If you really need to go, you basically already figured out how that one was gonna work out.  Thanks for stopping by.
Paige had previously been told by her doctor to not dance for 4 weeks, but since she seemed to be able to stay upright on her own, Abby wanted her to participate in the hip hop routine.
Never having broken my toe in a backward handspring on cement flooring, I can't really verify any assumptions, but I'm thinking that on a tiny girl like Paige, that gigantic boot probably works much like one of those sand-filled deck umbrella stands.  Girl ain't toppling over in a wind storm if you know what I mean, but thinking that she could pop and lock and grind and stomp on stage may have been a little premature.
The next day, as Jill arrived at the studio, she was intercepted by NutWad Ninja Leslie who literally came out of nowhere and pounced on Jill with a bucket load of crazy.
Seriously.  Where did Leslie come from?  I swear she dropped out of the trees like that monkey did in James Franco's Planet of the Apes movie (…which was sooo not how the Apes really came to rule Earth, thank you…) because as soon as Jill hauled her junk out of the car, Leslie was right there in front of her babbling gossip.
It's no wonder Leslie makes such a great Walmart greeter, because you can't walk by her without getting an ear full.  She went on and on about loyalty and backstabbing and warnings and something about Melissa not having enough Milky Way bars for Halloween and having to take Leslie with her to CVS and then driving past CVS and taking Leslie to meet her Secret Lover and his enormous big package…of bank checks.
And Leslie talked just like that, but with fewer punctuation marks.  I swear.
Finally Jill bolted inside and Leslie scurried back up the tree with her Walmart bananas.
Only 65 cents a pound.  In a smiley face bag.
Quick change of scenery to Cow Country and the Evil Dance Lair, better known to the locals as Candy Apple's Dance Center, where we found Chaos Cathy mulling over an envelope of ALDC tickets that had mysteriously been delivered to her studio.  Should she attend? Mmmuuuahahahaha.
A bigger mystery should have been why Candy Apple's felt they needed that security camera set up that was above Cathy's messy desk.  Did you catch that?
It was one of those split screen television monitors you see at convenience stores and nuclear plants.  Or like they hang at Burger King over the fries to track how long it takes them to get one lousy freakin' Single Stack in the bag.
Is there a whole black market out there I'm not aware of that specializes in stolen tap shoes and jazz canes?  I'm checking ebay tomorrow.
If I don't find anything, I'm going to assume it's to protect all that valuable beef jerky next door.  Or maybe it's just Cathy monitoring Canton's Jerky King.
Because you know…nobody jerks it like the King.  I saw it on TV.  Cathy might want to keep an eye on that one.  Just a suggestion.
Since the teeny bop hip hop number was not going so well, Abby whistled for Amazonian Payton to join the group and show the little white girls how a big, tall white girl gets it done.  Taking a cue from her Mom, Payton also apparently dropped right out of a nearby tree because she was there before Abby even finished calling her name, and immediately started doing the Sprinkler, Windshield Wiper and what I assumed was her awkward version of the Dougie.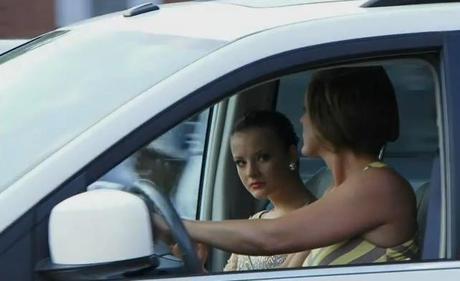 Hollah Back, Girl.   And duck when you go through the door.  Word to yo' Crazy Mother.
Next it was time for the Tech Rehearsals.  Abby was up in the light booth like some exhausted air traffic controller, trying to keep her headset from falling off into her pudding while she screamed at everyone within her orbit.
Since Leslie and Kelly cannot breath the same oxygen without breaking out into an argument, they were chewing at each other's face the entire time they were down in front of the stage.
Screaming.  Yelling.  Bleeping.  The usual.
When Leslie made the sweaty hike all the way up the auditorium into the booth to insist Abby change the dance lineup to give Payton more time to change costumes, the coffee really started to percolate.  After blasting Leslie for her smart a** mouth, Abby made a new Clubhouse Rule:  NO parents allowed!
She even had one of the hired help boys scribble out a treehouse sign on what I assumed was unused homework binder paper which the girls should have been using for their book reports.  But you can't chest pump and worry about Catcher in the Rye at the same time, so the dude swiped a sheet and taped it up on the door like you would if you wanted to keep Girl Cooties away from your pillow fort.
Klassy.  With a K.
After way too much jammin' and gettin' down on it, Paige's one remaining good foot finally realized it couldn't do all the heavy lifting alone, which caused her to overdo it on the bad one.  It didn't take a medical degree to figure out she needed to take a chill pill.
It also didn't take a psych degree to know that Leslie would be all over that one, since her motto has always been "Suck It Up."
Screaming.  Yelling.  Bleeping.  The usual.  Again.
This time, though, Kelly snatched up her two kids and headed out of Dodge, vowing to never come back.  With Brooke looking out the window like those kidnap victims do when they try to blink SOS in code to a gas station attendant, Mom layed a patch and was gone.
Then in a strange spliced in snippet, all the Moms suddenly hit the Club to unwind after their hard week.  And apparently, when Dance Moms need to unwind, they hit the Gay Club because I only saw two girls in the whole joint, and I think one of them works at Jiffy Lube.  All the other club kids were boys trying to kiss Christi.
Jill even did a body shot off the 12 pack of that guy on the Abercrombie shopping bag, which was wrong on so many levels.
After witnessing…and processing…all of that, my vision returned and the Show of all Shows actually kind of paled in comparison.
Kelly showed up with the kids.  No big surprise.
The Candy Apple's Brigade showed up, looking like a bad catalog photo from some local store specializing in Mother of the Bride dresses.  What the F*** were they all wearing?  Get out of Ohio much, girls?
Jill was spread out all over her chair in a really…really…yellow dress, still apparently feeling the residual after effects of gnawing on too much Abercrombie ab.  She did manage to find the strength to present Abby with two dozen kiss up roses, to go along with the previously sucked up lobby bench and cologne gift sets.  Jill does like to get her bribe on whenever possible.
After the curtain call where Maddie and Nia were presented with dance scholarships and Brooke and Mackenzie wandered around in Toddlers & Tiaras, everyone headed outside for a few cocktails and photo ops.
Lucky for us, Andy Cohen just happened to be driving through town and shoved a potential new Dance Mom and her kid out the passenger side of his Reality TV Escalade and then squealed off into the night before they even hit the sidewalk.
Kaya and Nicaya have arrived.
Girrrl, pleez.  Not only the best new Girl Group name ever, but more than likely the best new OhNoSheDin't Mom & Daughter act to hit Lifetime in a Longtime.
MmmHmm.  I feel some sassy coming on.
Oh, snap.
And another snap.