I never actually looked at the back of her head before. How does she even make it do that?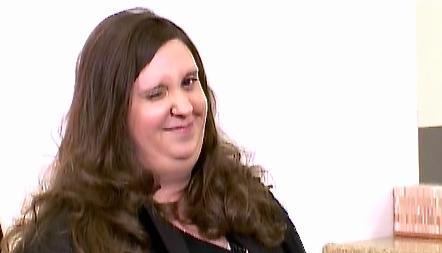 Oh yeah, Boyeez. There's a new Christy in town.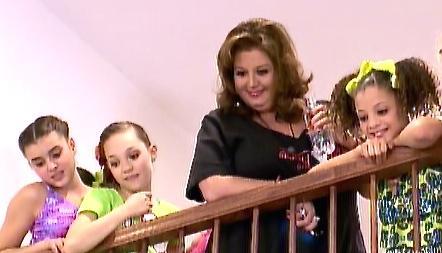 If she wants some Jackson 5 Realness, how 'bout I dangle one of these babies over the railing?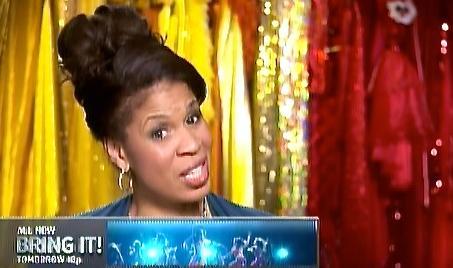 Aw Hell Naw. I know they didn't just slap that damn 'Bring It!' on top of me when my hair is looking so on point. Srsly?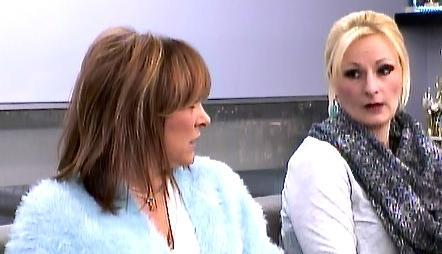 I'm just saying it looks like a blue bathrobe. Don't ask my opinion if you don't wanna hear it.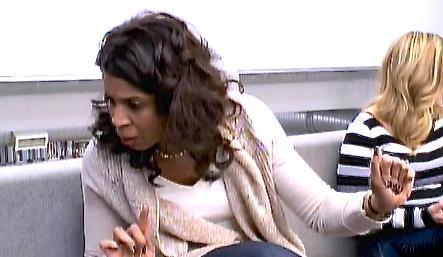 Just tell her that she does NOT want me coming down there snapping my fingers in a Z formation.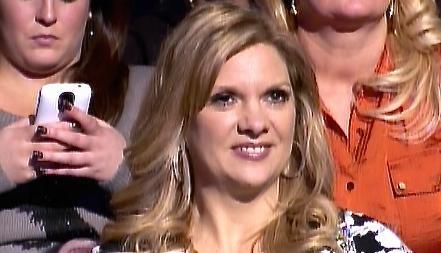 Lawd, just gimme the strength to not turn around and snatch that cell phone right outta her sweaty paws.
Warning:  Dance Moms was a downer again.
Not as much of a downer as last week's sob fest, but you still needed to dab the kleenex a few times as everyone continued to deal with the declining health of Abby's Mom Maryen Lorrain Miller.  It was getting real and raw now.
Luckily, though, there was also enough craziness and random Mama Drama to distract those of us who prefer their reality to be…ummm…a little less real, thank you.
There was a lot going on this week, so after a quick front desk tear jerker with Melissa, Abby got right down to business.  Her job was to keep going and that's what she was going to do.  The Pyramid of Shame doesn't care if you're sad or not.
As everyone fell into position, Abby was quick to point out that it was time to start getting tough.  Thirteen wins in a row was nice, but fourteen would be nicer.
No pressure, of course.
Oh.  And next week the new ALDC competition team would be arriving.  So, yeah…on second thought…maybe a little pressure.
And how 'bout that new team?  I don't know what train they're traveling on, but it must be making stops at every corner because it has taken them for-ev-er to get to Pittsburgh.  Abby has been dangling this make believe team over the Original Recipe kids' heads since last season.
But next week they would finally be in the building and my psychic powers are already telling me that at least one of them stuffed a KrazyMom in their suitcase.  So get psyched.
On top of all that exciting news, there was also Mackenzie's gangstah rap music video to deal with this week.  And maybe even an actual dance competition if they could squeeze it in between everything else going on at the studio.
Bottom row of the Pyramid was home to Nia, Kendall and Kalani.
Nia had been cut from the group number last week, so she was stuck on the bottom as punishment.  Mom Holly clearly did not agree with that decision and was so mad that she went to the salon and got herself an updo just to spite Abby.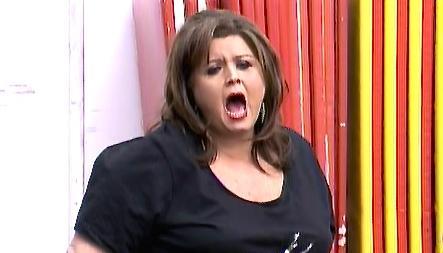 Srsly, chile.  Girlfriend is werkin' that new hair this season.  If you were taking shots every time Dr. Beyoncé changed looks this week you probably didn't make it past the third commercial break.  Once you sober up, you might want to check the videotape.
Amazeballs.
Kendall was in the bottom because she came in Second in the last competition, which is not the same as coming in First.  And Kalani just seemed to be scotch taped next to Kendall in order to make room for Maddie on the top.
The mezzanine level was all about MackZ and Chloe.  MackDiddy got mad props for learning a dance and laying down recording studio tracks all in the same week (…never too young to learn good multi-tasking skills I always say…) while Chloe followed Kalani's lead and got the heck outta the way so Maddie could be back on top.
This week the gang was headed to The Masters of Dance Arts in Buffalo, NY where all the routines would be performed as tributes to Abby's Mom and her amazing career.
Chloe scored a 1950′s themed "Friday Night" sock hop soda pop solo, which represented how much Abby's Mom loved watching Laverne & Shirley, while Maddie scored a "Come To The Cabaret" solo because I guess Maryen knew Liza Minelli or something.
The group dance was basically Maddie's old "Amazing Grace" routine reworked with backup dancers.  All the girls would be in the number, except for MackTheKnife who was needed on set for her MTV debut.
Even though Chloe had made the cut for the MackZ video last week, she got yanked at the last minute to stay at the studio and work on her solo with James, some ALDC choreographer who suddenly materialized out of nowhere with duct tape covering the logos on his shirt.
I'll never understand why people do that.  If you know you're going to be filmed today, why do you always show up wearing a shirt with logos on it and then run all around looking for plumber's tape?  How about you just wear a black tee shirt?
Macy's sells a 3-pack for $19.99 fercryinoutloud.  And there's always a coupon.
While Chloe and James did their best to make sure Nike didn't get any free advertising, everyone else headed to Melissa's house for some straight up video chaos.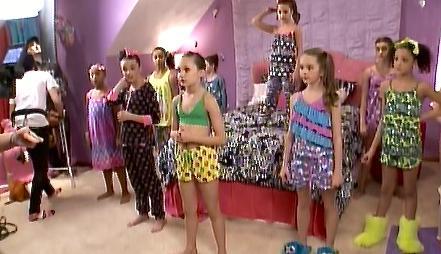 An 'on location shoot' as they say in the biz.
Yup.  MackZ's video was being filmed in her own bedroom, which was filled with so many colors and patterns and bouncy things that the scene should have probably had one of those disclaimers crawling across the bottom of the screen like you see when strobe lights are being used at a concert.
You just know that somebody in Idaho had a seizure before they even finished downloading the damn song off iTunes.
The whole extravaganza was being directed by Andrew, who can no proudly say that on national television he traded in his ManCard for his SAG card just by showing 200 tweeny boppers at a sleepover how to scream "What We Need Is A Girl Party!" with so much authenticity that it made me uncomfortable.  Dude.  Let's not do that again, ok?
While Andrew pushed MackWhack off the bed so he and Abby could jump on it themselves, the Moms were all downstairs where the real party was happening.
Couple of things.
One.  I'm not gonna say I told you so.  But I told you so.
Didn't I just say last week that my MomCrush Jill was waiting to unleash some of her signature Vertes Couture on us when we least expected it?  You know I did.
Whoop der it is.  Crazy fur.
Not as crazy as the blue bathrobe that she wore in the MomPerch later on in the episode.  But still classic Jill.
So, yeah.  I was right about that.  But I was wrong when I said that I couldn't possible love her any more this week than I did last week.  Because now I do.
I think it's probably because I know she stole that bathrobe from Canyon Ranch and I secretly want her to take me with her the next time she goes on a Girls' Weekend Spa Retreat.  Whatever.
Two.  Didn't the Moms look like they were on The View, all sitting around on those leather couches discussing today's Hot Topics?  Holly even made a WhoopeeFace a few times.
Three.  I bet Melissa's house smells like Homegoods potpourri and waffles.  It just looks like the kind of place that would have Eggos in the freezer.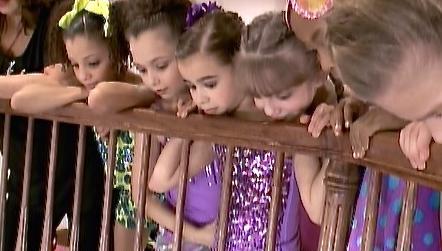 Anyway.  Casa Ziegler was crawling with Old Moms and New Moms and so much commotion that I got a little car sick when everyone was in the same room.  Some never before seen ALDC Moms were in the hizzle for the fo' shizzle video shoot, including big girl Christy (…with a 'Y'…) whose daughter Sarah was up on the second floor with her head stuck in the staircase railing.
I think all of the Von Trapp kids were actually up on that overhang with Abby.  I was waiting for it to collapse like those fire escapes you always see on the news.
Melissa hates Christy with a Y for some reason.  I don't know if she hates her more than she hated Kristie with a K last season, but definitely more than she hates Christi with an I on a bad day.
All I really know is that there's probably a Pittsburgh cop specifically assigned to the Dance Moms detail by now, because Melissa threatened to call 911 if Christy with a Y didn't yank her kid's head out of the banister and get the hell outta her house after she did or said something that probably involved Maddie.
The next day, the video was in the can and the girls were back to rehearsing.  The Moms were in the MomPerch.  Melissa was squirting the biggest tube of lip balm onto her face that I've ever seen.  And my MomCrush was a vision in blue.
Bucket List:  Go to the Mall with Jill and see her in her natural habitat.  We could hang out in JCPenney while Holly's gettin' her hair did.
Downstairs, Abby was picking on Nia again.  So much so that she actually sent Nia upstairs to get her Mom, who was not in the mood at all.
Side note:  After months of in depth scientific research and studies, I've found a direct correlation between the curl in Holly's hair and her level of sassiness.  It's true.
And Mama set it on the big rollers today, if you know what I mean.
Snap.  And then another snap.  Any questions?
We also got to watch Maddie rehearse and see Abby cry.  Her Mom was slipping away, so she would not be going to the competition.  Which was sad, but also meant that Gianna could be large and in charge again this week.  She's a tough cookie.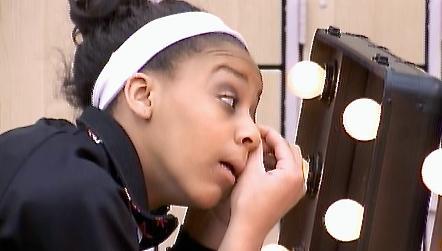 Gia even wore lipstick in her headshot interview, so you know she meant business.
Finally, it was Showtime!  And hiking in the snow time.
Seriously.  How far away did they park?  Did you see them trekking down the sidewalk?
Backstage in the makeup room, it was the usual backstage in the makeup room drama.  Melissa had gotten a text earlier in the week that Studio Larkin would be at the competition, which was apparently a pretty big deal since everyone was already starting to unravel before any of the girls were even dressed.
Speaking of things escalating quickly.  Somehow everyone started bickering over New Team vs. Old Team and then Christi with an I got (bleeped) out for swearing about Maddie and Kalani being new BFF besties.
Turns out that Maddie (…allegedly…) had talked some smack right up in Chloe's face and then everyone in the room pig piled onto the argument.
The password is:  Favoritism.
Dr. Beyoncé even compared Abby's seemingly random weekly exclusion of various girls to the way the Jackson 5 used to always forget to put Tito on the tour bus.
Holly has a PhD in Motown, you know.  True story.
Eventually, they even got to some actual dancing.
The Larkin Ladies were in the row behind our Dance Moms.  One of them didn't look up from her Samsung Galaxy for the entire competition, so I'm not really sure why she even made the trip.  Not rude at all, right?
There was also a judge that was either a boy or a girl.  Just felt that needed to be said.
Maddie's solo was a Maddie solo.  It was Broadway, baby.
As opposed to Broadway Baby.  RIP.
Chloe nailed her solo, getting all Shooby Dooby Wop Wop all over the stage.  It was fun to watch, even though that Larkin Lady missed the whole thing.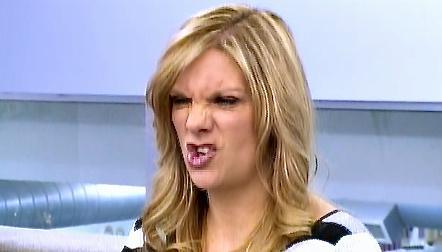 Right before the group routines, we got a glimpse of some unnamed dance troupe doing some kind of Wizard of Oz flashmob and it totally cracked me up.  I'll be youtubing that bad boy later, don't you worry.
The Studio Larkin team's dance was great.  But it should be, since I'm pretty sure that all the girls were in their early 30s.  What the–?
They also all had the same color hair and looked like some Stepford Wives meets Radio City Rockettes mad scientist experiment.  At first I thought that maybe the actual Larkin girls were stuck on the side of the road with a flat tire and the Moms had to go on in their place, but I dunno…
And then the ALDC team did their thing.  Chloe looked like she had somehow gotten taller while she was backstage changing out of her solo costume and Maddie came up off the stage floor like Lance Bass did in that *NSYNC marionette video.
Google it, kids.  There really was life before Bieber.  Trust me.
If MackZ's psychedelic bedroom hadn't already made you bite your own tongue off, those flashing light towers at the back of the stage probably did the job.
Gah, I hate those things.
And then it was over.  And so was the ALDC's winning streak.
Studio Larkin took the top spot.  Gia and the girls took Second Place.
But this week wasn't about the trophies.  It was about paying tribute to an amazing lady.
Even Abby said it.
Nobody could believe she said it.  But she said it.  And it was true.
Next week probably won't be pretty.  At all.
But today was different.
And even more important than a trophy.
Today was for Mom.