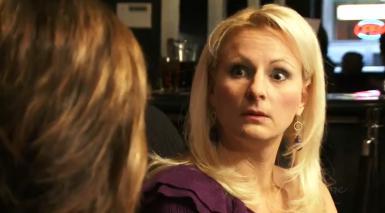 Shut up. Like with pom poms and sneakers? Whoa.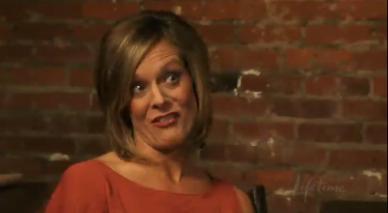 Yup. Brooke is gonna shake it like a Polaroid picture.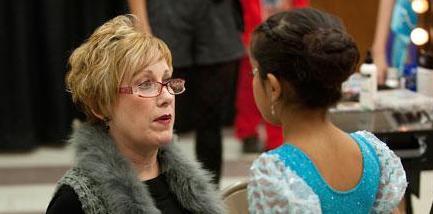 Oh Lord. It's like going to war with no bullets in the gun.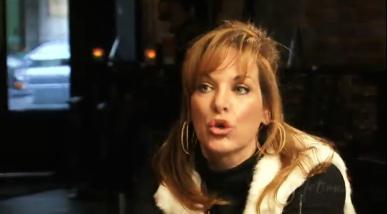 Check it out. They make this face on Bravo TV. I saw it.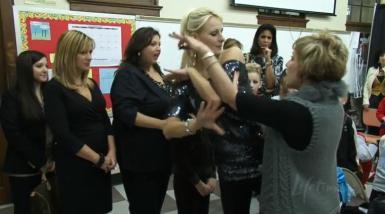 Oh no you din't just put those Candy Apple sticks on me.
Starbound! Starbound!
Beat 'Em Beat 'Em Down Down To The Ground!
Goooooo Dance Moms!
It was Pee Wee Showgirls vs. JV League Dallas Cowboy Cheerleaders as the Abby Lee Dance Company tried to keep it together this week when one of their own traded in her sparkly unitard for a set of pom poms mere days before the next competition.
Word of warning before we go any further.  You don't do that to Abby Lee Miller.  You just don't.
As always, we started out with the Why You'll Never Be As Good As Maddie pyramid, where each week through a painfully humiliating process we all find out…well…who's not as good as Maddie.  Der.
Financially speaking, things must be working out quite well for Abby and her studio nowadays, because the cover sheets for the big photo reveals now have her logo printed on the front.
I know, right?  Fancy.
No more Value Pack construction paper for this crowd.  Granted, it's still no Power Point touchscreen like they use over at  Candy Apple's Dance Center…but you gotta start somewhere.
Little Nia and her mouthful of braces was at the bottom, only days after she was hanging topside, because she spaced out in her last performance and went in the wrong direction.
Dancers and Amtrak trains should always go in the direction they are pointed.  That's just how it is, people.
Newbie Kendall was also chilling on the basement level, because she can't count, can't hear music and is still on probation.  Until she gets it together, she has no chance of moving up or styling in the Food Court wearing one of those shiny Abby Lee satin Members Only jackets.  No chance, sister.
Mackenzie is also in the bottom, mainly because she is too small to reach any higher.
For someone with no teeth, she has a wicked overbite that always makes her look like she is sulking even though she's not, but it's part of her charm.  Mack is still in that baby hamster stage where she doesn't always have her eyes open or pay attention, but she's so cute you just want to squeeze the stuffing out of her and then slap her mother for having such a cute kid.
Or maybe slap her mother just because she's Melissa.  It's up to you.
In a shocking twist of fate, Maddie is not on the top, but she's ok with that for now.  The middle is fine with her this week.
Maddie, whose maturity and teeth have both grown well beyond her young age, actually liked that the other girls get a chance to see how it feels to be numbah uno.
Mom Melissa thinks that it's nice to see the other girls get a chance too, even though they suck.
Chloe is side by side with Maddie, and they will go up against each other in solos.  This makes Chloe's little Cabbage Patch eyes light up.  She always reminds me of those teddy bears that have the eyes stitched too closely together, and slightly uneven, and that makes me smile.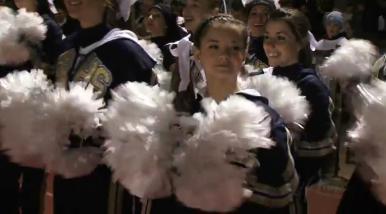 Slow, pokey, mopey Brooke is on the top this time around but that doesn't seem to phase her a bit.  No smile, no clap, no nada.
She's 13.  And that pretty much says it all.  Brooke is also thinking that she might want to try cheerleading instead of dance because Abby is always on her case…and boys go to football games.
And Brooke likes boys.
Even as they rehearsed their group number, Brooke was yawning and thinking about boys.  You could totally tell.
Don't get me wrong.  Brooke is nice enough, but she's getting to the point where you just want to put her on a plane and push her out as it flies over Dawson's Creek.  Just let her splash down face first and get all that moping out of her system.  Seriously.  That's all they ever did on that show.  She'll be right at home.
As the Moms all sit around swigging down cocktails, Kelly announces that Brooke has decided to try out for cheerleading, which gets everyone in a tail spin.
Kelly wants to support her daughter, while Melissa thinks that this type of decision should be made before the start of Competition Season, and pretty much considers it letting down the rest of the girls.
Christi got all "Great Googly Oogly!" when she first heard the news, but has always been a big advocate for letting your kids do what they want to do.
Real Housewife of Pittsburgh Jill got all "Oooh, Abby's gonna kill you!" but you know she'd be the first one to shove Kelly's dead body out of the front seat before it even got cold.
If cheerleading gets Jill and Kendall that satin jacket, then Kelly can freakin' shoot Brooke out of a cannon during the Super Bowl Halftime Show.
Jill was also rockin' one of those big fake fur vests that Rachel Zoe sells on QVC, and a larger than normal BumpIt hair comb.  I just felt that needed to be addressed.
The next day at rehearsal, Abby realized that Brooke was MIA and screamed for Kelly, who had been stalling and putzing on her cell phone instead of revealing the whole cheerleading thing.
Can you blame her?  Abby scares me, too.
Kelly finally announced that not only is Brooke going to try out for cheerleading, but she is doing it the weekend of the Starbound Competition when she was supposed to be featured in the group number.
Wait for it.
Wait for it.
…BOOM!
Abby exploded into a tirade on bad parenting and teenagers dictating to adults how things are to be done.  Brooke is screwing Abby.  Abby can feel that she is getting screwed.
Gross.
By the time I got that visual out of my head, Abby had already cut the group number completely, told Christi she was an a** and slammed anyone who went to Community College.
They were going back to Starbound as the reigning National Champions and blah to the blah to the blah.
And then suddenly the group number was back, but Abby wasn't going to put her name on it and her sidekick choreographer was going to somehow shoot an entire new version out of her butt right before they board the bus for Starbound the next day.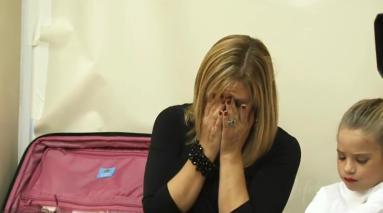 This time around, Starbound is being held in Nutley, New Jersey.
Nutley.  Is that not the best name for a little fuzzy puppy…ever!?!  I just want to go to the Humane Society right now.
Getting screwed must have mellowed out Abby, because after threatening to not go on the trip she showed up anyway, just in time to overhear Melissa talking to Chaos Cathy on her cell.
That's right.  The Candy Apples are bringing their hormone injected, genetically altered, over-sized dancers to the competition to once again try and beat Abby and her team for the Gold.
After getting busted for lying about the age of one of her gigantic dancers last week, Chaos Cathy is at it again as she and her amazons prep for the show.
Apparently the age categories must be based on some mathematical averaging algorithm or something, because Cathy was going to add her own daughter Vivi-Anne into the mix to skew the age lower.  I wasn't really paying attention to how that all works, and it's not like I'm a judge, so it's probably not the end of the world.  But regardless, that meant that we got our weekly fix of ViviSpaz.
Vivi-Anne, besides being the poster child for why Nyquil should require a child proof cap, is a treasure to behold.  Always looking like she just woke up from her nap, Vivi chomps on her candy while Mom Cathy silently prays that someday her daughter will learn to dance.  Vivi must be eating one of those Jawbreaker candies that takes two weeks to finish, because her mouth is always full which makes it hard to apply a second coat of her trademark Revlon gloss red lipstick.
I live for the look of desperation in Cathy's face whenever she interacts with Vivi.
The Candy Apples group number was classic, as the big girls passed Vivi around like she was one of those recyclable grocery bags.  As they danced and kicked their brains out, Vivi kept running across the stage like she was looking for something in the wings.
Now you see her.  Now you don't.  I thought maybe she left the iron on, or forgot something and left to go get it in the middle of the routine, but it turns out that was all part of the dance.
As the Moms and Chaos Cathy wrestled for who got the arm rests on the auditorium chairs, all the kids did their thing.
Mackenize made it through her solo without losing another tooth or forgetting where she was, so that was good.
Maddie and Chloe did great solos.
Mackenzie and Chloe took top prizes.
Christi, who has the best Proud Mom face I've ever witnessed, cried a lot and was just beaming.
Melissa, who has the worst Poker Face I've ever witnessed, couldn't hide the fact that she was pissed her daughter didn't win and immediately blamed it on sketchy judges and an International Espionage Plot to bring down the dance world.
Humble loser, she is not.
Passing around a glittery bag of ViviSpaz didn't seem to pay off, as Candy Apples came in at a whopping eighth place…getting smoked by the Abby Lee girls in first place.
To add just enough salt to the wound, Abby and the Moms all scoot over to the Candy Apples room to…quote…congratulate them on a job well done, while holding their first place plaque over their heads like the Stanley Cup.
Abby also wants her Bumble Bee costume back that Vivi-Anne wore last season.  It must be a pretty important piece of couture, because it set off a rumble in the back room when Cathy announced that she had dumped it in the Goodwill bin on her way to Target.
Christi and Cathy suddenly got all up in each other's grill like they were vying for a date with Flava Flav as Cathy picked on Christi's outfit and nose.
I was secretly hoping that Cathy's League of Soccer Moms Gone Bad would jump to her defense and throw down, but they all sat back in their chairs like they were at a Pay per View boxing match.
Even the bad a** Mom with the boots just sat there, but with her sassy new red dye job I could tell she was just itching to get all Jerry Springer on someone.
After a whole lot of white girl finger waving and potty mouthing, Abby and the Moms hit the road.  That's two for two, Candy Apple bitches.  Take that.
Oh.  And Brooke made the cheerleading team, but even that didn't really make her smile.  I give up.
Goooooo Dance Moms!