Quote:
---
Originally Posted by
Dan Rooney
"Coaches will say, 'We have to play with what we have and guys are supposed to step in.' You can't say that you're trying to build up a young guy in his first or second year and get him to be able to play; you can't say that if you get your first-line guy hurt that you're going to put one of these guys in here and they'll play the same."
---
Dan Rooney settles into new role with Steelers
April 4, 2013 12:03 am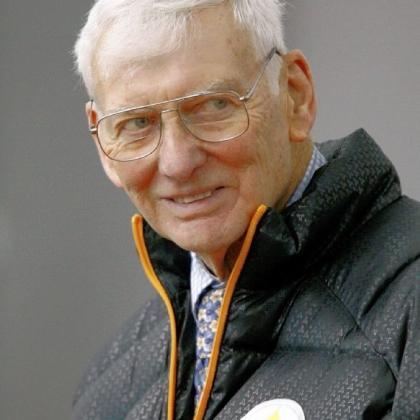 By Ed Bouchette / Pittsburgh Post-Gazette
Others may debate whether the Steelers are in a period of transition, but Dan Rooney certainly finds himself in one. Back as the team's chairman, he traded in his three-year job as U.S. Ambassador to Ireland for one that employs him as Steelers ambassador to everywhere.
The overlap of old job with renewed job found him in the White House movie theater Tuesday with President Obama and Harrison Ford, among others, for a showing of the upcoming release of "42," a film about Jackie Robinson. What better crowd to celebrate Robinson breaking baseball's color barrier than the first African-American president and the man who brought to the NFL the Rooney Rule, which has helped minority assistant coaches land head-coaching jobs.
Rooney was there to help out Steelers partner Thomas Tull, a producer of "42," and there will be more jobs like it as he resumes his duties with the Steelers. His transition from the team's daily boss to its chairman and the transfer of decision-maker to his son Art Rooney II occurred years ago. Now, after a brief career change, he returns to the team on a daily basis more as an advisor and ambassador than administrator.
"I still talk to players and things like that," Rooney said in an interview at the team's South Side offices Tuesday. "Now, I get involved in a lot of community things and try to do things that are good for us, like what I did yesterday."
He will not hesitate in that capacity to offer his opinions, though, as he did Tuesday, both on the direction of the NFL and his own team. Opposing some opinions from sections of the Steelers fan base, he likes the direction in which both are going.
Start with the Steelers, the ones who missed the playoffs at 8-8 and are losing key players faster than they did games in the second half of the 2012 season.
"With us, 8-8 is a bad season," Rooney said. "Some other teams, they're happy to get 8-8. We need to keep that focus that our goal is to go for the Super Bowl, we've got to make the playoffs and we've got to do this. I think that everybody here, especially ... Kevin [Colbert], Mike [Tomlin], Art, me, and other people, that's the goal, to win."
He even contradicted Tomlin's "Next man up" philosophy when it came to all the injuries his team sustained in 2012.
"Coaches will say, 'We have to play with what we have and guys are supposed to step in.' You can't say that you're trying to build up a young guy in his first or second year and get him to be able to play; you can't say that if you get your first-line guy hurt that you're going to put one of these guys in here and they'll play the same."
And the man who helped elect Roger Goodell believes "the commissioner is doing a good job," particularly with his continued emphasis on making the game safer.
"As far as the safety, I'm all for it. I don't know whether I should even say this, but that's why I was really upset with the idea of hurting people, the bounty situation.
"I just cannot fathom why anybody would do that. You're in the same business. A guy that's playing for one team might be playing for another team next week, and you hurt him!
"But, as far as looking at the rules, I remember George Halas, we were in a meeting ... he held up the NFL book that had the rules in it ... he said, 'See what it says in here? This book has not been changed for the last three years. That's the way it should be. We have a good game and we shouldn't be changing it."
Rooney disagrees with Halas, to a point. The game must change, just not too much. He disagreed with Goodell, for example, when he tried to add two games to the NFL regular-season schedule. But he has come around on the use of instant replay and thinks it should be expanded.
"I'm from old school. I'm not big on adding games, I was reluctant on the instant replay; I liked what they said in baseball, 'It ain't nothing until I call it.'
"I have to say that I think the instant replay is good. I think that one thing that I said when it first happened and said this when they were going to use it, I said you should use it all the time."
An area of dismay to him since the end of the 2012 season was the failure of the Rooney Rule to help one minority become a head coach in eight vacancies. The rule requires each team to interview at least one minority coach for any such vacancies.
"Let's say this, it was a disappointment that of the eight teams that were looking for new coaches, that some didn't find a candidate and, for them, they didn't hire anyone. But I have to say this, they did follow the Rooney Rule. We had total compliance. Every one of them interviewed [a minority candidate] ... They did what they were supposed to, they followed the rule, made the interviews and things like that.
"Why they didn't choose anyone, you'd have to talk to them. I believe that there are qualified people and that they should take a stronger look at them when they're doing this."
There has been talk of adjusting the rule somehow to make the process even more open to minority candidates.
"We're not in any position now to make major changes," Rooney said. "There are some things that, I feel, we need to look at. The biggest thing people are talking about is [we] ought to make the coordinators [hiring process follow the same rule]. It's pretty hard to tell, especially a new head coach who is trying to get his staff together, you have to hire a minority at this position. It's a battle.
"I think one of the things, and I've talked to Tony Dungy about it, I think that there is too much a rush to hire a new coach and for him to fill his staff. Now, that is even a little more understandable because there are teams vying for a lot of people, but they have this idea that they have to get this guy right now or someone else is going to get him. I have never taken that position."
Rooney, 80, will continue to represent the Steelers in many NFL matters, and rejoin league committees. He has found the requests on his time have increased locally since he returned from Dublin in December. He also will be inducted into the Irish American Hall of Fame in June in Chicago.
Read more: http://www.post-gazette.com/stories/...#ixzz2PWzObfLC