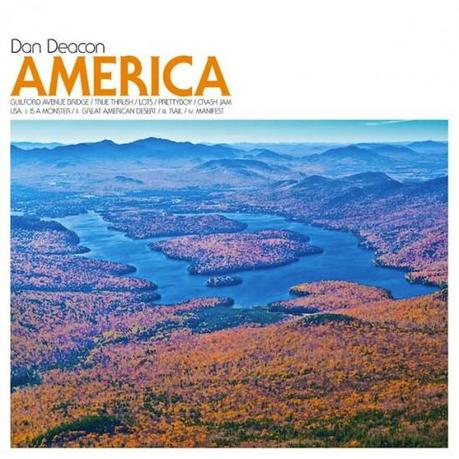 Since 2003, Baltimore musician Dan Deacon (@ebaynetflix) has been bouncing about from one record label and musical project to another. Initially making a name for himself strictly as an electronic/electro pop artist, Deacon has since expanded into the realm of classical music. On his latest album America, Deacon continues his musical journey by bringing a series of acoustic and live elements into the mix. He hasn't completely unplugged himself, but his willingness to disconect from a strictly electronic soundscape provides some interesting, ambitious and often exciting results.
The palette that Deacon works with to compose America easily stands out upon first listen. If you're familiar with and fond of his previous material, though, it may take a little time to adjust to the changes. Some purists may be somewhat repelled by the inclusion of more natural instrumentation, but for the most part, I like what Deacon did with this album. His selection of sounds is both interesting and broad — his use of brass instruments, acoustic piano, string work and live drum kits adds a sharp dynamic that eagerly bounces off his electronic imprints and post production effects. When Deacon has a firm grasp of his arrangements, this hybrid sound works extremely well. You need only listen to how his stepping, progressive piano riffs mesh beautifully with the flowing synth arpeggios on "Prettyboy". Not to mention the meaty, mechanical and orchestral blow outs thrown at us in the albums closing track "Manifest".
There are also, however, moments when Deacon's grip loosens significantly and a number of his compositions run away from him and fall apart. Opening track "Guilford Avenue Bridge", for example, is very scrambled and scrappily pieced together. It constantly feels like the track has been splintered, and the separate shards are fighting against each other, rather than with one another.
There's a bounty of great ideas to be found within this album, and most of them are put to good use, showing that Dan Deacon's hybrid style has both legs and potential. If he's going to get the best of this style, though, and more importantly his own ability, he needs more control and more focus. Regardless, America is a good starting point upon which something even bigger and better could be built.