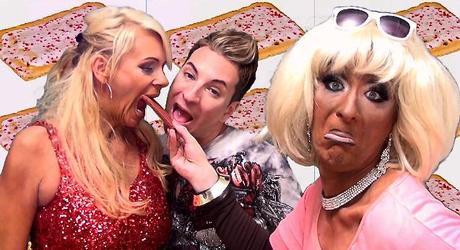 Seriously.
How does this keep happening?
What did we ever do to you, New Jersey?
The Garden State, home to the highest number of toxic waste dumps of any state in the nation, just unleashed their most famous one back in our pasty white faces again.
And she's singing.  I think.
Patricia Krentcil, better known as Tan Mom, is back with her second music video.  And it's everything you hoped it would be.
And more.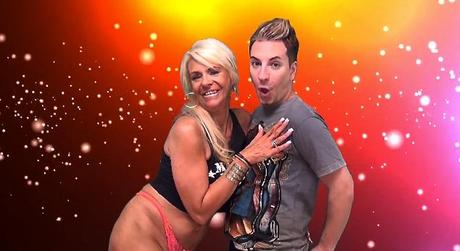 More sun damaged skin.
More uncomfortable awkwardness.
More sun dried wannabe Britney extensions.
More auto tuned awesomeness and slo mo running.
More inappropriately exposed jiggly stuff.
More bathing suit bottoms going where no man has gone before.
More ear bleeding, eye burning moments destined for your iMac screen saver.
And more proof that this crazy bitch has no idea what she's doing at any time of the day.
Oh, Patricia.
Such the Life of the Party.
Milking the longest 15 minutes of fame ever (…next to that sex tape Kardashian lady who's apparently hiding out somewhere all unmarried and nursing, of course…) Tan Mom is fresh out of rehab ready to lay down some fresh tracks and butt cracks.
And our girl has definitely upped her game for Round Two.
Cuz she brought friends.
We're talking drag queens, a randomly fabulous dude in shorty shorts all sprawled out on a couch with his skinny dog (…a real one…don't be a perv…) and unknown pop singer Adam Barta, who for some reason decided to put one more nail in the coffin that is his almost-career.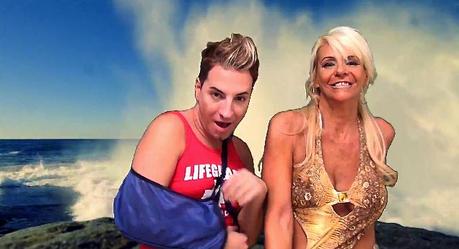 And did I mention that Skinny Dog can lip synch?
Because that totally happens.
So hit the beach and get ready to scorch your retinas one more time.
I give you the terrifying artistry that is Patricia Krentcil: The Sequel.
So unwatchable that you'll need to watch it twice.
Because it's Tan Mom, Bitch.
Muah.